Oloyede Sekinat: 🏮🔊🔔HEALING STREAMS LIVE HEALING SERVICES on KingsChat Web
🏮🔊🔔HEALING STREAMS LIVE HEALING SERVICES WITH PASTOR CHRIS IS 21 DAYS TO GO!!! 🔊🔔🏮 IF YOU ARE YET TO REGISTER USE THE BELOW LINK. healingstreams.tv/zone/LZ4 To create your unique Avatar https://healingstreams.tv/3days/avatar/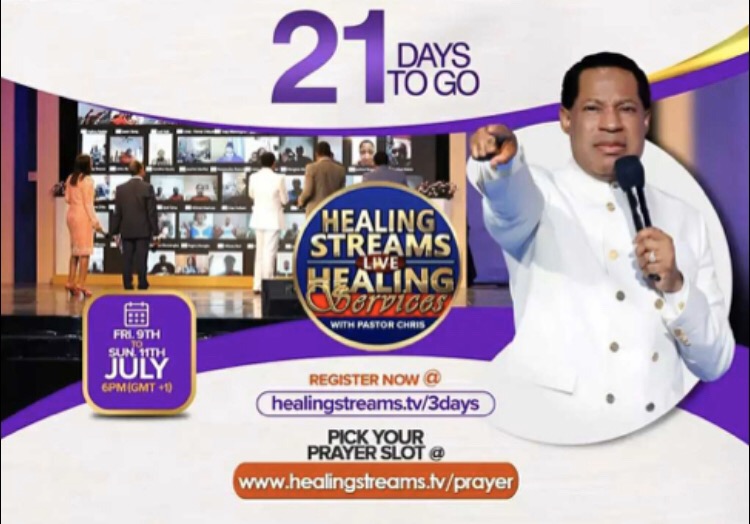 #prayingnow #pclprayathon2021 #prayathon2021 #iampriestinoffice #WEVZ1 #CENetherlandsAlmere
HAPPENING SOON : June 26 Preparing for His Coming #PFHC2021 #CECanada #CEScarborough #CEScarboroughGroup #TheLightsCell
John 16:33) These things I have spoken unto you, that in the me ye might have peace. In the world ye shall have tribulation......
HAPPENING NOW!!! It's Day 2 Of The International Cell Leaders' Conference with Pastor Chris (ICLC 2021) Super Session titled "CELLS WITHOUT LIMIT" by the Esteemed Pastor EMEKA EZE IT'S TIME TO RECEIVE INCREASED GRACE AND CAPACITY! #ICLC2021 #ministrycentrewarri
LIVE UPDATES FROM THE ICLC 2021 DAY 2 MORNING SESSION!!! Live Participation from Christ Embassy Ministry Centre Calabar! Stay tuned for more UPDATES! #ICLC #ICLC2021 #ICLCwithPastorChris #CalMC #TeamCalabarRocks.
RHAPSODIE AUDIO UNE CONNAISSANCE ISSUE D'UNE RELATION #TNI
#ICLC #ICLC2021 #ICLCWITHPASTORCHRIS #cemidwestzone #cesiluko1 #group6
Happy birthday Bro Osagie!!! 🎉🎉😄🎂You are so relevant in our midst. Thank you for living the vision of our great Lord. You are taking giant strides in all areas of your life this year and beyond; great advancements! We love you dearly ❤️ #dspukzone3 #cecroydonchoir