Warri Ministry Centre: Kicking Off Today!!! IT'S THE on KingsChat Web
Kicking Off Today!!! IT'S THE GLOBAL PRAYER HOUR WITH OUR DEAR MAN OF GOD, PASTOR CHRIS Today Friday 8th of January to Thursday 14th January (7 days) by 12 noon GMT +1. We're praying in the Spirit, in tongues of the Spirit, each day, at the same time. God bless you. Don't miss out as we make tremendous power available. #ministrycentrewarri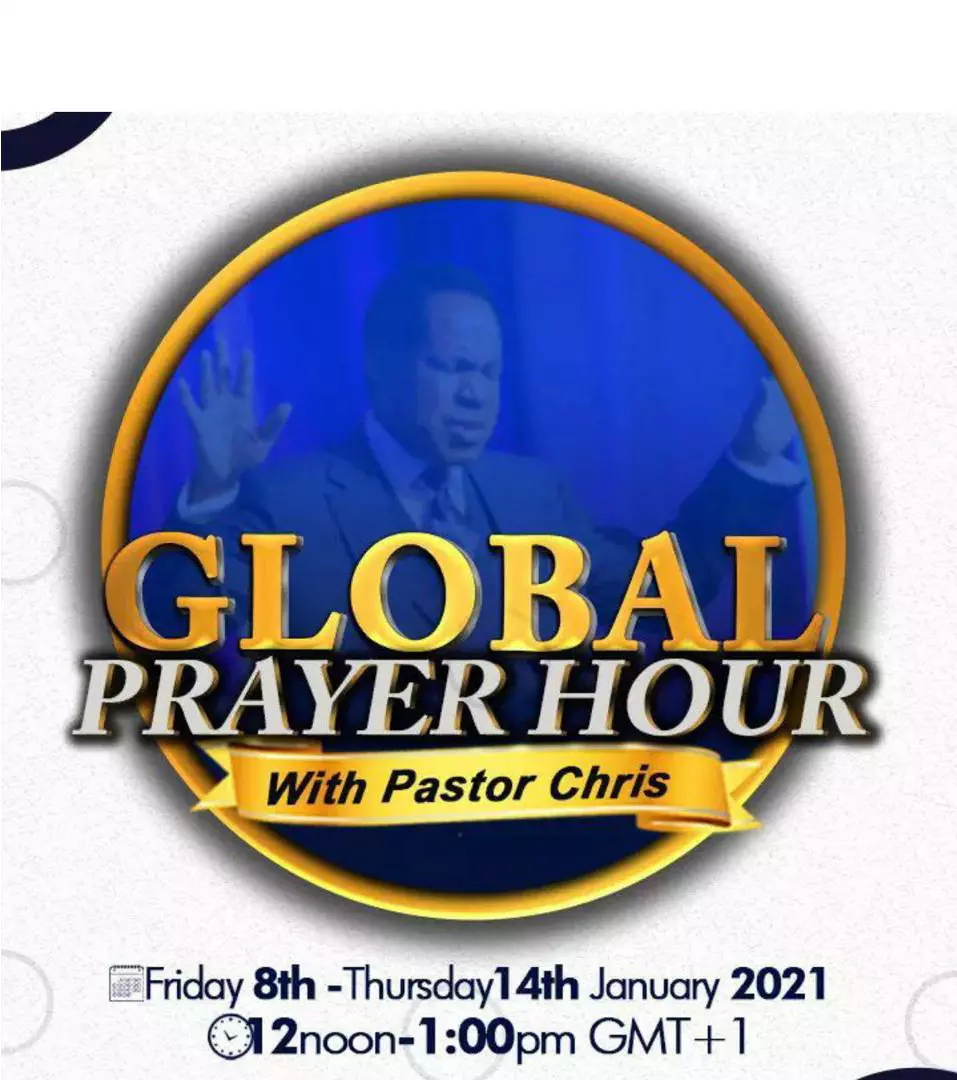 Ralph Son
commented:
Hallelujah Hallelujah Hallelujah thank you Jesus for the words work
This sunday we avail you the opportunity to purchase or gift or distribute or translate or sponsor large copies of the Message 2021 THE YEAR OF PREPARATION on PCDL. Be a part of this😇 #2021TheYearofPreaparation #NewYearMessageLaunchAlert
Pray-A-Thon 2021 - пятница, 8 января Если вы рождены свыше, Христос - ваша страна, ваш дом, ваше окружение. Узнайте больше в сегодняшней пятничной рапсодии. Не забудьте приобрести выпуск от января 2021 года для детей, подростков и взрослых; также делитесь Словом с другими. Наш 7-дневный глобальный молитвенный час начинается сегодня с пятницы 8 января по четверг 14 января, по всемирному времени с 12:00 до 13:00 по GMT + 1 , ежедневно. (Пожалуйста, проверьте ваше местное время для этого периода). Мы будем горячо молиться на языках Духа в течение 1 часа. Бог благословит Вас.
2 Days To LAUNCH ALERT 2021 THE YEAR OF PREPARATION on PCDL is ready to be launched this coming Sunday and requires Global Participation with several opportunities like gifting, sponsoring translation, massive distribution #2021TheYearofPreaparation #NewYearMessageLaunchAlert
Pray-A-Thon 2021 - ven. 8 janv Si vous êtes né de nouveau, Christ est votre pays, votre maison, votre environnement. Apprenez d'avantage dans la Rhapsodie de ce vendredi. N'oubliez pas de vous procurer l'édition de janvier 2021 pour les enfants, les adolescents et les adultes ; partagez également la Parole avec les autres. Notre Heure de prière mondiale de 7 jours commence aujourd'hui, du vendredi 8 janvier au jeudi 14 janvier, à une heure globale, de 12h00 à 13h00 GMT+1 tous les jours. (Veuillez vérifier votre heure locale pour cette période). Nous prierons avec ferveur en langues de l'Esprit tout au long de cette heure. Dieu vous bénisse
LIVE NOW 11:30AM (GMT+2) : KIDS CAN COOK! 🤩😋🧁🌟💫 Join us live now on Kids Can Cook! Tune in to LoveworldSAT to watch. _ www.loveworldsat.org/live-tv _ #loveworldsat #loveworldnetworks #kidscancook
So so ready to take off this Sunday with the Launch of the New Year Message. It is a Global Event happening in all churches, zones, ministry centers and campus fellowships. #2021TheYearofPreparation #NewYearMessageLaunchAlert
It's time to make power available!! #CEWMC
Happy Birthday Dear Sis Ebube Of your increase there shall be no end. Love so dearly
We will give ourselves to prayers and Fasting. 2021 Preparations for the Lord