LTM NETWORKS: It's 3 Days to the on KingsChat Web
It's 3 Days to the Global Communion Service with Pastor Chris. Have you played your role by praying and sponsoring the transmission on TV stations globally? Everyone deserves to hear this gospel, you can make it happen with your seed TODAY! For information on how to participate, please call +2348123445790 or send an email to ltmpartnership@loveworld360.com #JuneGCSonTV #mena4jesuschrist #RASS #LWAsia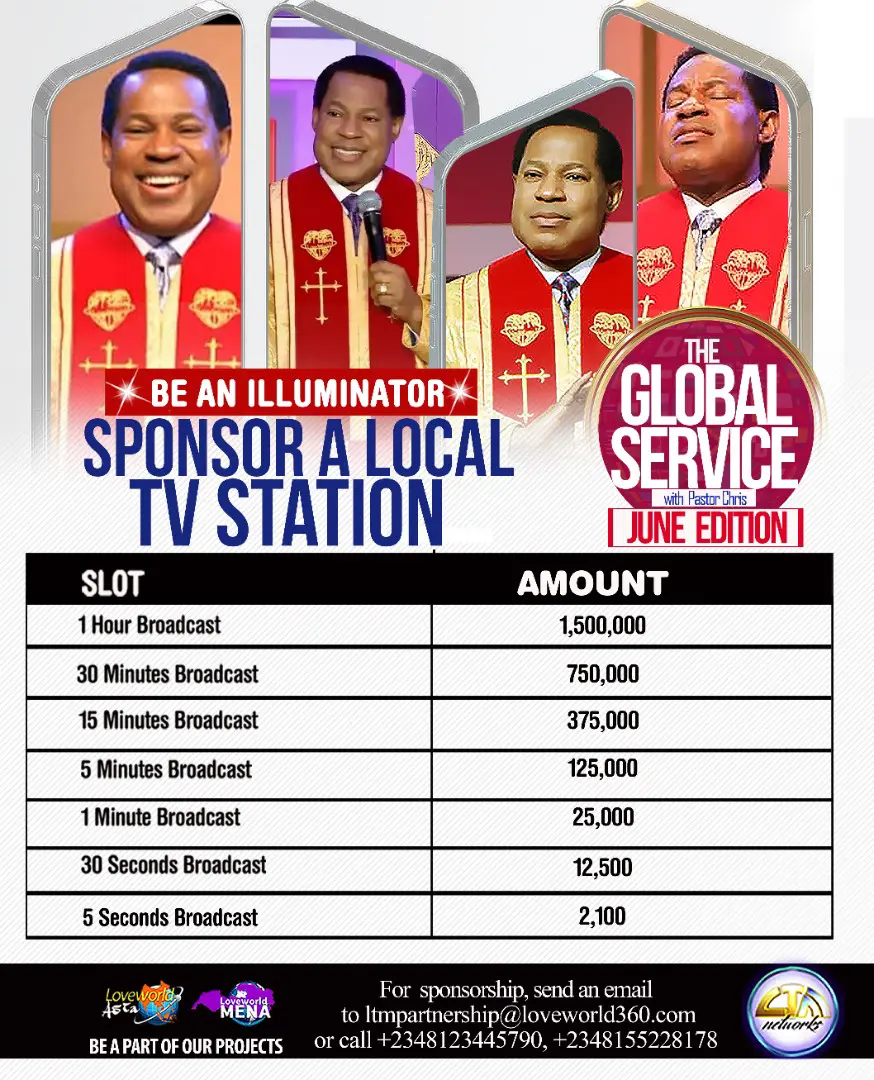 Troy
commented:
Earn better and quite your office stressful job, With the minimum investment of $300 you can get profits of about $3,000+ with my fast and trusted platform ... $300 to get $3,000 weekly. $400 to get $4,000 weekly. $500 to get $5,000 weekly. $600 to get $6,000 weekly. $800 to get $8,000 weekly. $900 to get $9,000 weekly. $1000 to get $10,000 weekly. Whatsap me on +17575206719 for more info
Benson Geary
commented:
Join our Cryptochin fxpro trading... it's really lucrative way of earning consistent income weekly with just little investment and it doesn't require any experience, just step by step instructions.....It's an investment that you invest on bitcoins and the sum of bitcoins you invest in, will been process and doubled in a multiple in 7 days trade and then invested in the same account that you invested in again and again, why waiting for salary when investment is better than salary you can invest your bitcoins your self, with the little investment of $250 you can earn returns 2500,and also $300 to earn $3,000 ,400 to earn $4,000 , $500 to earn $5,000, $600 to earn $6,000, $700 to earn $700$ , $800 to earn 8,000, $900 to earn 9,000 $1000 to earn $10,000. All in 7days trade and 10% will be my commission and no extra payment before withdrawal.. De me on WhatsAp +12402307483
I am celebrating you today my beautiful daughter Greatness Olagundoye is your day of joy Happy Birthday
#Healingschoolonlineconfrence #Midwestzone #Warrisouth
Only 1 day to go!!! Get ready for the 24-hour Healing School Online Prayer Conference holding Friday the 4th, to Saturday 5th of June 2021 Time: From 6pm (GMT+1) on Friday 4th June Register at prayer.enterthehealingschool.org/reg/SA5 Also use the same link to register your loved ones!
Healing stream program, I'm Super ready #cemidwestzone #ceugbowogroup #ceugboworocks
💥DAY 26 WORDFEST 3💥 ‭‭‬‬Today's message: BIBLE SEMINAR VOL 2 DAY 1 ‭ Kindly use the link below 👇to study https://pastorchrisdigitallibrary.org/wordfest3/ceukz4 #Wordfest2021 #Wordfest3 #watchonpcdltv #WordfestOutreaches #CEBRISTOL #CEBarking #UKR2Z4