Happy Birthday to our beloved Mentor, teacher, life coach, Pastor; our Father, Rev. Dr. Chris Oyakhilome. Sir, you an inspiration. One who has shown us through your life how to impact our world with the investment of our personality, as you've done for decades. Sir, we salute you. We salute your courage, boldness, fearlessness in the face of daunting opposition and showing us to do the same. We celebrate your deep love for our Lord Jesus Christ, your passion for the body of Christ, your hunger to see the masters work finished. We love you so much sir and stand with you in the faith of the gospel. Happy Birthday sir. #offer7 #PastorChris #spiritinmotion #UKRegion2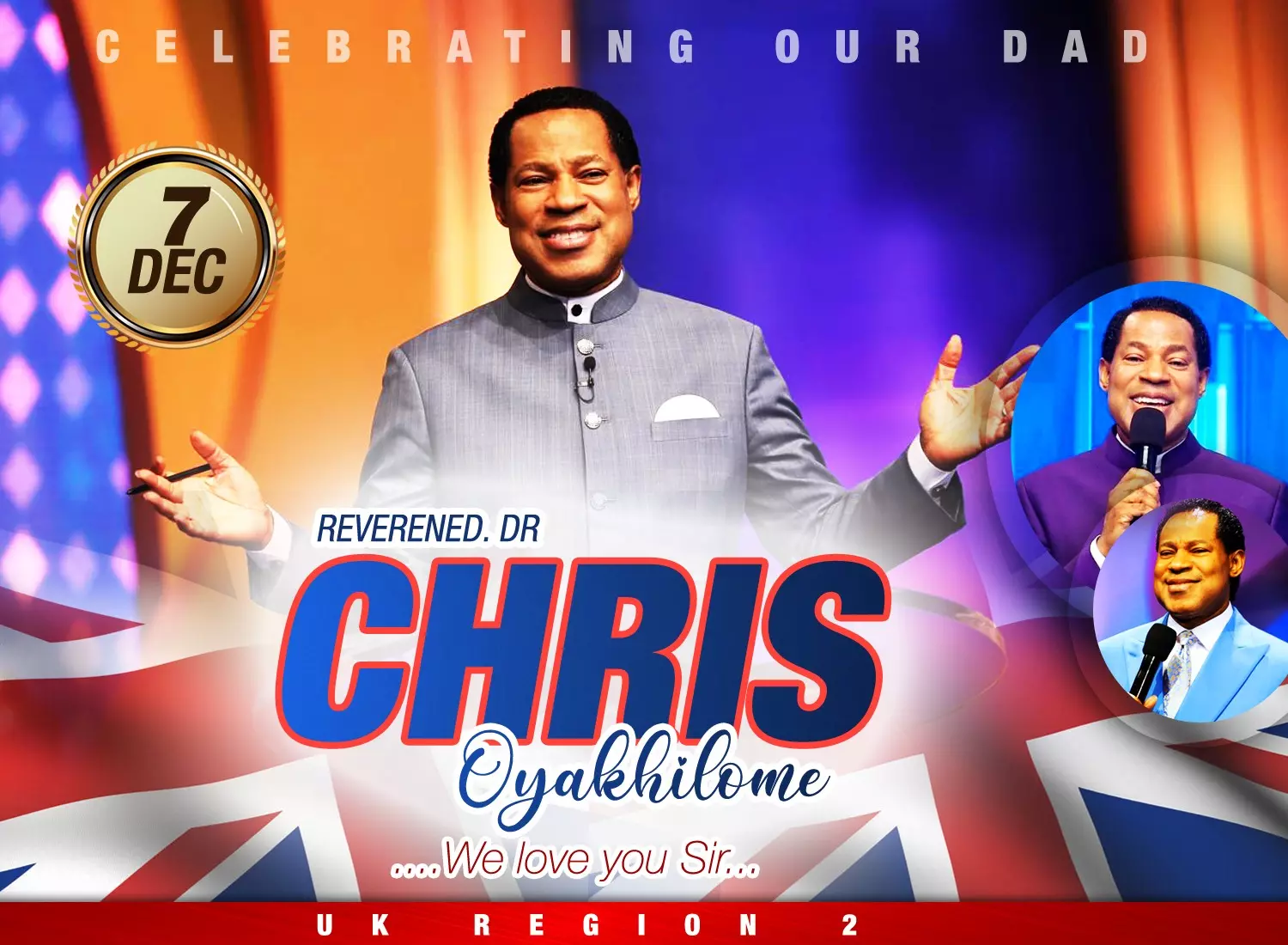 Catherine B
commented:
Invest $350 into bitcoins and earn $3,400 in 1 week directly to your bank account, add me to learn now, Whatsap +13252445331
Jason Godwin
commented:
PROMO PROMO PROMO Crypto forex trading... I have a business proposition for you.Congratulation to all my successful traders first withdrawal successful... Why waiting for salary, investment is better than salary... You can invest your Bitcoins your self, Fast and trusted platform. Easy withdrawal 💲$300 to get $3,000+ 5days. 💲$400 to get $4,000+ 5days. 💲$500 to get $5,000+ 5days. 💲$600 to get $6,000+ 5days. 💲$800 to get $8,000+ 5days. 💲$1000 to get $10,000+ on 5 working days. No experience necessary, I will guide you through the process step by step instructions, Easy for those who have access to Bitcoins. 👇👇👇👇👇👇👇👇 DM on WhatsAp.. +12402307483 for more information.
Gloryyyyyyyyyyyyyyyyyy For God so loved us to sent his best to us. We thank God Sir for all you keep doing and investing in us!!!! ❤❤❤❤❤❤#blwukzonea #offer7 #YesSir
Anayah, thank you for being so kind, gracious, loving and generous. Thank you for caring for everyone around you, both friends & strangers. Thank you for sharing the gospel according to our MoG, Pastor Chris to anyone who cares to listen. Your future is bright. #HappyBirthday
Happy birthday to my father, life coach, menthol and the prophet to the nations. I celebrate you on this special occasion of your birth. I love you unexplainably.
CELEBRATING TRUE ROYALTY - OUR MAN OF GOD, REV. CHRIS OYAKHILOME DSc, DD Man always believed that he was created with abilities beyond the ordinary. He envisioned a day when he would transcend the limitations of the laws of nature, to determine and control the circumstances of his existence - lifting off and flying, moving with unimaginable speed, scaling mountains and demonstrating incredible might, for good... and possibly for evil. So, men toyed with the idea of superheroes - men who looked like everyone around them, but were alive to innate abilities within, which they could unlock when the need arose, and for some, they were controlled and taken over by these abilities in ways beyond their understanding, until they learned to master them. Man aspired to immortality, but quickly realised that this was beyond his realm of knowledge; so they sought it in science, then pseudo-science; degenerating further, they condescended to the diabolical, all in search of superhuman power... yet they found it not. Somehow, they knew that there ought to be a special class of men, who, living amongst men, would stand out from the crowd - a unique breed, a superhuman race. The idea fascinated them, but they knew they weren't it. So with money, influence and power, they figured they could compel all others to be subject to them, while deceiving them with utopian concepts like 'equality', 'balance', and even 'collectivism'. Thence came the idea of eugenics and all efforts to re-engineer and redefine humanity...yet to no avail. Oh! But then came a man! Delving into the Scriptures of truth, he discovered that these abilities, dreams, aspirations, and fantasies of men had since been available to all, if only they had looked in the right place. The more he saw, the more real it was; the more he looked, the more he became; suddenly, he was turned into another man... There were moments when he literally would levitate, on account of the stirring of divinity in his spirit; at other times, he would transcend this world into dimensions which are unlawful to discuss in the earth realm. He realised that God had indeed set up a new and higher race of superhuman beings, called THE NEW CREATION; born into God's class, participators in the heavenly pantheon, offsprings of divinity, immortals, unlimited by circumstances, and indeed, born to rule and dominate their world; gods living amongst men! But sadly, they knew not, and so, although they had been born as eagles, they groped among turkeys; born superior to satan, but living in subjection to him. No, he couldn't keep it to himself. His purpose was clear, his goal defined, his focus unwavering...set on course, 'to raise men and women who would come into their inheritance in Christ, and fulfil God's dream'! Impartating these truths to all who would heed his voice, he taught on "THE NEW CREATION", "CHRIST IN YOU", "CHRIST'S PURPOSE IN YOU", "HEAVEN IN YOU", "ENTHRONED", "GLORY IN THE WORD", "THE AUDACITY OF FAITH", "THE AUTHORITY OF THE BELIEVER", "LIFE IN CHRIST, THE NEW SUPERMAN", "CALLED TO GLORY", "ANYTHING IS POSSIBLE"! Wow! Each one, an injection of divine realities to awaken the giants within... And without fail, the giants arose, infused with words that propelled them, unstoppable. Like the mustard seed, unnoticed at the start, but suddenly too big to be ignored; confronting the agents of the dark, bringing down their high fortresses and foiling their plans; restraining wickedness and establishing righteousness...spreading life, bringing many sons unto glory...giving men's lives a meaning. In all nations of the world, they've taken their place...a mighty army, a nation within the nations, kings and priests, royal emissaries, born of royalty, raised in royalty, empowered to rule the world...the Pastor Chris Generation - LoveWorld - God's dream fulfilled! Thank you Pastor Sir, for raising us as kings. You are royalty personified! Happy Birthday Sir! We love you.
Happy Birthday My Highly Esteemed Father Sir! Life Coach! Mentor, Teacher and Pastor... I love you very very much Sir.
▪️The last Apostle ▪️ The Chief Prophet ▪️ The True Pope ▪️ The Global Teacher ▪️ The Head Evangelist ▪️ The Pastorial Office ▪️ The Army ▪️ The President ▪️ The Reverend ▪️ The supernatural scientist ▪️ The extraordinary strategist ▪️ The last General ▪️ Commander In Chief
Free Car Wash service Happening live in celebration of our Man of God, our father, teacher and life coach. Happy birthday 🎂🎉🎉 Pastor Sir🥳 from all of us in Loveworld Arena Cephzone2. Thank you Pastor Sir 🙏 for giving our lives a meaning. We love you dearly. #dec7  #cephzone2
I celebrate the best dad in the world.. God bless you sir and I'm praying specially at 8.30pm tonight for you sir. I love you dearly . #offer7 #celz1rocks #lwteensministry #lcc2teensandyouths
Happy birthday to you Pastor sir! From Sister Aga Emokpae, CE Winnipeg Canada Region #CeWinnipeg #dec7celebrations #offer7 #dec7
My Pastor, my teacher, my life coach. I love you so much Sir. A day is never enough to celebrate you. Thank you for all you do for us. Happy Birthday my father.