Happy Birthday Dearest Sister Natoya! What a joy it is for us to celebrate you and your glorious life in Christ! You are an answer from God! Born at the right time, in the right place, and into the right family! Run your race with patience, looking unto Jesus, who is the author and perfecter of your faith. Thank you for always being full of joy, love, kindness, and compassion. You are light! You live in eternity! Your life is filled with Glory, Grace, Favour, and Increase! Happy Birthday from all of us! We love you very dearly! #CENorthYork #HappyBirthday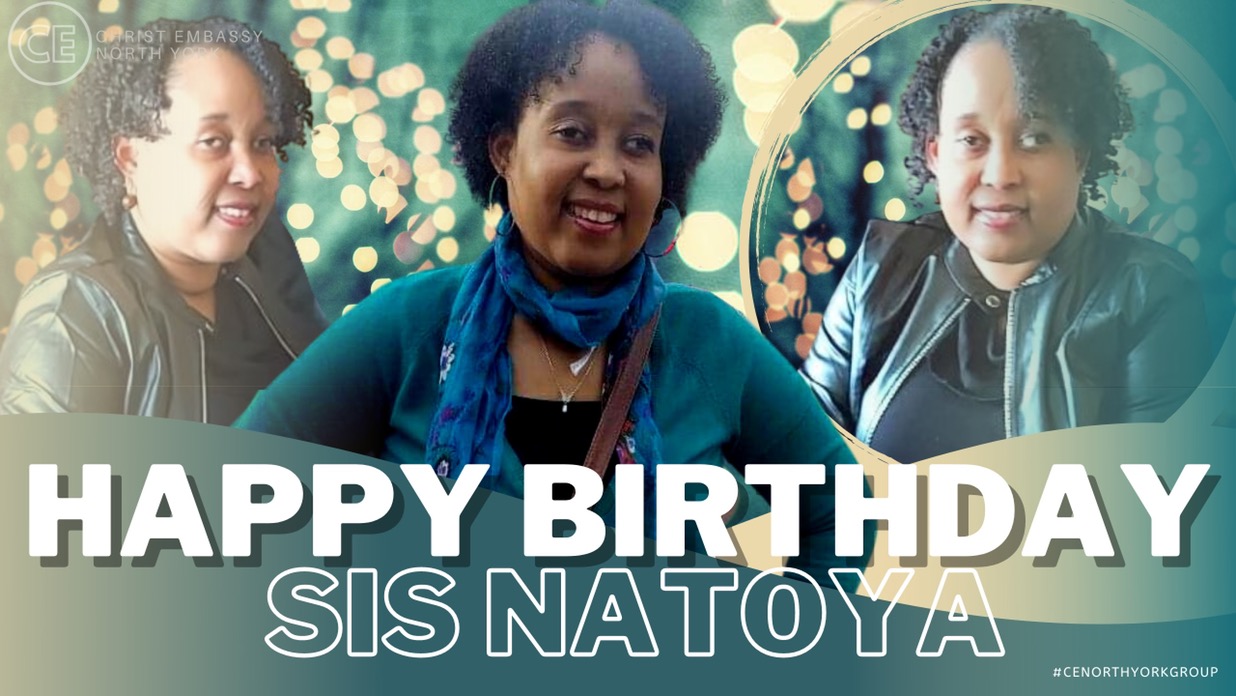 MAY 11TH #Speakintonguesnow #Dailyconfession #keepsayingit #Thewordwork #Raphsodyofrealities #Affirmationtrain #𝗺𝘆𝘆𝗲𝗮𝗿𝗼𝗳𝗽𝗿𝗲𝗽𝗮𝗿𝗮𝘁𝗶𝗼𝗻 #𝕸𝖔𝖓𝖙𝖍𝖔𝖋𝕴𝖑𝖑𝖚𝖒𝖎𝖓𝖆𝖙𝖎𝖔𝖓 #abujazone#ceaz #loveyoupastorchris Our Yokoos @𝐖𝐨𝐫𝐝𝐀𝐥𝐢𝐯𝐞 Facebook: 𝐖𝐨𝐫𝐝𝐀𝐥𝐢𝐯𝐞
Christians! We have received eternal life & that life brings us into 1. Agelessness 2. fearlessness 3. Deathlesness There's more 😭 we are grateful 🙏🏼 Thank MOG💖💚 #loveworldspecial
Happy Birthday Phenomenal Pastor Dupe! I celebrate you and your incomparable life in our Christ, Ministry and the Word. You are indeed an amazing inspiration and blessing to so many in our Loveworld Nation, around the world and to me. I celebrate your distinguished participation, fruitful and productive accomplishments and leadership in our great Nation. Thank you for being a city set upon a hilltop and a burning and shining light. Have a glorious year of years of ever increasing Grace and Glory. I love you❤
The cool but super hot and super charged Pastor, whose eagerly waiting His soon coming returning, that's what this ecard means to me. @spiritinmotion2 Pastor Denford Saungwena thank you for love. Im grateful to God for the man you have become. #cesazone5
Yourloveword Specials Season 3 Phase 4 Day 1 Live Participating From New York USA An Online Missions Ministry@ism #Yourloveworld #Yourloveworldspecials #Yourloveworldspecialswithpastorchris
Happy Birthday Pastor Joseph. God bless you stupendously for all you do in the Canada region, for Rev. Ken, our man of God and father and our great ministry. Your passion and love for the master is exceptional. I celebrate your winning spirit and faith Congratulations on another level of glory.
I am illuminated, extraordinary as I study the Word, meditate on the word, and pray. #Wordfest3 #illumination #WatchOnPCDLTV #PCDLTV #USAREGION1
To my Pastor, my mentor, my father @pastorchrislive they are no words which can truly describe who you are to me and how to thank you. If you had seen where i was and where I am now,😭😭 only grace is the explanation. You have taught me how to love & serve God. #cesazone5
Happy birthday to a very lovely and exceptional personality. We love dearly Esteemed Pastor Dupe.