Super FM: 💥SUPER FM IS SPREADING INFOTAINMENT on KingsChat Web
💥SUPER FM IS SPREADING INFOTAINMENT TO 3 CITIES NEAR YOU, GUESS WHERE?💥 We are strongly motivated by the desire to provide in an increasingly profitable manner, radio broadcast services that will inform, inspire and influence every individual. Guess the next 3 cities Super 96.3FM is coming to in the comment section👇 #super963fm #inform #inspire #influence #stillpraying #prayingnow #yourloveworld #Pcdlusc2020 #healingstreams #radiohouse #familyradio #yourfamilythirstandcravings #1radio #FeelTheMoment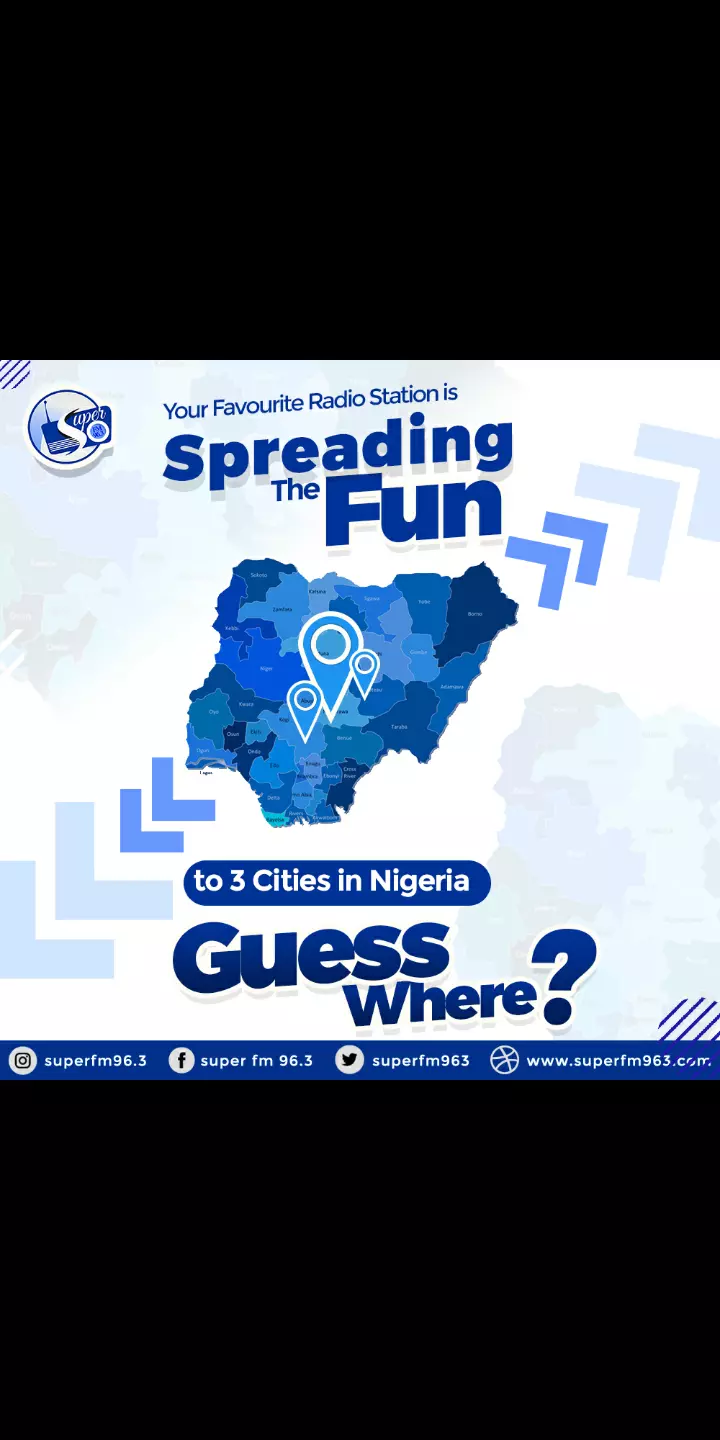 Hello everyone! It's a beautiful week and there is a great way to start out😁😁😁 See my link... https://www.kingsch.at/p/ZWdMcFB
Something is happening in the Spirit! I'm determining my next season!!!! Today!!!!
Happy Birthday Esteemed Pastor Omo Imuzeze. Thank you Sir, for all you do for the kingdom of God! #cemidwestzone
SOMETHING BIG IS ABOUT TO HAPPEN IN BENIN CITY NIGERIA. STAY AWAKE!!! #Pastorchrisonradio #Loveworldradio #Riseproject
💥SUPER FM IS SPREADING INFOTAINMENT TO 3 CITIES NEAR YOU, GUESS WHERE?💥 We are strongly motivated by the desire to provide in an increasingly profitable manner, radio broadcast services that will inform, inspire and influence every individual. Guess the next 3 cities Super 96.3FM is coming to in the comment section👇 #super963fm #inform #inspire #influence #stillpraying #prayingnow #yourloveworld #Pcdlusc2020 #healingstreams #radiohouse #familyradio #yourfamilythirstandcravings #1radio #FeelTheMoment
IJoinTheHostOfHeavenToCelebrateThisUnionAndGiftToTheBodyOfChrist. You have blessed us in ways unimaginable. Your reward shall continually be open and abundant 🥰🥰 ILoveYou Sir /Ma @pdupsy @pstamby @pastorambrose @My_January_blessings #cebayelsa #nsszone1 #nssr
Wonderful time of fellowship we had during yesterday's Sunday Service with our man of God, Pastor Ayo Thomas. In the month of celebration.
PICTURES OF COUPLES CLASSIQUE PROGRAM IKOTUN GROUP #couplesclassique #celagoszone2 #ceikotungroup
Your Loveworld Specials with Pastor Chris and Pastor Benny Hinn is here!! Happening this week, from today Monday January 25th to Sunday January 31st!! It would be broadcast live on all Loveworld Stations, CEFlix and other designated ministry websites and social media platforms. The Excitement is in the air!!! It's time to: 🎯Remind everyone you've invited and finalize your plans to ensure they participate fully. 🎯Document your expectations and keep them before your eyes. 🎯Pray like never before, about the tangible global impact of this world changing program. The schedule once again is: Monday January 25th- Friday January 29th 2am GMT +1 7pm GMT+1 Saturday January 30th-Sunday January 31st. 7pm GMT+1 Prepare!!!  #Yourloveworld  #Yourloveworldspecials  #YourloveworldspecialswithPastorChrisandPastorBennyHinn #CEPHZONE3