Your LoveWorld Specials with Pastor Chris and Pastor Benny Monday 25th - Sunday 31st January 2021 7pm GMT+1 & 2am GMT+1 12pm CST & 7pm CST. Live on tniglobal.org in the FRENCH languages Spread the word to every French speaker you know! Click here to give and join us in reaching more and more people in the language most immediate to them For more information contact us now @ ipartner.tniglobal.org/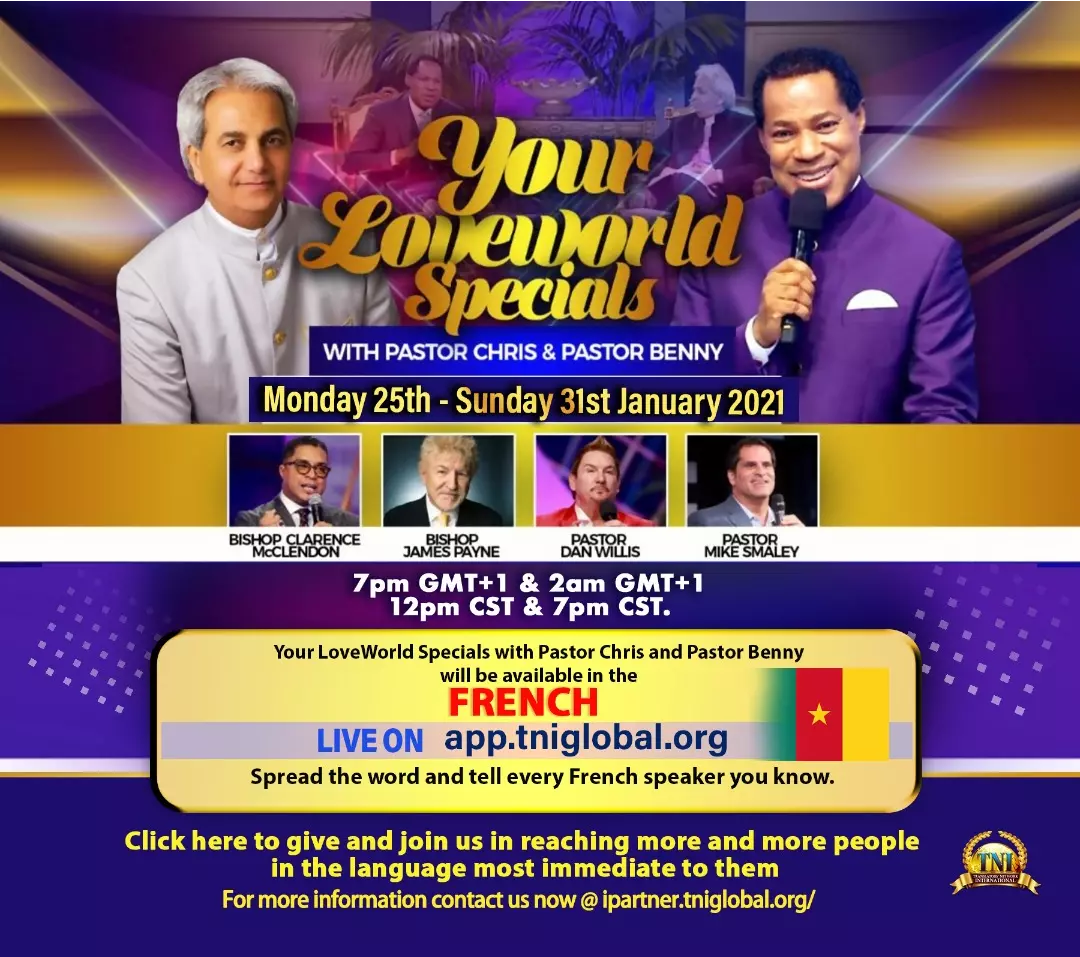 Glorious. Recruitment into the Army and not mob. Civilian should not dabble into a Soldiers mandate. ...Amazing.
Happening live Now 👉 GLOBAL CELL MINISTRY PRAYER Cell leaders across the zone are praying and causing changes through the cell ministry outreach week.. #cellministryprayingnow #spreadingpastoruche #katalambano #1msouls #globalcelloutreachweek #ukzone4 #loveworldukzone4 #lwccm
Jealous of the one who finally found you.
#cellministryprayingnow #yourzone #yourcell #1msouls #globalcelloutreachweek
Happy Birthday To Our AMAZING SUPER DAD! Thank You for your exemplary leadership, You brought us stressless prosperity, From you, I learned true humility and how one can be calm yet exuding so much fire I Love You Dearly Sir #Revray123 #CEMCPH #loveworldchildrensministry
The Harvest is truly plenteous #OnigbogboisforJesus #CELVZ
Eido cell group participating in the Global Cell Ministry Prayer Chain #cellministryprayingnow #CESAZone5 #eidocellgroup #1msouls #globalcelloutreachweek
HEALING SCHOOL ONLINE PRAYER CONFERENCE prayer.enterthehealingschool.org/reg/CYBER Have you registered for the #HSOPC? #healingtothenations
HEALING SCHOOL ONLINE PRAYER CONFERENCE prayer.enterthehealingschool.org/reg/CYBER Have you registered for the #HSOPC? #healingtothenations
HEALING SCHOOL ONLINE PRAYER CONFERENCE prayer.enterthehealingschool.org/reg/CYBER Have you registered for the #HSOPC? #healingtothenations