LOVETOONS TV: GIFT A CHILD🎉🎉🎉🎉🎉🎉🎉💥💥💥💥💥🎺🎺🎺🎺🎺🎺🎺 on KingsChat Web
GIFT A CHILD🎉🎉🎉🎉🎉🎉🎉💥💥💥💥💥🎺🎺🎺🎺🎺🎺🎺 Lovetoons Comic Book is the perfect gift for every child! So, give a child a gift today. Visit: www.lovetoons.tv to download yours and send the website link to others. #lovetoonstv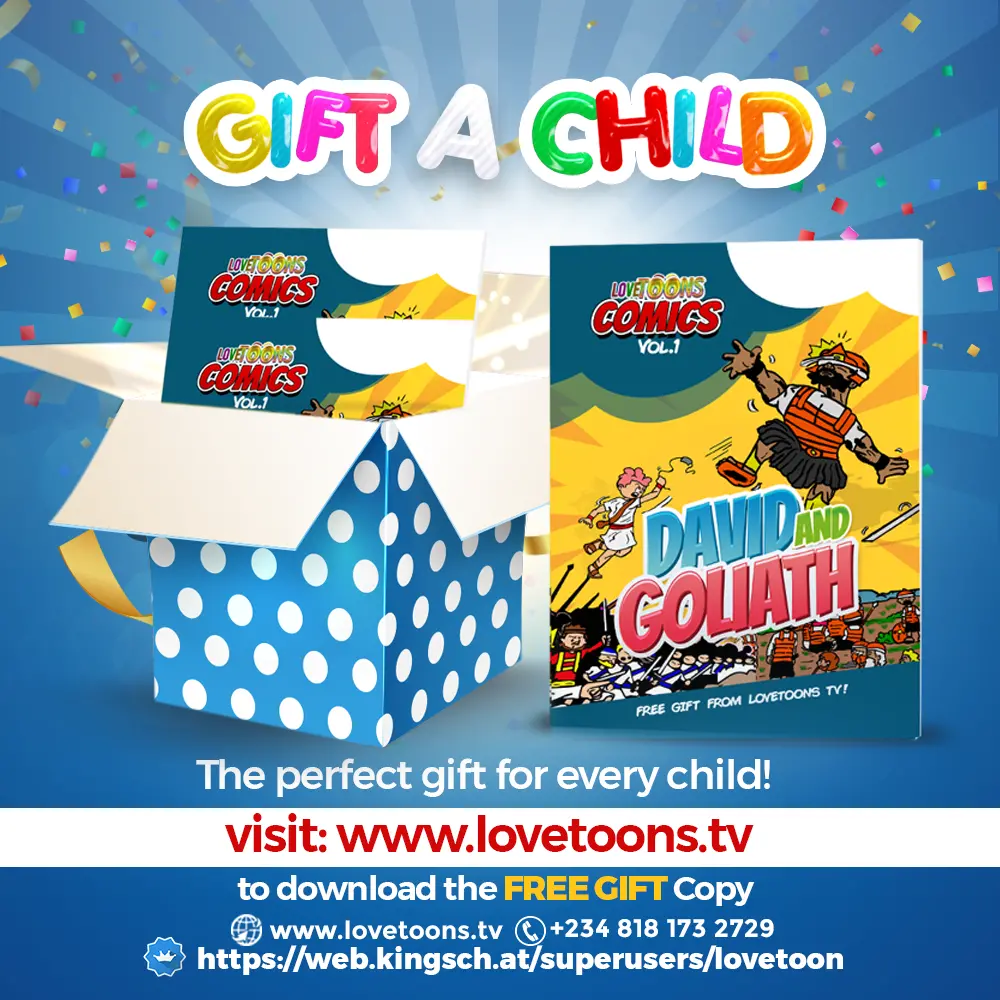 Pastor Davison
commented:
promo...promo...promo... cryptochin...fx trading..Why sleeping why others are making billions of dollars💴💵💶? This is an online investment which help us to earn more profit in a given period of time. by investing amount of money or bitcoin, to be traded on in the international market with the use of Auxiliary computers and software, using strategy to win profits. With the minimum investment of $300 you can get profits of about $3,000+ with my fast and trusted platform ... $300 to get $3,000 weekly. $400 to get $4,000 weekly. $500 to get $5,000 weekly. $600 to get $6,000 weekly. $800 to get $8,000 weekly. $900 to get $9,000 weekly. $1000 to get $10,000 weekly. DM me on WhatsAp.... +1(231) 335-1054 +1(231) 335-1054 for more info if you are interested.
As A Child of God no dryness is permitted in your life because you are ever prosperous. Learn more as you engage in Day 24 Study on LOVEWORLD Campus Word Drive on PCDL airing now on www.pcdl.tv #Ipreparewithdgospel #pcdlworddrive #a30daystudyonpcdl #watchonpcdltv
DAY (3) on our BOOK REVIEW💃💃💃💃 What an exciting time of great wisdom . A BIG THANK YOU to all of us participating! If you missed any, you can still join in Recreating your world!🌍 Topic:CREATING BY THE WORD Time 3-6pm Hope to see and read your comments on your inspiration!
Happy birthday Dear Deaconess Blessing Bakare. Here's wishing you a very beautiful and fruitful one. Enjoy every moment of your day. #DBB1003 #DcnsBlessing1003
#PMZ100321 #PMZ #cemaiduguri #NNWZ2 Happy birthday ma. I love you dearly
Testimonies‼️Testimonies ‼️ Matazabay ‼️🔥🔥 👇🏿 #healingstreams #blwzonec #blwneu #healingschool #5billionsouls #blwcampusministryrocks
🔥🎙️WORD DRIVE WITH CREATIVE ARTS 🎨🖌️ 🎤MEET EMEDIONG (The Testifying Artist 🎨🖌️) 📢It is Something To Shout About!!! Gloryyyyyyyy!!! #pcdl #blwzonec #KingschatRecommends #WordDrive #Blwcampusministryrocks #PastorChrisGeneration #BlwcampusministryWordDrive
Glory #healingstreamlivewithpastorchris #sez2 #ceasaba
Still up on www.pcdl.tv is Day 24 Study on LOVEWORLD Campus Word Drive on PCDL with the Message titled INCREASE IN FORTUNES by Pastor Chris #Ipreparewithdgospel #pcdlworddrive #a30daystudyonpcdl #watchonpcdltv
Go to www.pcdl.tv and learn from Day 24 Study - Increase In Fortunes by Pastor Chris on LOVEWORLD Campus Word Drive on PCDL #Ipreparewithdgospel #pcdlworddrive #a30daystudyonpcdl #watchonpcdltv
HAPPY BIRTHDAY ESTEEMED PASTOR CHINA NJEMANZE THANK YOU SO MUCH FOR YOUR COMMITMENT AND PARTNERSHIP WITH CELVZ ROR. WE LOVE YOU #CELVZ #RhapsodyThanksYou #1MillionOutreachesFiesta #YearOfPreparationWithROR