As a cell leader, you are connected to a larger body which is your church, group and zone. One effective way to make consistent progress is to be an active participant in the prayer program organized either by your church, group or zone. Through this the Spirit of God will guide you and your members in ways that will keep you prepared throughout this year. Plan to participate in your church, group and zonal daily prayer programs throughout this year both as an individual and as a cell and prepare your heart. Also have all your cell members in a prayer chain with you and allot them time to pray specially for your cell growth and development. #yourchurch/group/Zone #yourcell #Prayingnow #cellministry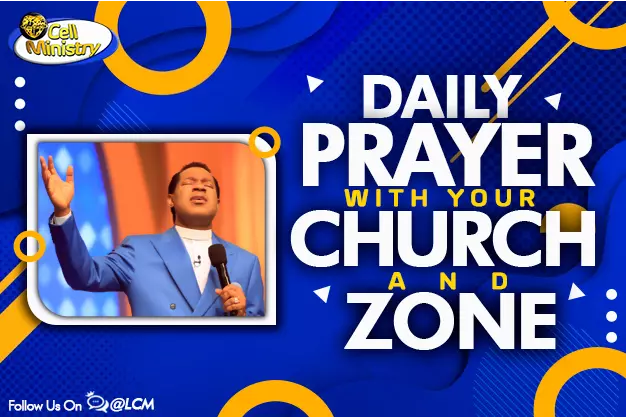 Happy Birthday To My First Boss in Ministry! Thank you Ma'am for all that you helped me become! God bless you more Ma'am with every good thing and grant you every desire of your heart! Amen!
🎊🎉HAPPY BIRTHDAY TO AN EXTRAORDINARY AND SUPERNATURAL PERSONALITY There is everything to love and celebrate ma. Indeed Grace increases with every word you release. Thank You so much ma for making our lives more beautiful. Thank You ma for being Pastor's Best friend and sure hand. We love you ma. 💃 #blwzonej #celebratingbeautyandgrace
Check out my inspiring post on Yookos!
DON'T MISS THIS: pay close attention and be edified, as Pastor Chris highlights the Potency of the Prophetic word and its all time importance in the life of a Christian today. Like, comment, share and Follow this superuser today. #Rebroadcast #Yourloveworld #Yourloveworldspecials
Check out my inspiring post on Yookos!
Bosssssss! The Amiable PEL! Detailed and Full of Excellence! We Love You Dearly Ma'am! ♥️
HAPPENING NOW!!! DAY 3 CELZ3 LEADERS PREPARATION SUMMIT Expectations are high! There is excitement in the air! Our Leaders are praying and worshipping. Ready to receive precious words and an impartation of the spirit from today's session. Hallelujah! #Theyearofpreparation #Leaderspreparationsummit #Celz3