CELVZ: CELEBRATING BELOVED SISTER DUPE TUBO on KingsChat Web
CELEBRATING BELOVED SISTER DUPE TUBO Happy birthday dear Sister Dupe Tubo. We rejoice greatly with you as you celebrate grace and fulfilment in this year of perfection Thank you for your commitment to God and to the ministry. May the Lord cause you to walk in preordained paths as you gloriously fulfil is perfect plans for your life. Do have a glorious and fulfilling year We love and appreciate you dearly. Congratulations!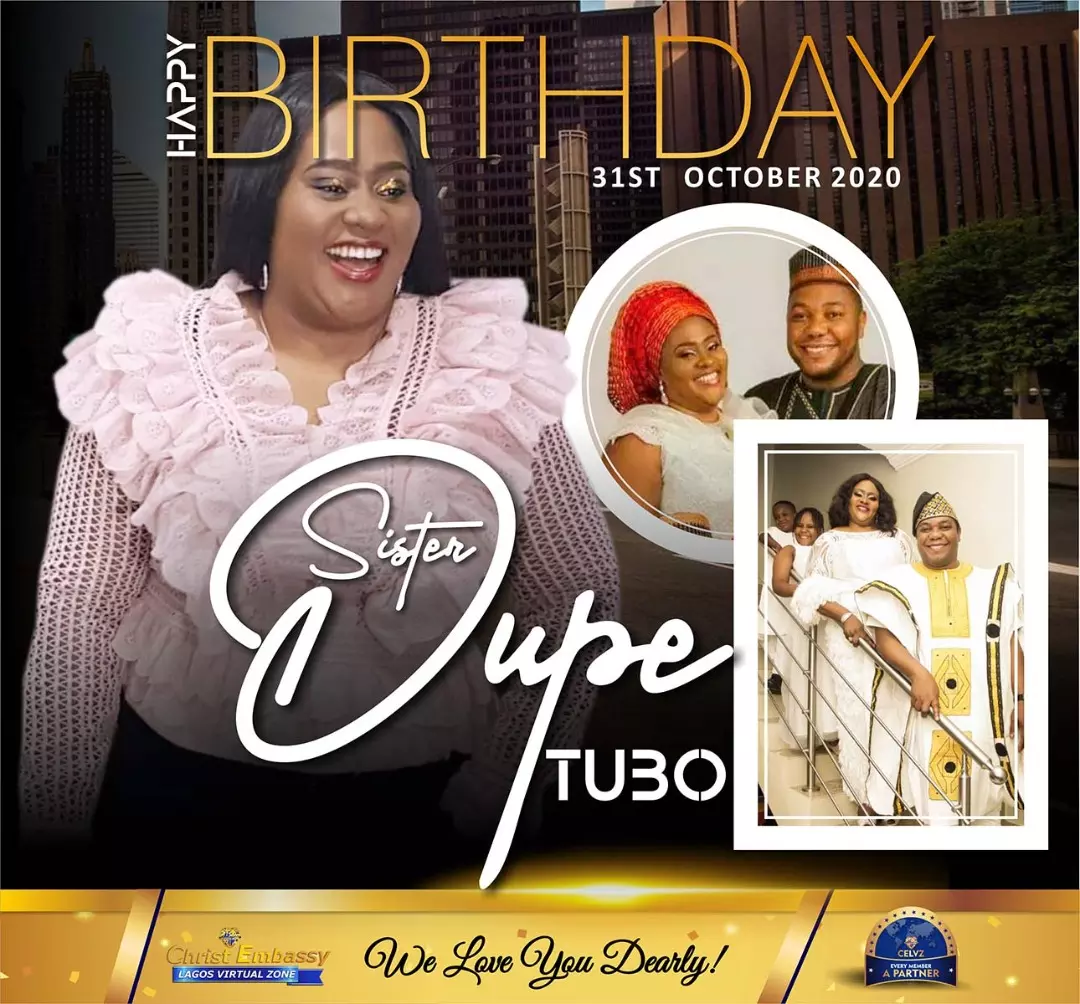 Salvation is found in no one else, for there is no other name under heaven given to mankind by which we must be saved." There will be healings, salvation and miracles at A Day of Bliss with Pastor Tony Aduroja #ADAYOFBLISS2020 #ADOB #ADOBONLINE #UKZONE2 #LWHAMMERSMITHCHURCH
Celebrating Greatness, Celebrating Perfection, Celebrating Excellence, Celebrating Exceptionalism. Happy Birthday to our Chairman- Esteemed Pastor Afolabi Oketunji. We celebrate your impact in our lives and the many victories and exploits in the Kingdom of God. We love and appreciate you dearly Pastor Sir. #PFLO3110 #Loveworldschoolrocks #Happybirthdaydearchairman
#photospeaks Inspiring moments from the LoveWorld Ladies Network: "Recreating Your World" Outreach. #LLN #loveworldladiesnetwork #loveworldladiesnetwork2020 #RecreatingYourWorld #llnceilorin1 #ceilorin1 #ncz2
Esteemed Pst Tosin led Loveworld Ladies & Saints from Loveworld Greenwich as they stormed the streets evangelizing & winning souls into the kingdom. Neither the rain nor covid-19 could stop them from preaching🔥- Pt5 #EssexGroup🇬🇧 #UKZone2 #LWGreenwichChurch #YearofPerfection💫
CE Eastleigh waring with Rhapsody.
#Recreatingyourworld #hatsandheels #CESunninghillChurch #SAZone2
Happy Birthday Esteemed Pastor Andy Olayemi! You are a perfect gentle man! Full of the Spirit!And a passionate minister of the gospel! Thank you for all you do for the gospel! Keep Shinning everywhere! I love you dearly! #CEJIGAWA #NNWZ2
CE READING ROAR ROARING WITH the ROR, what a great day of winning we had. #RoRROAR2020 #DSPUKZ3ROAR2020
Happy Birthday Pastor Afolabi Oketunji. Thank you for your passion and unyielding resolve in the propagation of the gospel of Christ. Your commitment to the vision of Our Dear Man of God Pastor Chris is inspiring. We love you dearly! #CeAccraGhanaZone #CEUSARegion2 #CESANZP #LWTeensMinistry