LoveWorld-XP: ITS DAY 2, ARE YOU on KingsChat Web
ITS DAY 2, ARE YOU READY? YOUR LOVEWORLD SPECIALS with PASTOR CHRIS continues tonight on LXP 📺 Watch live on 📺 www.lxp.tv/watch 📺 DON'T MISS IT!!! #kingschatrecommends #yourloveworld #yourloveworldwithpastorchris #PastorChrisTeaching #LoveworldNetworks #pastorchrislive #prayingnow #monthofprayer #PCLprayathon2021 #prayathon2021  #photospeaks #globaldayofprayer #gdop #stillpraying #iamapriestinoffice #wordfest3 #wordfest #wordfest2021 #WordFest3Extravaganza #watchonpcdltv #Wordatwork #ropc2021 #ropc21 #ropc #rhapsody #illumination #healingstreams #livehealingstreamswithpastorchris #hspc #cgi #pcdl #yearofpreparation #megaonlinecrusade #soulwinnersbootcamp #imcc2020xpanded #globalimpactoutreach2020 #watchliveonpcdltv #pcdlusc2020 #watchliveonpcdl #ICLC #ICLC2021 #iclcwithpastorchris #mbtc #mbtc2021 #LXP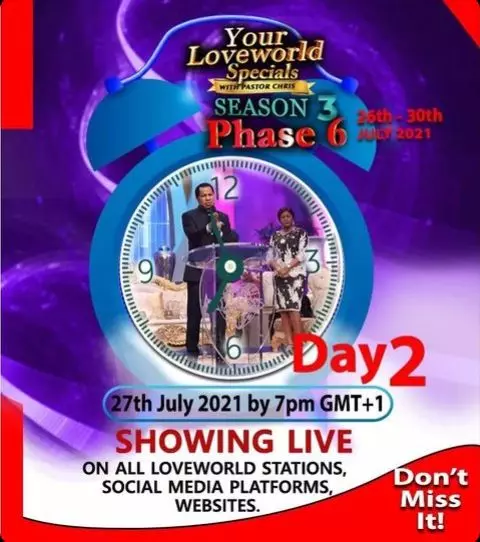 Akando
commented:
If you have bank account or coins wallet, I can teach you how to earn $5000+ with minimum start up amount of $500 just 7DAYS without sending money to me 100%percent legit profit secure, fast widraw with out no delay Ask me how....hity me up on WhatsApp+1 (678) 834-9786 and let's start winning... remember you're not paying any money to me, I only own 10% of your profits recoverd...
Happy Birthday Sis. Amaka Iyke. Thank you for all you do for the glorious gospel of our Lord Jesus Christ. Congratulations 🎉 #cenez1
THE ANSWER FOR A GUILTY CONSCIENCE (part 2). Hebrews 9:14 ... cleanse your conscience from dead works to serve the living God? You know, there are people who feel depressed all the time because of a sense of guilt, and they "pay" for their sins in terms of illnesses. 
YOUR LOVEWORLD WITH PASTOR CHRIS CONTINUES TODAY Join Pastor Chris for another astounding session of YOUR LOVEWORLD SPECIALS SEASON 3 PHASE 6 live on Loveworld Asia http://cloveworld.org/tv?id=5a098fdb0c4105wjug1qiet7v cLoveworld App https://cloveworld.page.link/386147 #LWAsia
Happy Birthday Esteemed Sis. Jessica Gabriel. Glorious things are spoken of you, congratulations. #cenez1
Celebrating LoveWorld Exceptionalism. Glooory!!!! #CEMakurdi #NCZ2 #northernregion
Easy Quiz _____ 1. Who is expected to register for the 'Beautiful You' event? 2. When is this event coming up? 3. At what time and venue? 4. Have you sent this registration link👉 https://loveworldladies.org/reg/?zn=ph2 to your contacts today? _____ Note: Post your answers in the comments section. Let's see who emerges the winner 🏆! #cephzone2 #lln
A Day With The Boss 2.0 is going to be lit. We are getting ready for the program across the Loveworld Staff Community from Monday 2nd - Friday 6th August, 2021. Watch this space 🌝 A Day With The Boss... Bond, Learn, Create and Enjoy! #BlueEliteCommunity #ADayWithTheBoss
WATCH HIGHLIGHTS 👉 DAY 1 YOUR LOVEWORLD SPECIALS SEASON 3 PHASE 6 Relish the moments at DAY 1 of Your Loveworld Specials Season 3 Phase 6 with Pastor Chris as we count up a few hours to DAY 2 today Tuesday 27th July 2021 from 7:00pm GMT +1, 2:00pm EST. Ensure you spread the Word and get everyone to participate Don't miss it. 🌍Visit the directory below to select a website, app, social media site, TV or Radio station in any country to participate. 👇 https://loveworldprograms.org/globaldir/ #yourloveworld #yourloveworldspecials #yourloveworldwithpastorchris