The Healing School : LIETLI'S DIVINE RESTORATION! www.enterthehealings on KingsChat Web
LIETLI'S DIVINE RESTORATION! www.enterthehealingschool.org/imagazine Battling a terrible skin condition, Lietli's was adversely affected in several ways. Her education suffered as well; she missed school often as a result of frequent flare-ups on her skin. She eventually graduated from high school, but she lost her college scholarship in 2018 because her hands were too damaged to help her fulfill the most basic requirement. "I couldn't hold a pen and, therefore, I couldn't take the required tests," she recalls. Read this inspiring healing testimony from the Healing Streams Live Healing Services in this month's edition of Healing to the Nations Magazine! Download your free copy to now @ www.enterthehealingschool.org/imagazine God bless you. #healingstreams #healingstreamstv #healingtothenations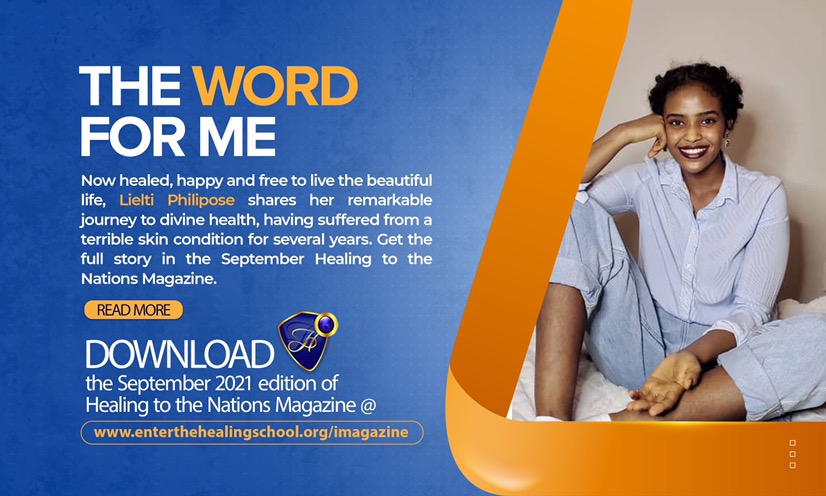 Martina Ufana
commented:
It's gone for ever by the power of the Holy Ghost amen.
🎉🎉🎉BIRTHDAY CELEBRATIONS CELEBRATING AN EXCELLENT LEADER HAPPY BIRTHDAY ESTEEMED BRO ETINI AYARA. WE CELEBRATE YOU.
#Solabration #PSO0918 #AllinspiringGHOP #RecordbreakingPSO #IconicPSO #CELZ5 #ROREWCA1region
Happy Birthday A Son of Consolation. A kingdom Financier. I join the host of Heaven to Celebrate you today. Thanks for your love for God and all you do in Ministry.
THOUGHTS ARE DELIBERATE AND CREATED BY YOU 👌 Learn more from Day 3 Study titled POWER OF THOUGHTS PART 1 still airing on www.pcdl.tv for the Ongoing Exposé On VISUALIZATION #PCDLUSC2021 #AnExposeOnVisualization #HappeningInSeptember #MonthOfVisualization #watchonpcdltv
Happy Birthday Dearest. You are a City set on a hill you can never be hidden. Your game is noised abroad. It's a Dawn of a new day. Your light shines every Where. Thank you for your commitment to the healing School. I love you so much. Enjoy your new Age.
A Big congratulations 🎉 to La Eron for Topping the chart on Dedications Top 10 Videos as Number One Music Video for the month of August with "HIGHER" Go check him out and more music videos from him. Watch Dedications video request show today from 1:30pm GMT+1 and rebroadcast at night on www.lxp.tv/watch Don't forget to vote your favorite for this month's Top10 Videos www.lxp.tv/topten
#RON2021 #RONPRAYERRALLY #MINISTRYCENTERWARRI #EXECUTIVECELL #DIMONYCHURCH #UGBORIKOKOGROUP
For I am convinced that neither death nor life, neither angels nor demons, neither the present nor the future, nor any powers, neither height nor depth, nor anything else in all creation, will be able to separate us from the love of God that is in Christ Jesus our Lord. Rom8:38