GLOBAL DAY OF PRAYER 1ST DECEMBER 2020 - 18 DAYS TO GO PRAYER GUIDE FOR TODAY, FRIDAY 13TH NOVEMBER 2020 PRAYER FOR THE GLOBAL ATTENDANCE TO THE PROGRAM Mark 3:7-8 Jesus withdrew to the sea with His disciples; and a great multitude from Galilee followed; and also from Judea, and from Jerusalem, and from Idumea, and beyond the Jordan, and the vicinity of Tyre and Sidon, a great number of people heard of all that He was doing and came to Him. PRAYER POINT Pray and thank the Lord for an UNPRECEDENTED GLOBAL ATTENDANCE to the Global Day of Prayer. Proclaim that the news of this program spreads rapidly in all nations of the world, and everyone that hears about this program attends. Pray and proclaim that at this program, we exceed the 5 BILLION SOULS mandate given to us by the Spirit of God through our Man of God, and every attendee of this program will be impacted in a most extraordinary way by God's Spirit. PROCLAMATIONS I PROCLAIM that we exceed the 5 BILLION MANDATE participation for the Global Day of Prayer. I PROCLAIM that the news of this program spreads uncontrollably in all nations, and everyone who hears about it will attend. I PROCLAIM that through this program, billions of souls all around the world will be impacted for Jesus.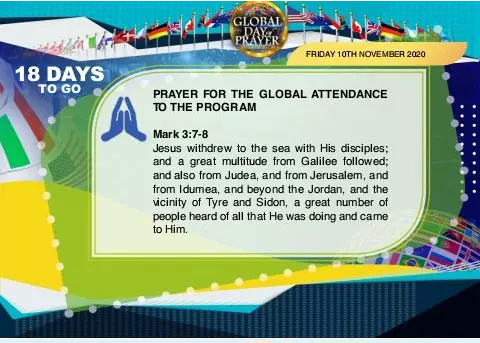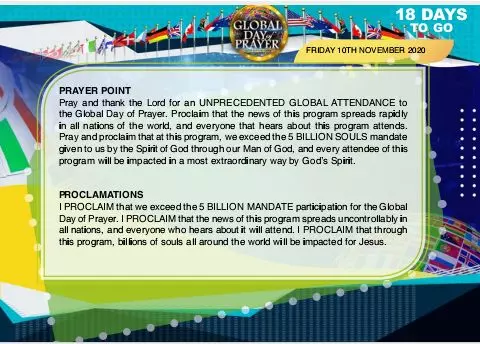 "A DELIGHTSOME EXPERIENCE AWAITS YOU THIS IPPC!" at the #OasisPark #IPPC2020 #healingschool #lmms #togethersavingliveseveryday
👏Our Whole Gratitude Goes To👏Esteemed Pastor Obi Chiemeka CE UK Zone 3, DSP for your prompt and inspiring response towards sponsorship of the Upcoming IMCC 2020 Xpanded in the Silver Category. We Celebrate You Gallantly👯👯👯 #imcc2020xpanded #nowinits7thedition #indyearofperfection
PROSPERITY CONVICTIONS I affirm that I am an ambassador of heaven, called and sent to show forth God's riches and wealth to the nations. Through me, God distributes riches to every man's world. The wisdom of God is at work in me illuminating my mind and unveiling hidden riches to me. I see, hear and know by the Spirit, which contracts to execute, which projects to pursue and businesses to invest in. My mind is open to receive ideas from God and to take advantage of opportunities presented by the Spirit of God for me to make wealth. In the volumes of the books it is written of my financial partnership with the gospel and I am fulfilling that. I have the key to unlock doors to hidden riches and wealth. Hallelujah! Be part of #ChristEmbassy. Org Online Mission's work in spreading the gospel all over the internet, Click here 👇http://bit.ly/partnerwithCEOMS2impactnations to make a donation today Encourage others by sharing this post with them. God bless you.
📩 HEIRS OF INEXHAUSTIBLE RICHES Read Your Rhapsody Today🤗 🗓️ Fri 13, 2020 It makes no difference how and where you were born; now that you're in Christ, you're separated unto God and His glory. Poverty isn't part of your life. 🔻Click to Download the Rhapsody App, Join the Influencers Network or to Sponsor: bit.ly/becomeaninfluence 🗣️ CONFESSION I have access to the unending, boundless, fathomless, incalculable and exhaustless riches of Christ—wealth which no human being could have searched out! Through the Word, I'm walking in my superabundant inheritance in Christ. All things are mine! Praise God! #rhapsody #pastorchris #prayingnow #BemorewithRoRv3
It makes no difference how and where you were born; now that you're in Christ, you're separated unto God and His glory. Poverty isn't part of your life. Clink to read more.. https://installs.rhapsodyofrealities.org/?id=impactone1 JOIN THE ROR GLOBAL DISTRIBUTORS NETWORK TODAY! www.rorgdn.org #Rhapsody #impactone #RhapsodyFiesta #RhapsodyofRealities #ReachoutNigeria2020 #ronextravaganza #myproclamations #rgdn #monthofpraise
LIFTED HANDS, BOWED KNEES Join hands with Christ Embassy Online Missions to reach even many more people with the gospel of Jesus Christ. If you will like to give today, click here 👉👉 https://onlinemissions.christembassy.org/giving/. Psalm 141:2 says, "Let my prayer be set before You as incense, the lifting up of my hands as the evening sacrifice." There are certain things you do at times of communion with the Father that are spiritual acts of worship, and tend to make your prayer much more effective. For example, when you bow your knees and lift your hands to the Lord in prayer, it is a demonstration of deep spiritual truth revealed to us in God's Word. There is something powerful in the lifting up of our hands unto the Lord in prayer and in worship. As your hands are lifted up in the presence of the Lord during prayer, and you speak forth words of praise and worship to Him, extolling His majesty, you are sending incense of a sweet-smelling savour unto heaven. Learn to do this often. There's more… Read the full article here 👉👉 https://onlinemissions.christembassy.org/2020/11/13/lifted-hands-bowed-knees/. Help share with others. God bless you.
21 Gun Shot for My Oga Kpatakpata of them all My Highly Esteemed Global Dcn. My RSO. A man who through Faith have subdued Nations. A Man with so much LOVE & Passion for the things of God. As you grow in age, you are a thousand times Bigger and better. HAPPY BIRTHDAY SIR.
"A DELIGHTSOME EXPERIENCE AWAITS YOU THIS IPPC!" at the #OasisPark #IPPC2020 #healingschool #lmms #tcif #everylifecounts
The wait is over ❗Join Billions around the world register https://bit.ly/324Ip0F #reon2020 #worldevangelism #globalrhapsodyoutreach #g.r.o #pastorchris
It's HERE❗Join Billions around the world and register https://bit.ly/324Ip0F #reon2020 #worldevangelism #globalrhapsodyoutreach #g.r.o #pastorchris