The management, staff and volunteers of the Trauma Care International Foundation felicitate with our President; Revd Dr Chris Oyakhilome on this auspicious occasion of his birthday. Thank you Sir for showing us how to make lives count through our exploits in preserving lives through improved trauma management and emergency response. Thank you for your visionary leadership and guidance. We love you Sir. Trauma Care International Foundation #tcif #dec7 #ids2020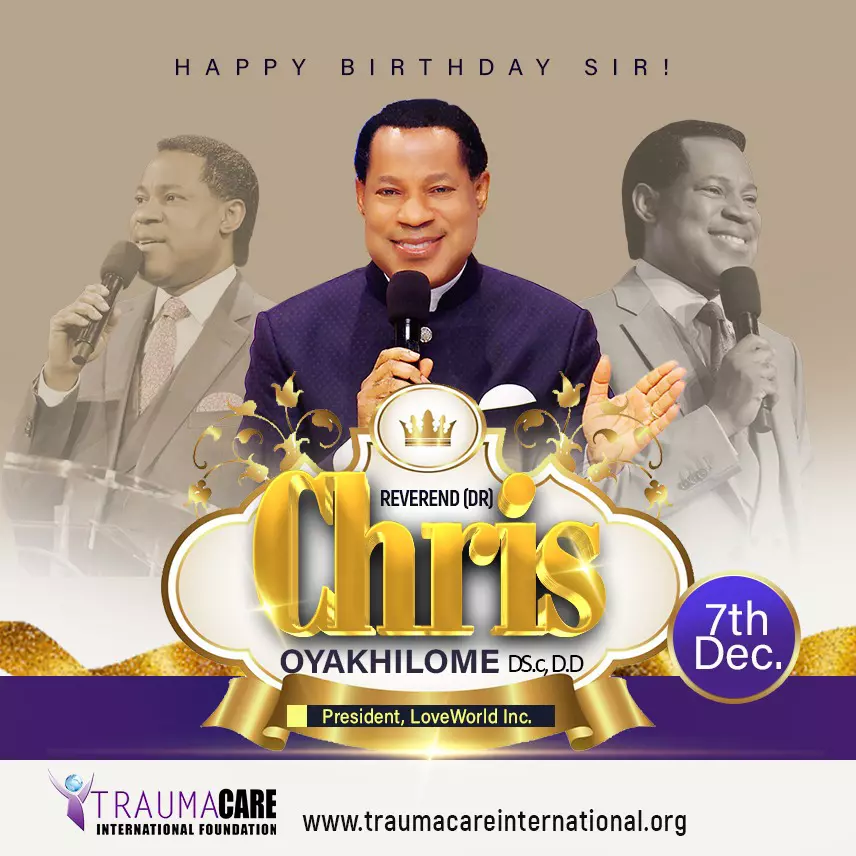 Celebrating legendary father A man sent from God Happy birthday my pastor
HAPPY BIRTHDAY MY DEAR DAD, PASTOR, PROPHET, LIFE COACH. Thank you so much Sir for teaching & beautifying our lives with the WORD of His Grace. Your LOVE for Jesus is contagious! I love you dearly Sir! #December7 #ceGreatGarrison #cephzone2
HAPPY BIRTHDAY MY DEAR DAD, PASTOR, PROPHET, LIFE COACH. Thank you so much Sir for teaching & beautifying our lives with the WORD of His Grace. Your LOVE for Jesus is contagious! I love you dearly Sir! #December7 #ceGreatGarrison #cephzone2
Happy birthday Pastor Sir. Thank you for teaching me God's word that has given me a direction in this present life. Am forever grateful to God for you Sir. I Love You Sir.
#CELVZ #HappyBirthdayPastorChris #WeLoveYouSir #Offer7 #TheYearOfPerfection
HAPPY BIRTHDAY MY DEAR DAD, PASTOR, PROPHET, LIFE COACH. Thank you so much Sir for teaching & beautifying our lives with the WORD of His Grace. Your LOVE for Jesus is contagious! I love you dearly Sir! #December7 #ceGreatGarrison #cephzone2
Celebrating a bold treasure in God's kingdom. Blessed birthday day sis. I love you dearly.