Tania Elias: I'm above always.. on KingsChat Web
I'm above always..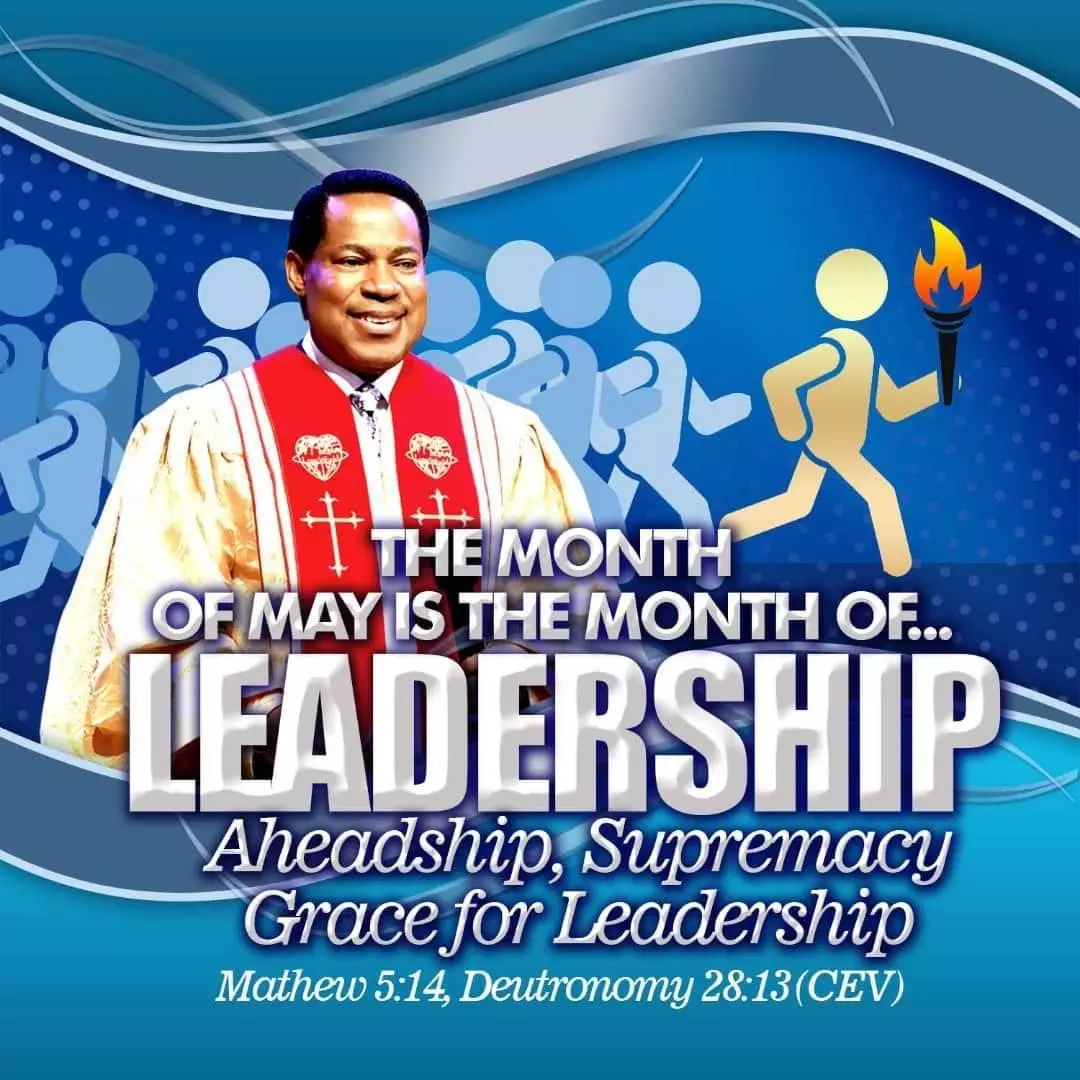 Tania Elias
commented:
WELCOME TO THE MONTH OF LEADERSHIP! READ YOUR RHAPSODY OF REALITIES DAILY DEVOTIONAL (DOWNLOAD FREE MAY PDF in any language of your choice=> http://bit.ly/2bVoeaM) THE BLESSING IS CONNECTED TO YOUR CONSCIOUSNESS – PASTOR CHRIS OYAKHILOME MONDAY 6TH MAY And I will make of thee a great nation, and I will bless thee, and make thy name great; and thou shalt be a blessing (Genesis 12:2). Being born again, are you aware that you're a package of blessings? Not only are you blessed, you're a conveyor or dispenser of blessings. You're the seed of Abraham; this makes you, not just a blessed man, but also a blessing. You're divinely empowered to prosper and that empowerment impacts positively on everything around you as well. The blessing also protects and preserves you such that irrespective of the challenges or oppositions you face, you always win. This is your life as a Christian; you've been empowered to succeed in all things and deal wisely in the affairs of life. However, the blessing is connected to your consciousness; it doesn't work by accident. It works more when you're conscious of it. Let me explain it like this: someone else can pull virtue out of you by faith, as we read about the woman with the issue of blood, but that's not you carrying out any operation at that time. The woman with the issue of blood in Mark 5:25 came in the press behind and touched the hem of Jesus' garment and she was healed instantly. Then Jesus asked, "Who touched me?" So many people were touching Him at the time, but there was something different about the touch from the woman; it was a touch of faith, a demand on the power of God. Jesus knew that someone pulled power out of Him; He had the consciousness, just as the woman had the consciousness that if she touched Him, she'd be healed. So, you have to be conscious of the blessings of God in your life, and the greatest of such blessings is the indwelling of the Holy Spirit. Be more conscious of the Holy Spirit in you; you're not an ordinary person. Yes, there may be challenging situations, but when you're conscious of who you are, and the greater One that lives in you, you'll always win. Challenging situations never come to destroy you. Therefore, never get frustrated by your challenges or crisis; be unruffled. Maintain your composure; have the mindset of victory. PRAYER Dear Father, what a blessing it is to be a conveyor and a dispenser of your divine love, power, glory, virtue, compassion and grace! I'm your extension; your outstretched arm to bring hope, succour, health, blessings, and deliverance to a dying and hurting world. Through me, your glory, power, and blessings envelop the lives of many, to your glory and praise, in Jesus' Name. Amen. FURTHER STUDY: || Deuteronomy 28:2-9 And all these blessings shall come on thee, and overtake thee, if thou shalt hearken unto the voice of the LORD thy God. 3 Blessed [shalt] thou [be] in the city, and blessed [shalt] thou [be] in the field. 4 Blessed [shall be] the fruit of thy body, and the fruit of thy ground, and the fruit of thy cattle, the increase of thy kine, and the flocks of thy sheep. 5 Blessed [shall be] thy basket and thy store. 6 Blessed [shalt] thou [be] when thou comest in, and blessed [shalt] thou [be] when thou goest out. 7 The LORD shall cause thine enemies that rise up against thee to be smitten before thy face: they shall come out against thee one way, and flee before thee seven ways. 8 The LORD shall command the blessing upon thee in thy storehouses, and in all that thou settest thine hand unto; and he shall bless thee in the land which the LORD thy God giveth thee. 9 The LORD shall establish thee an holy people unto himself, as he hath sworn unto thee, if thou shalt keep the commandments of the LORD thy God, and walk in his ways. || || Ephesians 1:3 Blessed [be] the God and Father of our Lord Jesus Christ, who hath blessed us with all spiritual blessings in heavenly [places] in Christ: || || Philemon 1:6 That the communication of thy faith may become effectual by the acknowledging of every good thing which is in you in Christ Jesus. || DAILY SCRIPTURE READING 1-Year Bible Reading Plan=> John 3:1-21 & 2 Samuel 22 2-Year Bible Reading Plan=> Mark 8:10-21 & Numbers 9
#Celebratingpykaniconoflights #DauntlessPYK A master builder of spiritual structures.
#dauntlessPYK Celebrating Character, Integrity, Discipline and Excellence
#Celebratingpykaniconoflights #DauntlessPYK Magnificient
#dauntlessPYK Celebrating Character, Integrity, Discipline and Excellence
#celebratingpykaniconoflights Innovation in motion
#dauntlessPYK Celebrating Character, Integrity, Discipline and Excellence
#dauntlessPYK Celebrating Character, Integrity, Discipline and Excellence
#celebratingpykaniconoflights Celebrating an icon of lights
#dauntlessPYK Celebrating Character, Integrity, Discipline and Excellence
#celebratingpykaniconoflights Director of the most published and widely distributed book in the World