Happy birthday Bro Bernard! This is your year of light and you're shining like never before for the whole world to see. Your life is continually full of testimonies of God's goodness and grace in Jesus name. Blessings to you and your lovely family! #CENorthYorkGroup #CENorthYork #CECityChurch #CERichmondHill #CEMalton #CEMossPark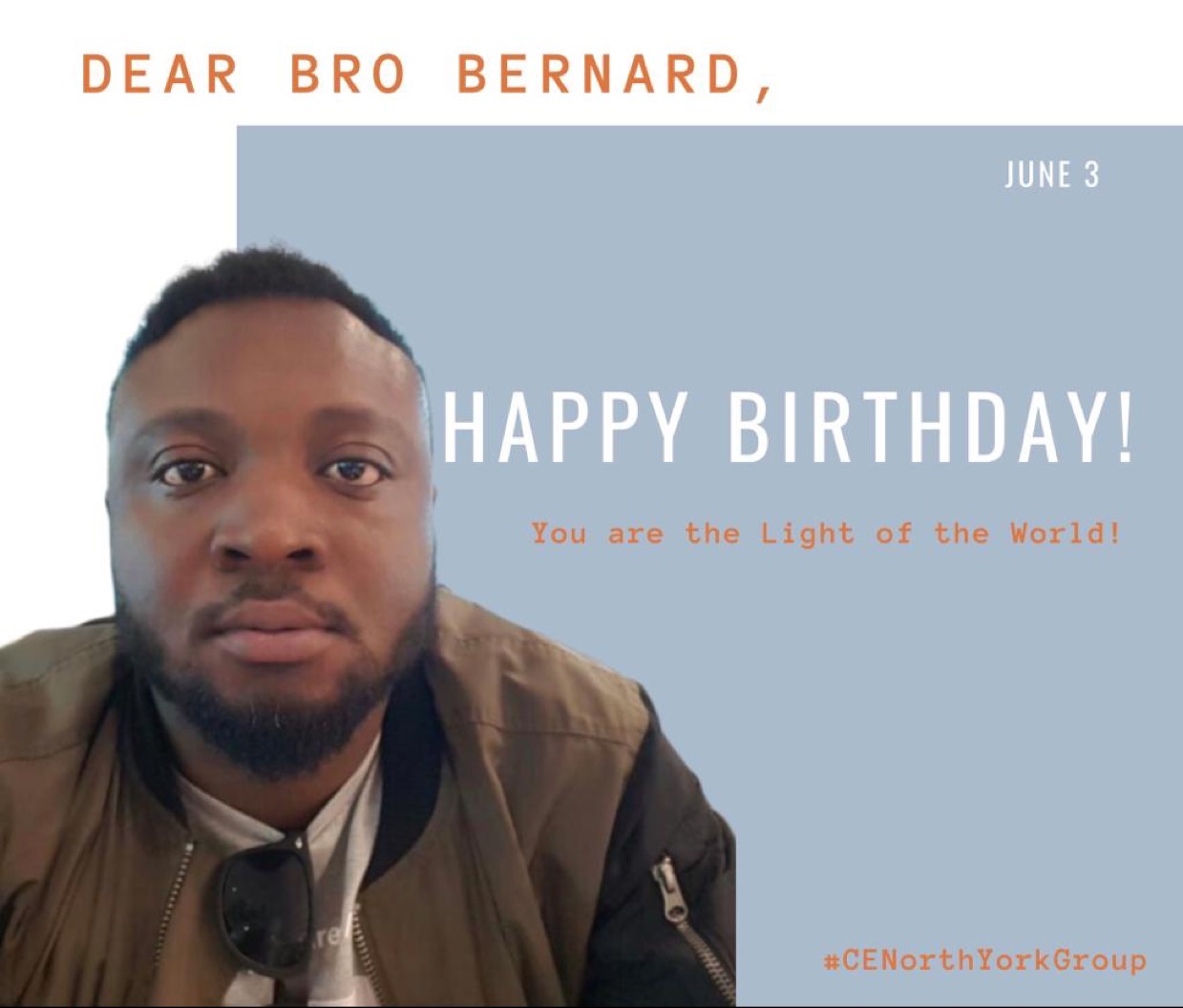 Dcns Molly- Huios of God
commented:
Happy Birthday Dear Bro Bernard. We celebrate You on this very special day. You are so so blessed. You are graced and highly favoured. You are the light of the world. Keep shining. God Bless you
#RORRUK2019 #UKZone1 #LoveworldEdinburgh
#RORRUK2019 #UKZone1 #LoveworldEdinburgh
#PrayAThon2019 Day 6: Prayer for The Leaders of Nations. Click👇for prayer post @pastorchrislive https://www.kingsch.at/p/bkU1bFF Click👇to join brethren from all over the globe. https://pastorchrislive.org #PrayingWithPastorChris #pclprayathon2019 #PrayAThon
Happy Birthday Esteemed Bro Bayo Ayeni. It's a whole new level for you. Thank you for your commitment to the ministry. Enjoy the best. Congratulations! #ceib_pfcc #ceibsouth #nswz1
We celebrate and appreciate God's gift to US. A very UNIQUE and SPECIAL person. A lady with a kind heart and full of the spirit. A lady PASSIONATE FOR THE GOSPEL and the WORK of the MINISTRY. Happy Supernatural Birthday. Hagar Amad For You and Money Everywhere for You.
#RORRUK2019 #UKZone1 #LoveworldEdinburgh
Happy birthday beautiful Sister Kachy. I celebrate your uniqueness. Thank you for all you do for the Lord. This is ur set time for a lifting. Your light shines ever so brightly and there is no stopping you. Of your increase and expansion there is no end. I love you so dearly😘😘
#RORRUK2019 #UKZone1 #LoveworldEdinburgh