BLW UK International Office: Loveworld International Office UK Celebrates on KingsChat Web
Loveworld International Office UK Celebrates an Epitome of Grace, An Icon of Excellence, A Purveyor of Perfection, A Game Changer, An Outstanding Role Model, A Divine Activist in all Endeavors. An Inspirational Personality full of Love , Passion and Humility. Happy Birthday to our Highly Esteemed CEO ~ Pastor Deola Phillips. Thank you Ma for your gentle and kind disposition. Thank you for your passionate commitment to expanding the Gospel and for being an indispensable asset to our Man of God. Thank you for giving us an example to follow and for producing excellence in us all. We Love and Appreciate you dearly. #HappyBirthday #CEO #ExceptionallyperfectPDee #LWIntlUK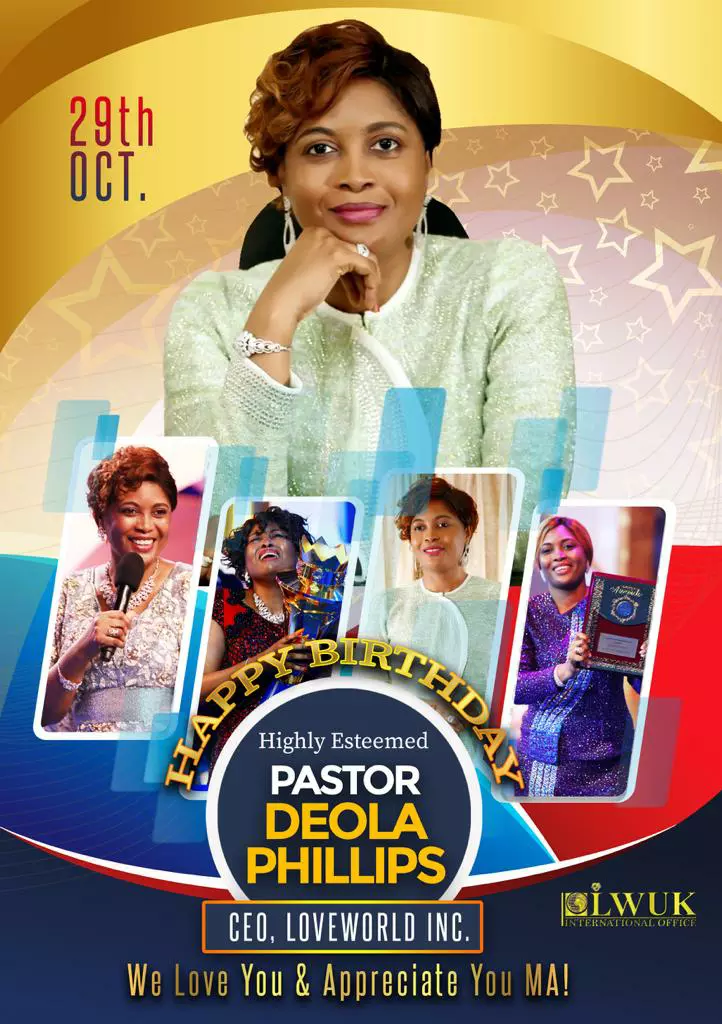 **LOVEWORLD UK ZONE 4** A Holy Ghost rendezvous!!! You are cordially invited to our Prayer, Worship and Miracle Service, scheduled to hold on Friday 6th November 2020 at 7pm. You can participate via the links below: Cloveworldlive.com/?id=lwzone4 OR http://cevirtualchurch.org?_inv=ceuz4drS3s4 It's your set time for a miracle!!! Don't miss it!!!
It is Day 23 Study on #WordFest2 Watch and listen to Every Tree A Forest on www.pcdl.tv free of charge 1 Day To Go For WordFest2 Extravaganza #IMCC2020 Is On The Way💬💬💬💬💬 #wordatwork #watchonpcdltv #wordfestextravaganza
The Countdown begins #SAZone2 #LegacyGroup #CEWestRand #The very best of CEWR #TheCountdown Thank you Pastor Ma for all you do for us. We love you dearly and especially
Cheaper to prevent pandemics than 'cure' them Preventing pandemics could be more than 100 times cheaper than tackling their deadly effects. https://www.bbc.co.uk/news/science-environment-54721687
Xiaomi rolls out PatchWall 3.0 update for Mi Smart TVs - here's what you get PatchWall 3.0 update for Mi Smart TVs brings and updated user centre and an immersive carousel https://www.techradar.com/news/xiaomi-rolls-out-patchwall-30-update-for-mi-smart-tvs-heres-what-you-get/
Happy birthday to our highly esteemed and exceptionally perfect CEO, LOVEWORLD INC. We love you so dearly ma
We are now in Day 23 on #WORDFEST2 with the message: EVERY TREE A FOREST airing now on www.pcdl.tv💐💐💐💐💐 1 DAY To WordFest2 Extravaganza A Glorious Festival of the Word for 24-Hours🕛🕛🕛🕛🕛🕛🕛🕛🕛🕛🕛 #wordatwork #watchonpcdltv #wordfest2extravaganza
Happy perfect birthday ma l love so dearly.
Happy birthday dear Esteemed CEO Ma. Thank you very much Ma, for the opportunities given to me in the course of my work. I am most grateful Ma. I love and appreciate you greatly Ma.
CELEBRATING OUR BELOVED CEO AND ZONAL DIRECTOR - THE HIGHLY ESTEEMED PASTOR DEOLA PHILLIPS!!! Today we celebrate God's perfect gift and a Super Star; the Esteemed Pastor Deola Phillips. Thank you so much ma for loving us unconditionally. WE LOVE YOU DEARLY MA! HAPPY BIRTHDAY MA! Christ Embassy Victoria Island Group #HappyBirthdayMa #ExceptionallyPerfect #CEVIGroup #CELZ5