DAILY LIVE BROADCAST OF #YOURLOVEWORLD WITH PASTOR CHRIS Join Pastor Chris daily for a glorious time of fellowship with the Word and the Holy Spirit from Friday 24th to Thursday 30th April 2020 at 7pm GMT+1 and 2 pm EST. Visit www.loveworldmedicalmissions.org to participate #lmms #tcif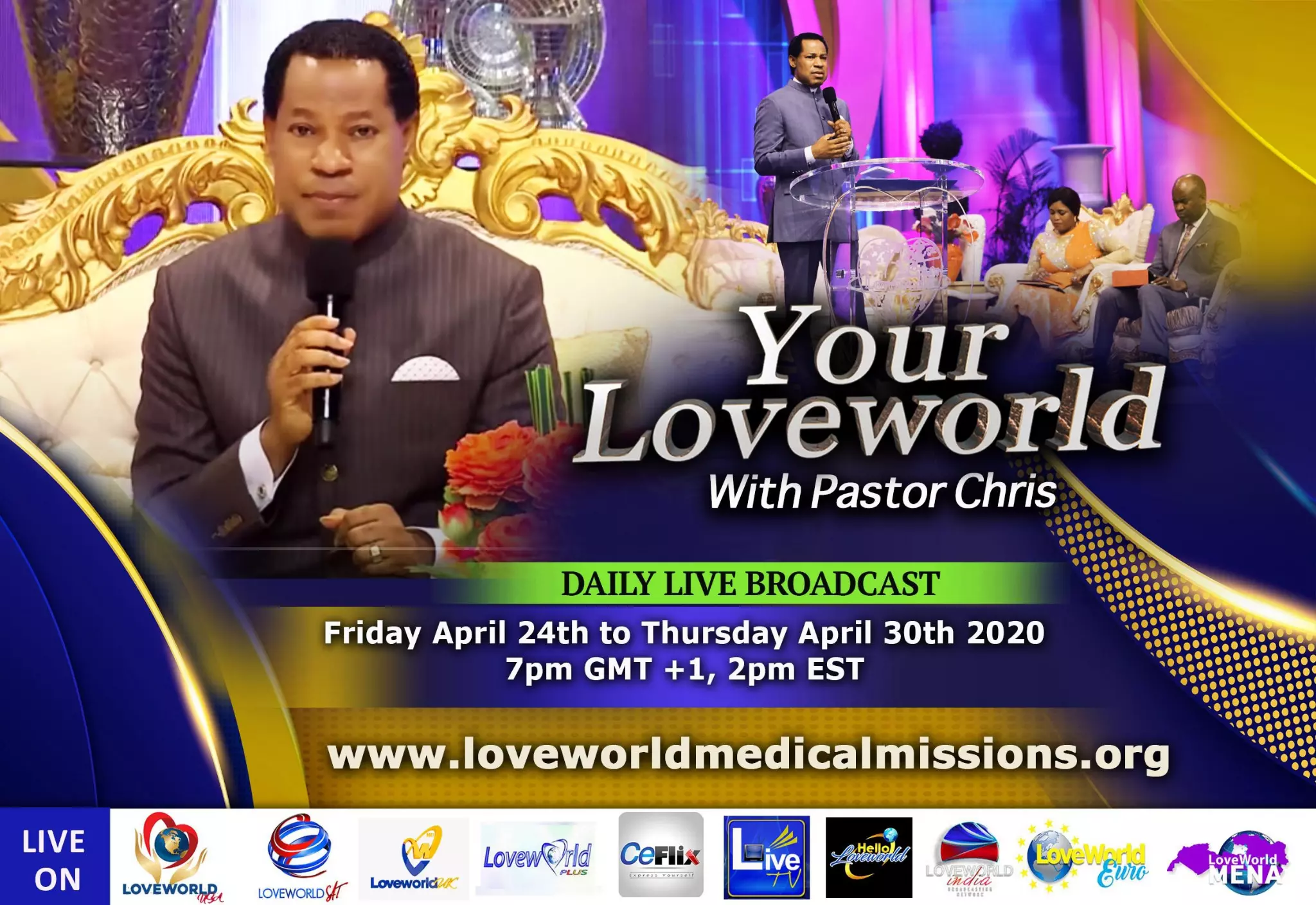 #FreePcdlgiftfromPastorChris #thankyouPastorChris #PCDLPerfectionFiesta #CeAccraGhanaZone #TreasuresPCF #Treasures1Cell6 #CeAvenor
Celebrating my life coach #ppn2404 #cegbagada #celagoszone2 #goldencelebrationofGod'siconofPerfectionism!
DAILY LIVE BROADCAST OF #YOURLOVEWORLD WITH PASTOR CHRIS Join Pastor Chris daily for a glorious time of fellowship with the Word and the Holy Spirit from Friday 24th to Thursday 30th April 2020 at 7pm GMT+1 and 2 pm EST. Visit www.loveworldmedicalmissions.org to participate #lmms #vmcorps #savingliveseveryday
http://bit.ly/SpreadFaithC #SpreadFaithCampaign #Healingtothenations
#divinehealthconfessiins #healingtothenations
Dear Sister Auxillia. Thank you for being available to serve in the house of God. May God richly reward you for all your work, labouring in the Gospel! I love you dearly!
Its Day 8 of our 'A MESSAGE A DAY' Campaign #FreePcdlgiftfromPastorChris #thankyouPastorChris #PCDLPerfectionFiesta #CeAccraGhanaZone #TreasuresPCF #Treasures1Cell6 #CeAvenor
Its Day 8 of our 'A MESSAGE A DAY' Campaign #FreePcdlgiftfromPastorChris #thankyouPastorChris #PCDLPerfectionFiesta #CeAccraGhanaZone #TreasuresPCF #Treasures1Cell6 #CeAvenor