CE Kano: Glorrrrrryyyyyyyyyy......... We Are Winning A on KingsChat Web
Glorrrrrryyyyyyyyyy......... We Are Winning A THOUSAND SOULS FOR CHRIST Across The North West Zone 2 As We Commemorate Our Gracious Day Celebrating Our Highly Esteemed Zonal Pastor And Dad PASTOR OSAGIE OSAGHAE Pastor ,We Love So So Dearly Sir !!! Please Join Us #CELEBRATINGPOO #CELEBRITYFORCHRIST #ATHOUSANDSOULSFORCHRIST #A292020 #NNWZ2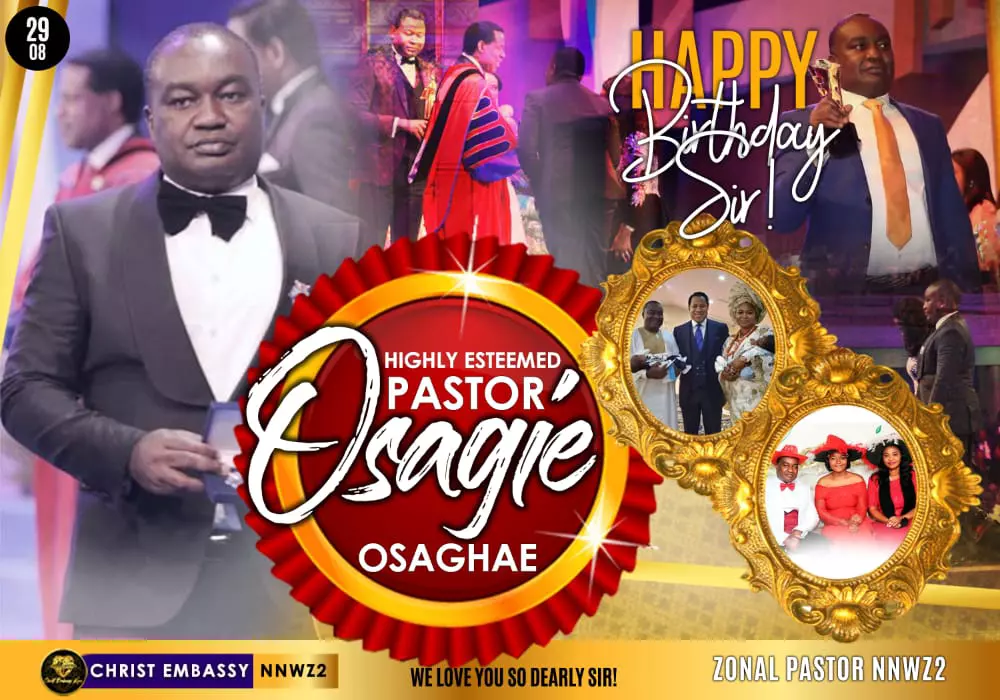 Janet Evans
commented:
Blessed be God forevermore. HALLELUJAH
CE Rwanda leading the Pray-A-Thon. #prayingnow #pclprayathon2020 #prayathon2020 #iamapriestinoffice #EWCAZ3  #Rwanda
#DivineHealthConfessions #THEGREAT28
☀️🎧EXPOSE ON SOUL WINNING☀️🎧 ✨🎁🎉Day 21🎁🎉✨ Msg: PREVAILING PRAYER PART 1 Please our unique zonal link here 📱🖥️ 👉👉👉 https://pastorchrisdigitallibrary.org/exposeonsoulwinning/ceukz4 #exposeonsoulwinning #watchpcdltv #CEBRISTOL #UKR2Z4
Check out my inspiring post on Yookos!
It's getting bigger and bigger It's getting hotter and hotter Our long awaiting program Brothers Acts Glorrry.... #Brothersacts #Brothersweek #cebiwen #cemidwestzone
🗣️🗣️Divine Health Confessions – 29th August 2020🗣️🗣️ Important! Click 👉 bit.ly/CELZ5FOLLOWPASTORCHRISLIVE to follow The Pastor Chris Live Prayer Network. Click 👉 enterthehealingschool.org/imagazine/CELZ5 to Spread Faith with The Healing School (August) Magazine and get others to do so too. Click 👉 https://bit.ly/Z5RORapp to download and share the ROR 3.0 app with all contacts. God bless you! #HealingtotheNations #Perfection2020 #CELZ5
Are you Ready!!! https://lmam360.com/i-believe-conference/ #MyLMAMmyMinistry #ProudlyLMAM #THEGREAT28
🗣️🗣️Divine Health Confessions – 29th August 2020🗣️🗣️ Important! Click 👉 bit.ly/CELZ5FOLLOWPASTORCHRISLIVE to follow The Pastor Chris Live Prayer Network. Click 👉 enterthehealingschool.org/imagazine/CELZ5 to Spread Faith with The Healing School (August) Magazine and get others to do so too. Click 👉 https://bit.ly/Z5RORapp to download and share the ROR 3.0 app with all contacts. God bless you! #HealingtotheNations #Perfection2020 #CELekki #CELZ5
"WE'VE TASTED IT!' A Zonal Rhapathon with Pastor Amaechi Udeaku. THE REVOLUTION- Day 17 Highlight "We've seen this, we've tasted it, and it's working so you just have to be part of it." - Gov. Henry . You can be a part of this revolution. Choose a service time below to join us tomorrow for your pass to Boundless Grace. 7:00am, 8:45am and 10;30am for first, second and third service respectively. Online stream: Facebook - CE Boundless Grace Church Instagram - @Peeayforever Kingschat:@phzone1 Youtube - CE Boundless Grace Onsite - 180 East West Road, Rumuodara, PHC #cephzone1Rhapathon #pastorchris #pastorchrisgeneration
#prayingnow #pclprayathon2020 #prayathon2020 #iamapriestinoffice #EWCAZ3 #SouthSudan