Rhapsody Bible & You: Celebrating an Icon of Perfection on KingsChat Web
Celebrating an Icon of Perfection Our Esteemed Pastor Ambrose Isesele. Thank you for all you do to keep the Bible in its place as the Number 1 book in the world. We love you dearly sir!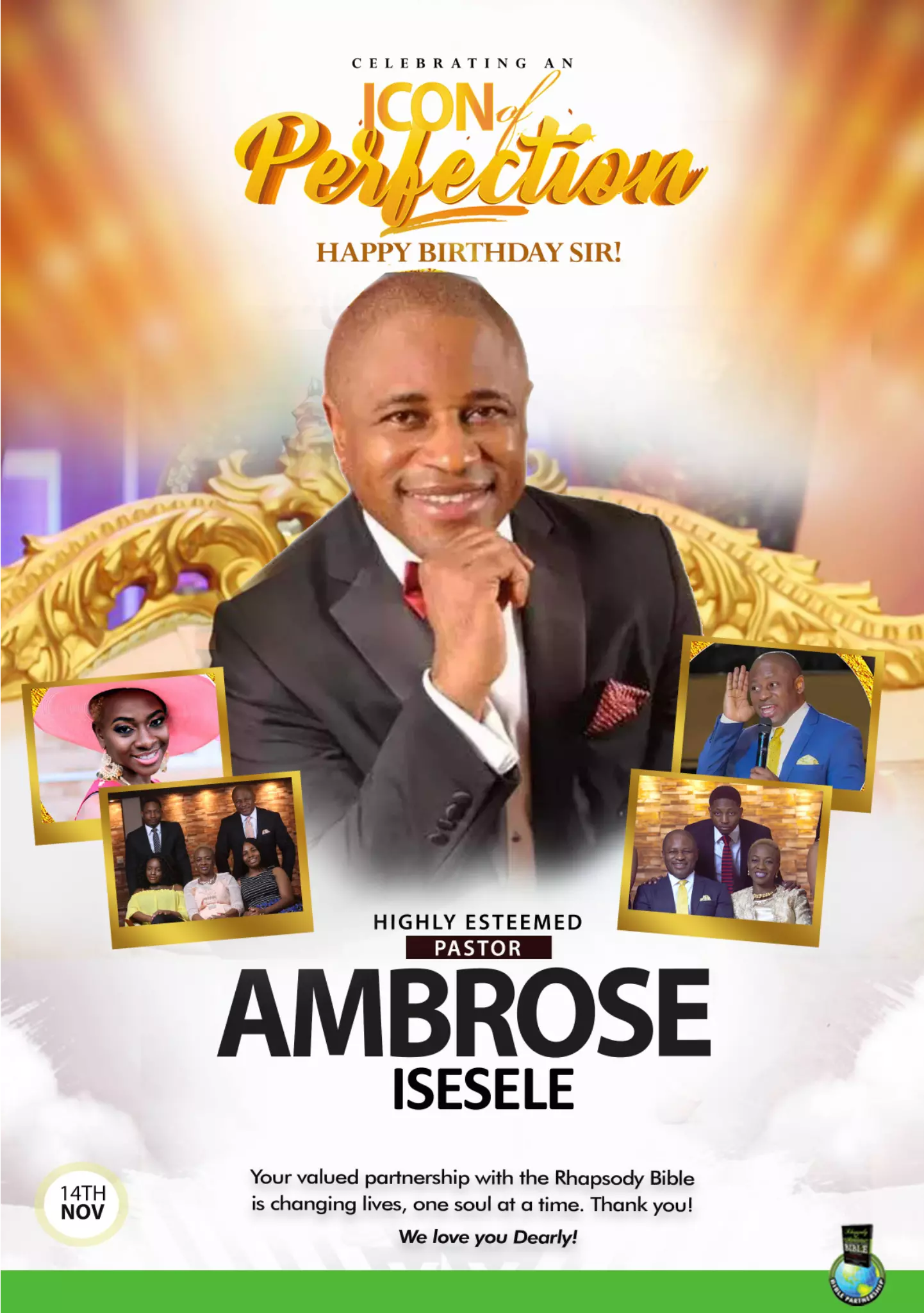 Happy Wedding Anniversary Esteemed Pastor Joseph & Pastor Jojo Atibi-Brown. Rhapsody of Realities celebrates you. Thank you for your valued commitment to the gospel. #cemidwestzone #cesiluko #Rhapsody
I affirm that I am like a tree planted by the rivers of water. I produce fruits in and out of season. Yesoo, there is no dryness...MALAGABAYA zontelebaha. Hallelujah #LLN #Outreach #Recreatingyourworld🌎 #Emerald #Dspukzone3 #CEdagenham #Praise #Perfection
Happy birthday to the Most highly Esteemed Regional Pastor,We heartly celebrate God Exceptional Grace at work Sir. Your steadfast Grace of a loving Example in the lord. We love you Sir. #EWCAZ3
#loveworldgraduatenetwork# #zonal connect# #onitsha zone#
Happy birthday Highly Esteemed Pastor Sir. Thank you Sir for your excellent and wise counsel always. Today I join the Host of Heaven and our great Ministry in celebrating a Light which will always shine into the hearts of all Mankind. Happy birthday Sir.
Excel ladies prayer outreach was 🔥🔥🔥 #ExcelcellDagenham #LLN #LLNDSPUKZONE3 #Recreatingyourworld #DSPUKZONE3
Happy Birthday saint Timothy Mike Adjaka. You truly reflect the glory of God.