BLW UKZONE2: GLOBAL PRAYER HOUR WITH PASTOR on KingsChat Web
GLOBAL PRAYER HOUR WITH PASTOR CHRIS Beginning from today, Friday 8th of January, to 14th of January (7 days), we'll have a global prayer hour at 12noon to 1pm GMT+1. ( UK TIME: 11am to 12noon) Check your local time to coincide with this specific period. During this hour of prayer, all we'll do is pray in the spirit, in tongues of the spirit, each day, at the same time. God bless you #ukzone2 #prayerathon2021 #iaminoffice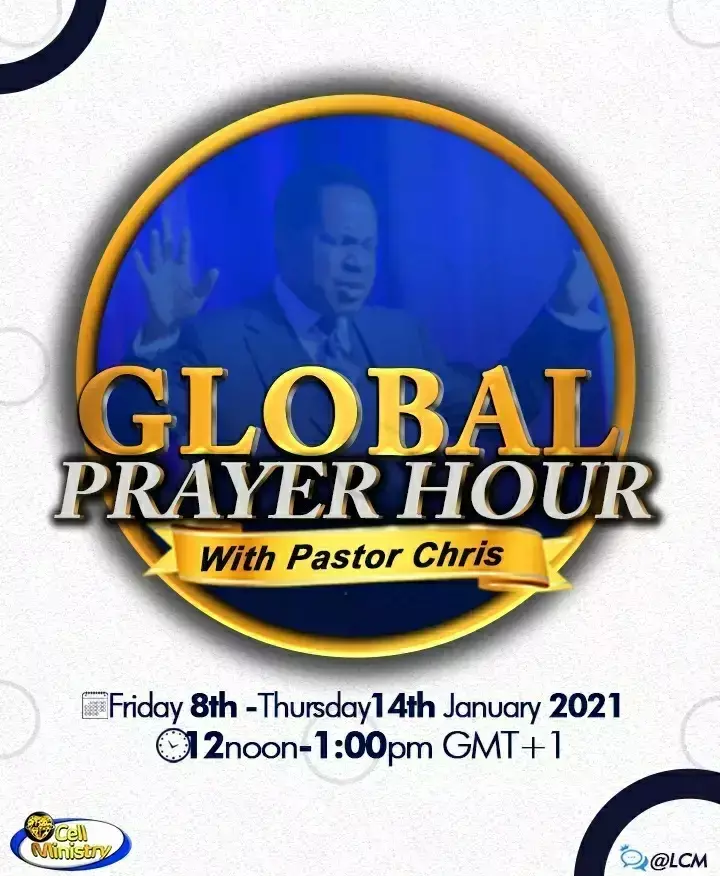 IMPOSSIBLE is not a FACT, it's an OPINION!!!
"He rolled back the waters, Of the mighty Red Sea..." 🎤🎶🎵💃💃
📢📢📢📢📢📢📢 GLOBAL PRAYER HOUR! Happening From Today 8th January till Thursday 14th January, 2021 The Global Prayer Hour is a very special time to cause changes in the realms of the Spirit as we issue kingly decrees and watch them come to pass. Each hour, within the 7 days from 12pm-1pm is really very timely as a great turn around will be stirred in the place of prayers with our dear Man of God, Pastor Chris and the name of the Lord will be glorified. Watch out for posts from our dear Man of God, Pastor Chris on kingschat @pastorchrislive for more details Don't miss it!!! #lwteensministry
"I ate no pleasant bread, neither came flesh nor wine in my mouth, neither did I anoint myself at all, till three whole weeks were fulfilled," Daniel 10:3 ... No burgers, banana or cinnamon bread. No fried chicken, beef or fish for that long. Wow! Matter at hand was serious.
Another special opportunity to unleash on the enemy. #iamapriestinoffice #myyearofpreparation #ukvr2z3 #ceperivale
The only supernatural thing about some Christians is that they speak in tongues. Until they speak in tongues you wouldn't even know they have the Holy Ghost.#pastorchris Find out why in this excerpt. #follow @The_Auxesis #the_auxesis #pastorchris #pastorchristeaching #pastorchrislive #pastorchrisonline #yourloveworld #prayingnow #prayathon2020 #2021yearofpreparation
Global Prayer Hour! Happening From Today 8th January till Thursday 14th January 2021~* The Global Prayer Hour is a very special time to cause changes in the realms of the Spirit as we issue kingly decrees and watch them come to pass. Each hour, within the 7 days from 12noon - 1pm GMT+1 (1pm-2pm SAST) is really very timely as a great turn around will be stirred in the place of prayers with our dear Man of God and the name of the Lord will be glorified. Watch out for our dear Man of God's post on kingschat @pastorchrislive for more details Don't miss it