CE Lagos Zone 1: # CELZ1 PRAYERS FOR on KingsChat Web
     # CELZ1 PRAYERS FOR GLOBAL IMPACT OUTREACH DAY 2 PRAYER POINT 1 Declare that every effort and activities in planning and organization of the Global Impact Outreach will synchronize with God's purpose and will for the nations of the world  PRAYER POINT 2 ·         Declare that the Global Impact Outreach will completely change the course of every city, state, country and nation; every structure of government will be altered for good according to the word of God. 2 Corinthians 5 : 18 - 19 (KJV) And all things are of God, who hath reconciled us to himself by Jesus Christ, and hath given to us the ministry of reconciliation;  To wit, that God was in Christ, reconciling the world unto himself, not imputing their trespasses unto them; and hath committed unto us the word of reconciliation.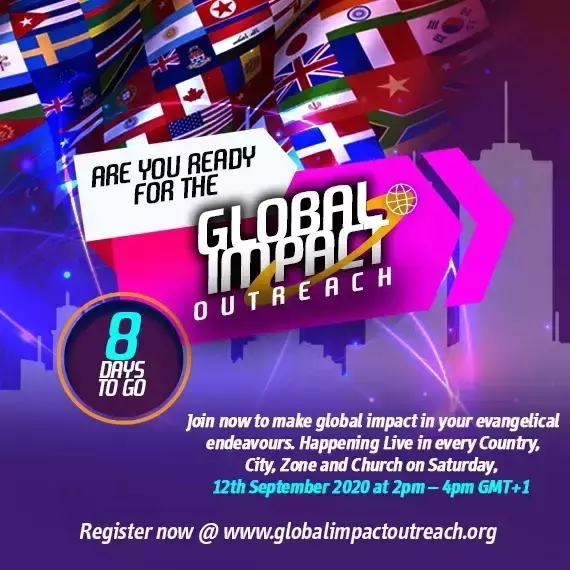 Happy Birthday Dear Esteemed Pastor Abraham Shogunwa. Thank you for your labour of love in leading God's people and raising champions for the master. The pleasure of the Lord will continually prosper in your hand.
#CeAccraGhanaZone #TreasuresPCFROGHARhapathon #SeptemberEdition
#Communityevangelism #weekthree #day6 #Madina #onthego #CeAccraGhanaZone
#CeAccraGhanaZone #TreasuresPCFROGHARhapathon #SeptemberEdition
✨✨HEALING STREAMS LIVE HEALING SERVICES!✨✨ 👉 Are you in need of healing in your body? 👉 Do you know someone who does? Your opportunity to receive that miracle you've been waiting for is finally here! Get ready to experience the supernatural at the Healing Streams Live Healing Services holding this September and will be streamed live @ www.healingstreams.tv/ or via the Healing School mobile app (available on Google Play store). Register now @ https://healingstreams.tv/3days Date/Time: - Friday 18th September, 2020 (5:00pm GMT+1) - Saturday 19th & Sunday 20th September, 2020 (4:00pm GMT+1). Don't miss out! God bless you! #HealingStreamsTV #HealingToTheNations #HealingSchool #CELZ5
Its a Celebration of Gods Word and its Tomorrow 11:00am GMT. Join us!
Happy Birthday 🎊 🎊🎊🎊🎊🎊 . My Perfect Briskoko! 🤩🤩🤩🤩🤩 . Much Love 💕... from ALL of US! 😘
Happy birthday dearest Daddy. A man with one of the largest heart l know. Always guiding and loving. l love you big daddy and thank you for loving God so much and for teaching us to love our spouses too. I love how you love Mummy B. #pea0904 #ceekpanreal
Daddy! 😍 The awesomeness of your love and your heart is so refreshing. Your love is Premium! Your life is a true testimony of great grace. Ah Daddy! My Superstar! My Hero! To know you is to know God truly. I Love you! I Love you! I Love you sooo much! Happy Birthday Dad!