Affirmation Train: SEE AND LIVE FROM YOUR on KingsChat Web
SEE AND LIVE FROM YOUR HEART ~ PASTOR CHRIS OYAKHILOME. For with the heart man believeth… (Romans 10:10). Being born again, you received the life and nature of God into your heart, that is, your spirit. The eventual transformation and glory evident in your soul and body are the result of the impact and influence of the life and nature of God in your spirit. This is why God wants you to nurture and develop your spirit. Your spirit is God's temple; His dwelling place: that's where the Kingdom of God is (Luke 17:20-21). No wonder we're counselled to guard our hearts with all diligence: "Keep thy heart with all diligence; for out of it are the issues of life" (Proverbs 4:23). Everything you require for your life is in your heart. The house you'll live in is in your heart; the money you require is in your heart; the health of your body is in your heart! Life in its fullness is in your heart; therefore, learn to live from your heart. When you live from your heart, that is, from the inside out, you wouldn't be bothered about the happenings outside; your experiences wouldn't determine your response to situations. The economy of the world or of the country where you live may be in shambles, but you're unmoved, because you've learnt how to enjoy your prosperity and turn it on from within you. Learn to see from your heart. What you see with your heart is more real than what you see with your physical eyes. 2 Corinthians 4:18 says, "While we look not at the things which are seen, but at the things which are not seen: for the things which are seen are temporal; but the things which are not seen are eternal." Seeing with your heart means envisioning and apprehending the realities of the Gospel and of our Kingdom-life with your spirit. The more important things of life—the eternal things—are all in your heart; therefore, look inwards, and live from there. Isaiah 12:3 says, "Therefore with joy shall ye draw water out of the wells of salvation"; where are these wells? They're in the deep recesses of your heart! #Iflourish #uplifting #beauty #champion #evangelism #conference #vision400 #affirmationtrain #insight #wisdom #lordship #filled #livingstones #praise #healingschool #divine #hallelujah #FollowPastorChris #talkingsession #church #blessed #salvation #thankyoupastorchris #greatness #imcc2020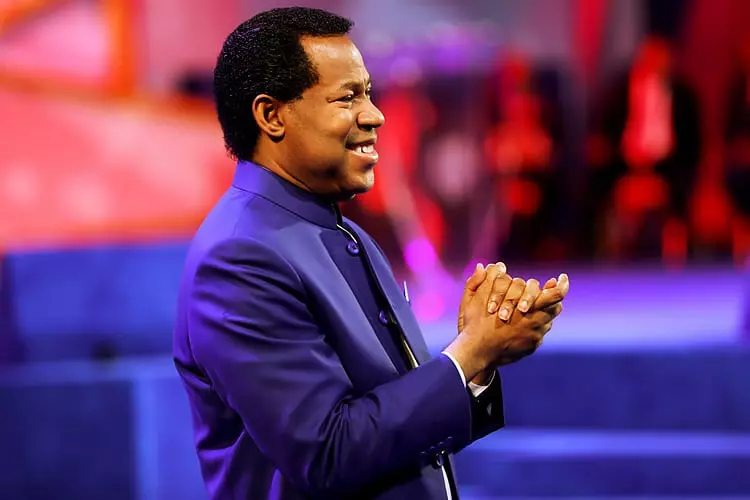 The face of a warrior. The face of a mother. The face of a winner. The face of a beautiful personality inside out. The face of a general. The face of grace. The face of love unfeigned. The face of faith displayed in the face of daunting pressure #ce7thavenue #myPastorsbday
Happy birthday to our superstar number 1, my esteemed Zonal pastor, I love you sir #PBJ0305 #PERFECTPBJ0305 #CEOSOGBO #SWZ2 #SWREG
Divine health confessions - 3 May #dhconfessions #healingtothenations
HAPPY BIRTHDAY TO MY ESTEEMED ZONAL PASTOR, TEACHER, MENTOR AND LIFE-COACH. THANK YOU PASTOR SIR FOR TEACHING ME GOD'S WORD AND RAISING ME TO BE A CHAMPION FOR LIFE. IT IS FROM GLORY TO GLORY AND GRACE TO GRACE. I LOVE YOU PASTOR SIR.
#pykFACE ofperfection #Fruition #Alignment #Completion #Excellence celagoszone1rocks.
SEE AND LIVE FROM YOUR HEART ~ PASTOR CHRIS OYAKHILOME. For with the heart man believeth… (Romans 10:10). Being born again, you received the life and nature of God into your heart, that is, your spirit. The eventual transformation and glory evident in your soul and body are the result of the impact and influence of the life and nature of God in your spirit. This is why God wants you to nurture and develop your spirit. Your spirit is God's temple; His dwelling place: that's where the Kingdom of God is (Luke 17:20-21). No wonder we're counselled to guard our hearts with all diligence: "Keep thy heart with all diligence; for out of it are the issues of life" (Proverbs 4:23). Everything you require for your life is in your heart. The house you'll live in is in your heart; the money you require is in your heart; the health of your body is in your heart! Life in its fullness is in your heart; therefore, learn to live from your heart. When you live from your heart, that is, from the inside out, you wouldn't be bothered about the happenings outside; your experiences wouldn't determine your response to situations. The economy of the world or of the country where you live may be in shambles, but you're unmoved, because you've learnt how to enjoy your prosperity and turn it on from within you. Learn to see from your heart. What you see with your heart is more real than what you see with your physical eyes. 2 Corinthians 4:18 says, "While we look not at the things which are seen, but at the things which are not seen: for the things which are seen are temporal; but the things which are not seen are eternal." Seeing with your heart means envisioning and apprehending the realities of the Gospel and of our Kingdom-life with your spirit. The more important things of life—the eternal things—are all in your heart; therefore, look inwards, and live from there. Isaiah 12:3 says, "Therefore with joy shall ye draw water out of the wells of salvation"; where are these wells? They're in the deep recesses of your heart! #Iflourish #uplifting #beauty #champion #evangelism #conference #vision400 #affirmationtrain #insight #wisdom #lordship #filled #livingstones #praise #healingschool #divine #hallelujah #FollowPastorChris #talkingsession #church #blessed #salvation #thankyoupastorchris #greatness #imcc2020
Our prayers are working, glory
Happy birthday to my amazing Pastor. You have been a blessing to me and my family. We have enjoyed excellent grooming under your watch. Thank you for being there for us. God bless you ma. We love you!!!