CELVZ: 7 DAYS ~ COUNTING UP on KingsChat Web
7 DAYS ~ COUNTING UP TO CHRISTMAS EVE WITH PASTOR CHRIS It's 7 Days More To A Glorious Time To Elevate This Eve Of Christmas Is Like One You Have Never Experienced Before Have You Set Out Your Gold, White Or Silver Outfit Your Sparkles Try Not To Omit This Christmas Eve Will Be Lit Access Control Will Be Strict Ensure To Register Timely 6:00PM Meals Will Be Served Lovingly @ 8:00PM You'll Be Seated Beautifully www.celvz.org/dec24thservicewithpastorchris #CELVZ #christmasevewithpastorchris #dec24th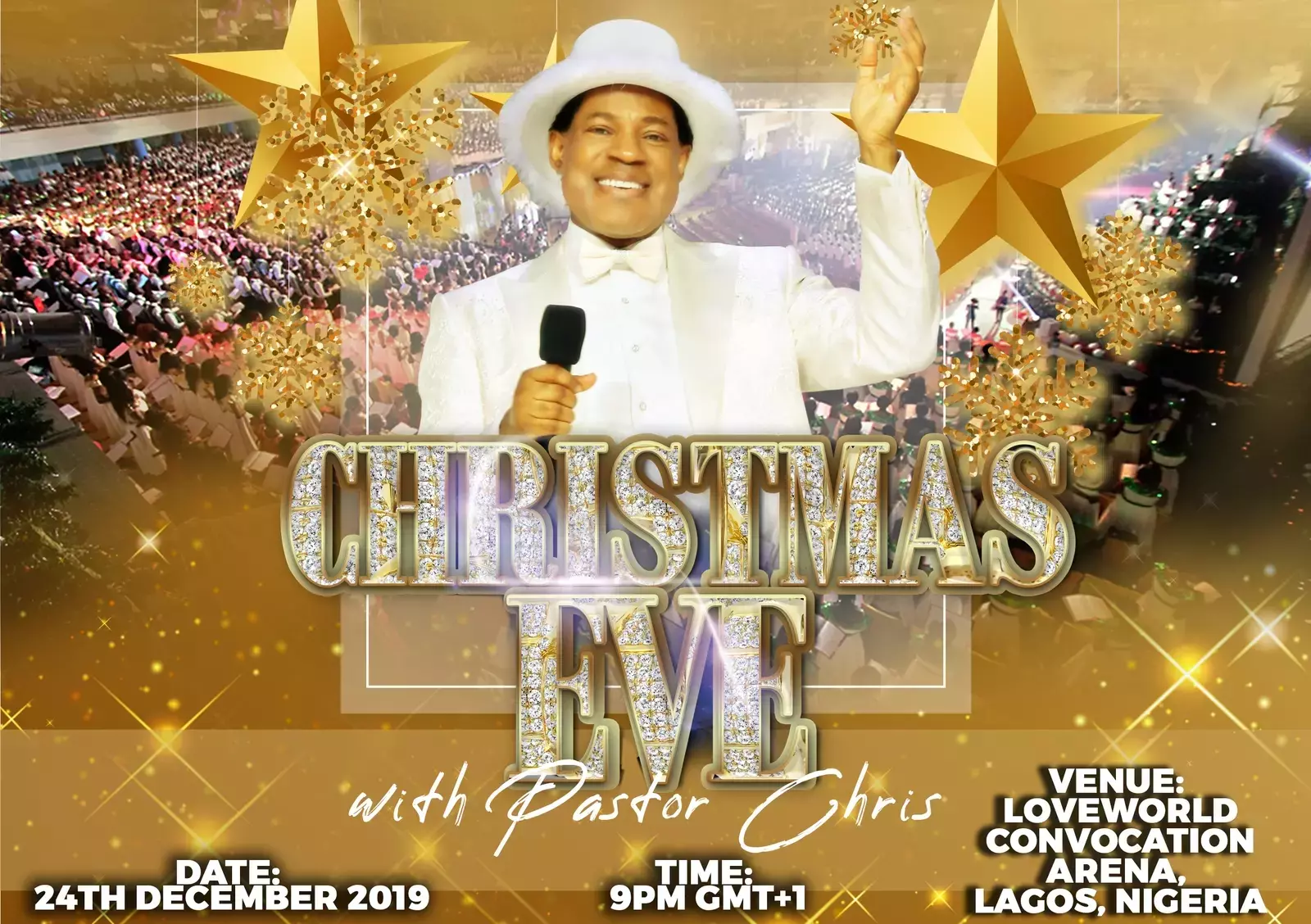 Happy Silver Jubile to my Zonal Pastor & his beautiful Wife Dcness Gloria. I celebrate u both today & always.Congratulations to many more glorious, beautful,fulfilling, inspirng,lovng & wonderful years ahead. I love u so dearly. #PastorMike&DeaconessGloria #WeddingAnniversary
Happy super duper birthday Pastor Moji Enjoy ! God bless you richly
Two days of glory" with Pastor Chris Cocacola arena Dubai Feb 27 2020 thursday 6pm till 2100pm doors open at 430pm Feb 28 2020 Friday 0900am till 1230pm doors open at 0800am Feb 28 2020 Friday 1700 pm till 2100pm doors open at 1600pm Visit pastorchrisonline.org for more.
God's steadfast love never ceases. Neither will ours. Send God's love to new converts as you sponsor copies of Now That You Are Born Again to them at the Global New Year Service with Pastor Chris. For more information on how to sponsor kindly call these numbers Nigeria: +2348024789758, +2348086656533 Ghana: +233-0244211623, +233 548951736, +233 54891799, +233 548951800 United Kingdom: +44 1708556604 08001310604 (free phone) United States: +1 9802195150, +1 2817595111 Canada: +1 6473419091 South Africa: +27 614153261 First For New Converts – An initiative of the Loveworld Publishing Ministry
No matter where we find ourselves, we always win! I'm a winner by Loveworld Kingz! #iamawinner #spiritualbeatz #lmam #imc #pastorchrisgeneration #Lwkingz
NEW YEAR'S EVE SERVICE WITH PASTOR CHRIS - THE BIGGEST MEETING ON THE FACE OF THE EARTH. Join the sponsorship of this great service on multiple Television stations globally. Call us now on: +2348123445783, +2348123445787 or send an email to ltmpartnership@loveworld360.com
Today is Our 38 Years Together In Marriage.An Anniversary Blessed And Lead By Our Creator The Lord God Almighty. All we can Say is THANK YOU LORD FOR EVERYTHING. WE LOVE YOU LORD.