BLW UKZONE2: CELEBRATING GRACE, TENACITY AND EXCELLENCE! on KingsChat Web
CELEBRATING GRACE, TENACITY AND EXCELLENCE! HAPPY BIRTHDAY ESTEEMED PASTOR BEAUTY ADUROJA! - LoveWorld UK Zone 2 celebrates a woman of grace, tenacity and excellence, an inspiring woman of God with an undefeatable and tenacious attitude and mindset. - Happy Birthday Pastor Ma. Your appetite for the Word of God is infectious and your zeal for the Master is inspiring. Happy Birthday Ma. We love, appreciate and celebrate you today.  #ukzone2 #OuryearofPerfection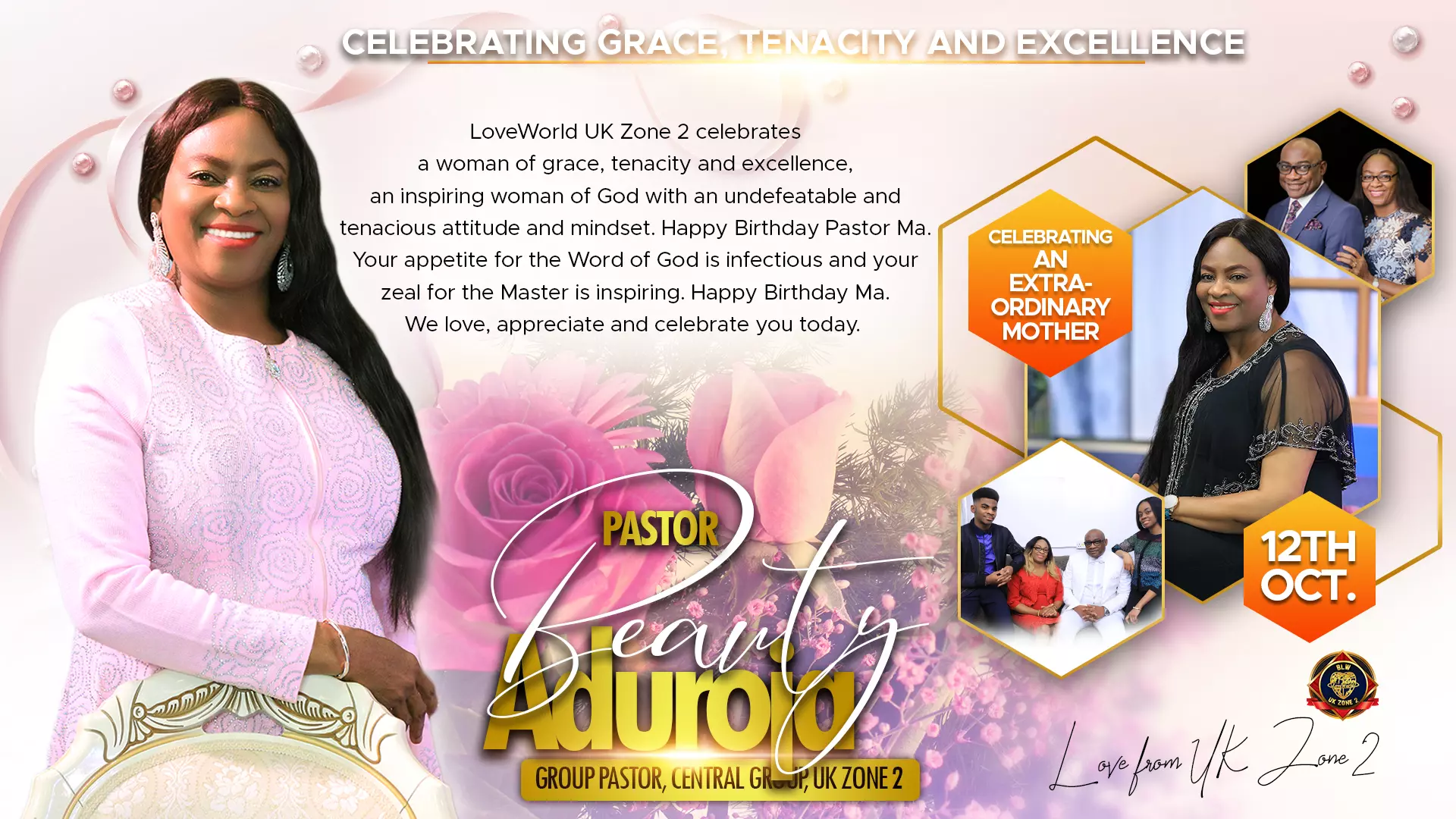 ♥️"I love the way you love me Lord. What can I say, what can I do, but love you back!"💕 Hallelujah! What glorious worship!! #cecanada; #cebramptonwest
UK REGION 1 & 2 DAILY PRAYER - MONDAY 12TH OCTOBER 2020 PRAYER POINT: * Pray for all men, those in authority and pray against obnoxious laws and draconian policies. #ukzone2 #OuryearofPerfection
🔥You don't consider the circumstances, you consider what God said. You live in eternity. There is no aged Holy Spirit. The Holy Spirit gives me the ability to go out and come in.🔥Hallelujah!! Thank you Pastor Sir for deeper insights!☀️☀️ #cebramptonwest; #cecanada
Foundation School Graduation 2020 @ Christ Embassy Edmonton. A new set of trained workforce released into the harvestfield. Glorrry!!! #ceedmonton #cecanada
Birthday greetings to our highly esteemed Deaconess Margaret. Beautiful and full of the Holy Ghost. Thank you for all you do at CE Shangisha, and for being a valuable provision for the vision of our man of God. May God's grace and blessings be ever on the increase in your life.
How is the past and future affecting your present hour reality? #cecanada #cebramptonwest #myproclamations #mymonthofproclamations #myaffirmationsoftruth
Congratulations to all our graduates and esteemed teachers. #ceedmonton #cecanada
Happy birthday dear Pastor Seyi, we specially thank God for your steadfastness in the gospel.. God is your reward.