BLW Campus Ministry: Happy Birthday DaDa!! What a on KingsChat Web
Happy Birthday DaDa!! What a day it is! Today, nations and territories; tribes and tongues; nobles and men of renown; saints and angelic beings; all rejoice with great ecstasy in celebration of one so great – indeed a true definition greatness in itself; the Torchbearer, Baton-holder, Prophetic Voice and Frontline Apostle of this terminal generation; The Man of God – Rev. Chris Oyakhilome Dsc DD. Pastor Sir, we are grateful to you Sir for entrusting us with the souls of young people in tertiary institutions all around the world; you have raised us as a valiant army, fit for war, and we are on the "go"; seizing nations and territories at your command. Our hearts overspill with enormous joy and millions of words, whether written or oral, would not suffice to express the extents of our gratitude for the gift we have in our dear Man of God. Nonetheless, our thoughts and intents are encapsulated in one BIG "THANK YOU SIR!" YOU'RE THE REAL SUPER HERO. WE LOVE YOU DEARLY SIR!!!!! The Ag. CMD, Zonal Directors/Secretaries & Campus Ministry Global.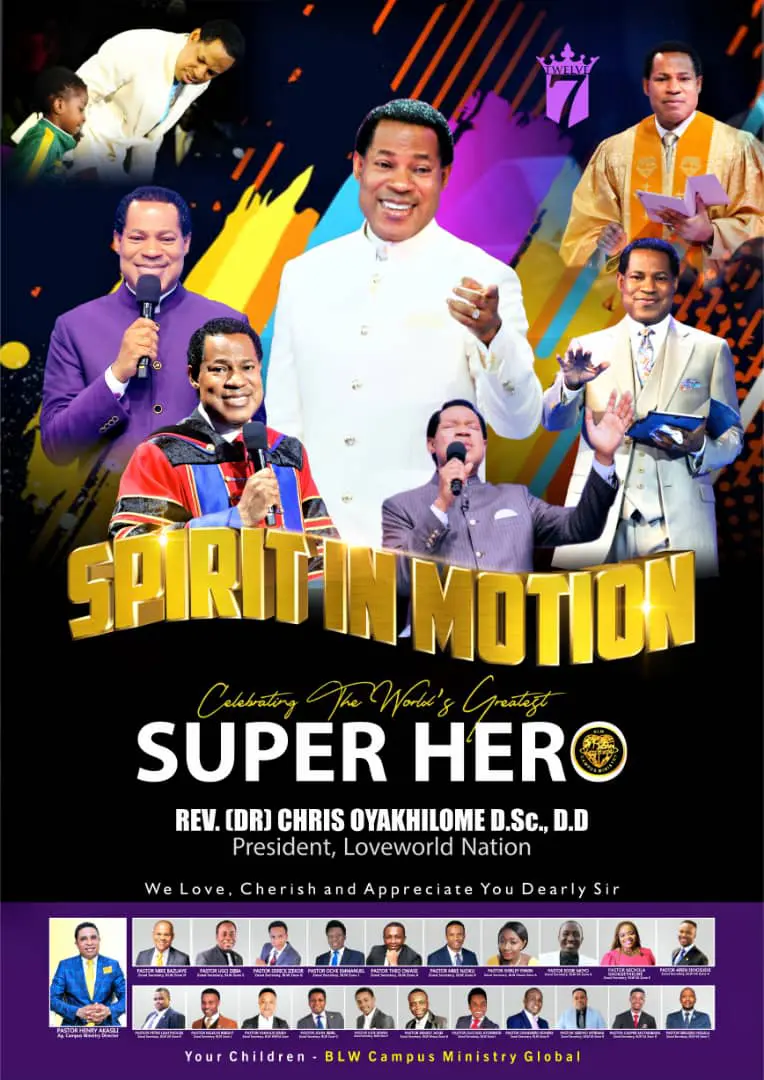 Celebrating my Pastor, Father, Teacher and My Life Coach.. Pastor Sir you have made my life beautiful, you made be to be strong and bold... Thank you 4 your investment in my life... Happy birthday Best Daddy. Love you big. #cephone2 #celwa #dec07
I am eternally greatful for been under your mentorship Sir. You are a teacher like non other. The Apostle Paul of our Generation. I Love you Pastor and I will continue to partner with you so we take the Gospel of Jesus to the ends of the earth till we leave this world. #EWCAZ4
My amazing power filled man of God God Great General (GGG) Happy birthday pastor sir I love you sir
Halleluyah to the name of the Lord, happy birthday to you my pastor and Daddy, you have made my life so beautiful,thank Sir for giving of ur self to the service of God and mankind,I love you sir, you are a gift to my family
Dearest dad, thank you for all your love for me and the body of Christ, words cannot explain what you mean to me, i love you awesomely. Happy birthday dad.
(CELEBRATING A LIVING LEGEND). HAPPY BIRTHDAY SIR. THANK YOU SO MUCH FOR THE GREAT IMPACT U HAVE MADE IN US. WE LOVE YOU DEARLY SIR.
#CelebratingourGeneral #SAZone2 #Southgroup# #CEBenoni #HappyBirthdaySir Thank you so much Sir for your unwavering love for the Master and your teachings we are so grateful, live long !!🙌