MY DAILY CONFESSIONS God is effectually at work in me, energizing me, and creating in me the power and desire to please Him in all things, as I walk in His perfect will, fulfilling my destiny in Him. Blessed be God🙌 #tniglobal #theyearofpreparation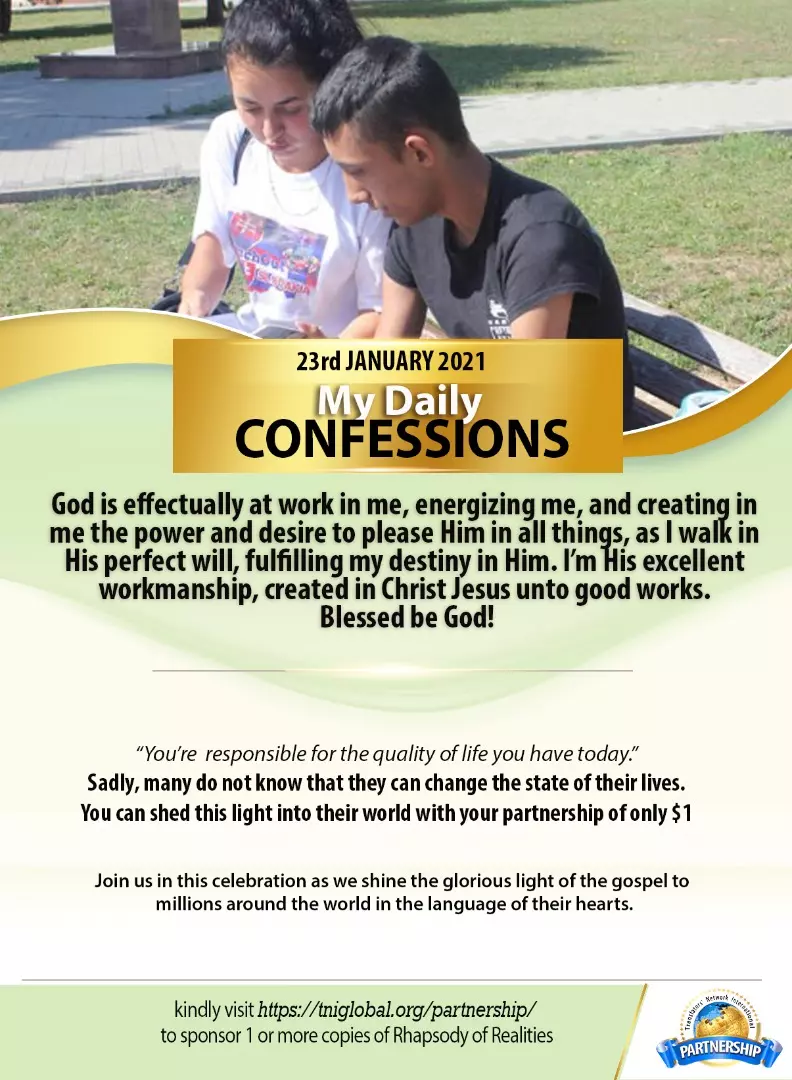 Happy birthday to my father,mentor,coach and teacher.Sir thank for your teachings and love toward Me. Sir ,Nneka and I says we Love you and we are eternally grateful to you SIR.
AMAZING GRACE CELL #CE SPRINGS #Sazone 2 #24hoursprayer We are excited
Rhapsody of Realities Jan - 23 Mandarin
DIVINE CONNECTIVITY CELL #Ce Springs #Sa zone 2 #24hoursprayer We are excited!!!!!
FATHER- Reverend Sir, you are indeed a Father. You are so firm, patient and forgiving. With so much love and humility you direct and correct. HAPPY BIRTHDAY SIR!!! I love You #cephmc #cephmcteensministry #revray123
Work less in your business, work more on your business..💯💯💪💪 Pst Ameachi #AheadShipConference #CEAZ
Dívíɳҽ 卄ealtɧ Cσnfҽssiσɳs January 23rd, 2021 Every day I wake up, I am reinvigorated in my spirit, soul, and body. I am full of life and vitality. My mind is alert, my body is energized, and my muscles, tendons, and ligaments are strengthened. I am an offspring of God's Word; therefore, as the Word is, so am I. God's Word is ageless; thus, I refuse to age in my spirit, soul, and body. I am forever blossoming in my soul, vibrant in my health, and fervent in my spirit. Hallelujah! #dhconfessions #healingtothenations #cesazone2