CE EWCA ZONE 6: HAPPY WEDDING ANNIVERSARY TO OUR on KingsChat Web
HAPPY WEDDING ANNIVERSARY TO OUR HIGHLY ESTEEMED PASTORS AMBROSE AND DUPE ISESELE. WE LOVE YOU SOOOOO MUCH!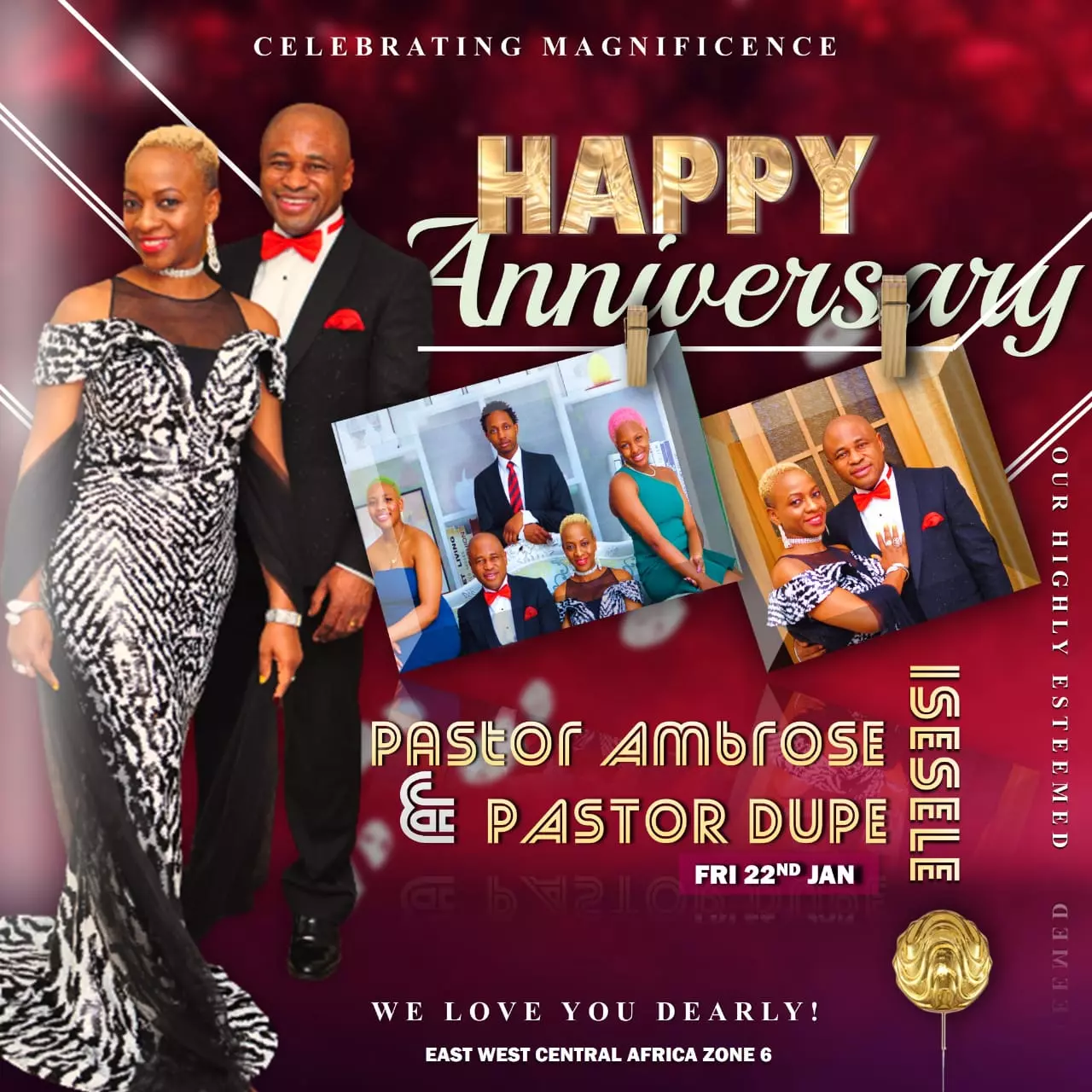 PS... A Bright & Shinning Light
commented:
I love you my dearest highly esteemed Beloved Pastors Sir & Ma I'm so glad to be a part of this grand celebration🤗🤗🤗
It's day 2 Don't miss out #aheadshipconvention #aheadship #ceaz #doingsignificantthings #yearofpreparation #abujazone #graceliveshere
Happy Wedding Anniversary to our highly esteemed Pastor Sir and Pastor Ma. Thank you for your fatherly love and care, awe celebrate and rejoice with you on this special day.
Yay!!! It's friday💃💃🕺👯‍♀️ we are sure you can't wait for 12pm GMT+1 to watch your favourite youth program of the year. But guess what? 😇We have a surprise for you today🕺💯. The Inside-GYLF show will be hosted all the way from Australia! Glorry💃💃💃💃💃 Yea, i know your excitement has been trippled and now, you can't really wait anymore for the show to get started. Something big on the show today! Get ready for exciting content specially packaged just for you. Start your weekend vibe with us by watching from 12pm GMT+1 on www.gytv.tv or on the GYLF Mobile App. You can't afford to miss it! KEEP IT LOCKED🙅‍♂️🙅‍♂️! #GYLF #GYTV
Good Morning Beautiful I love you ♥️ Remember, Your Loveworld begins in a few days💃💃💃💃
THE HEALING SCHOOL PRAYER CONFERENCE Register now to attend the Prayer Conference @ www.enterthehealingschool.org/reg/HSPI Create your personalized Avatar @ http://enterthehealingschool.org/prayerconference/avatar/ #HSPC #healingtothenations #hsinfluencers