CE UK Virtual Zone 1: Day 10 #Wordfest2 🥁🥁🥁🥁 'MINISTERING on KingsChat Web
Day 10 #Wordfest2 🥁🥁🥁🥁 'MINISTERING TO SOUL WINNERS' bit.ly/Wordfest2 Believing is Doing; Doing is taking Action.... 🛑 WATCH today's message for free on PCDL TV using this link bit.ly/Wordfest2 🛑 CREATE YOUR AVATAR for Day 10 https://pastorchrisdigitallibrary.org/wordfest2/avatar.php 🛑 DOWNLOAD your study manual for Wordfest 2 Week 2 at https://pastorchrisdigitallibrary.org/wordfest2/week2.pdf 🛑 SHARE your inspirations and proclamations from today's message on Kingschat timelines, using the hashtag with your avatars #Wordfest #Wordfest2020 #Wordatwork #UKR2Z1 Enjoy your study and get ready to share your testimonies. 💃🕺💃🕺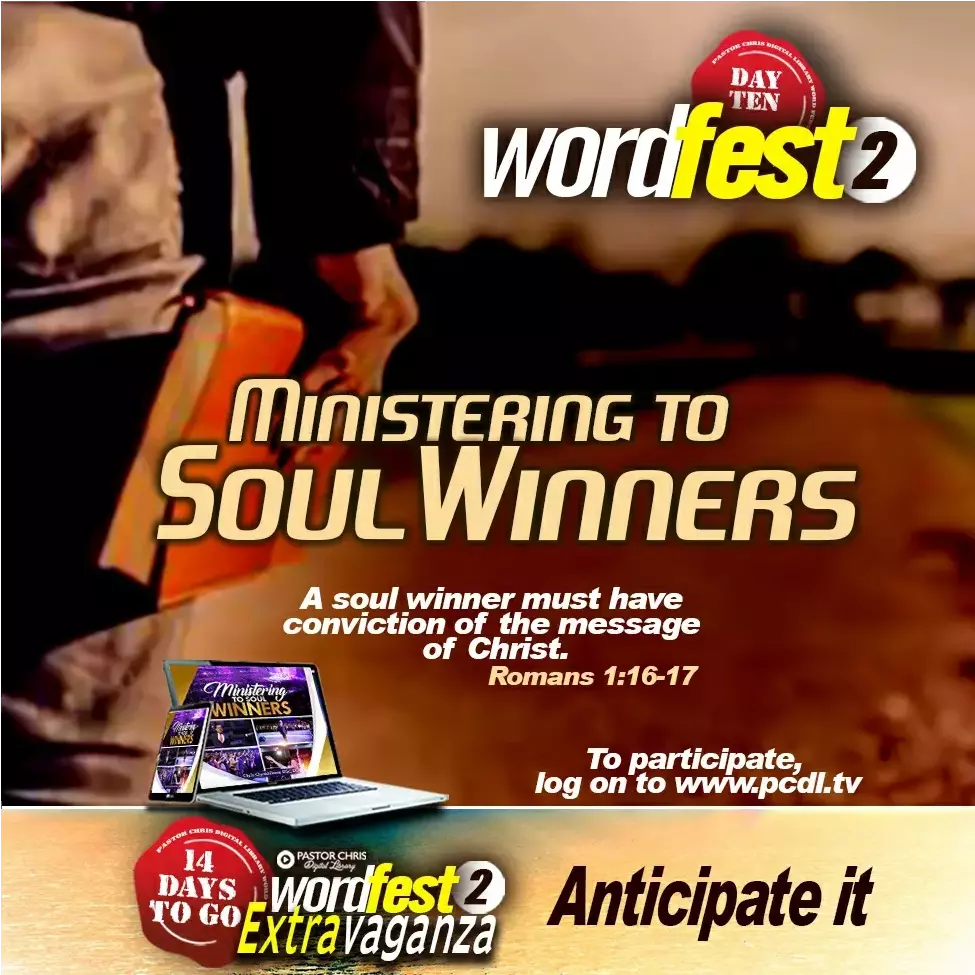 Check out my inspiring post on Yookos!
#LOVEWORLDLADIESNETWORK 💞💞💞💞💞💞💞💞💞💞💞💞💞💞 🗣🗣🗣PRAYER GUIDE FOR TODAY FRIDAY, 16TH OCTOBER 2020! 1. All our outreaches this month of October will be a great success, every outreach will be impactful and effective. We will execute every plan with the speed of the spirit maximising time taking advantage of the grace we have received at the program LADIES ADVANCE💞 2. Riding on the word given by our man of God, every outreach in all our zones and ministry centres will be full of the demonstration of the power and glory of God. There will be an avalanche of miracles, a great harvest of souls from every nation.💞 3. We are also praying and declaring through our outreaches, new cells, outreaches and churches will be pioneered in every city/ nation within our reach.💞 🌍 And they went forth, and preached every where, the Lord working with them, and confirming the word with signs following. [Mark 16:20 KJV]. 🌍 A little one shall become a thousand, and a small one a strong nation: I the Lord will hasten it in his time. [Isaiah 60:22 KJV]. #LLN #Loveworldladiesnetwork #loveworldladiesnetwork2020 #RecreatingYourWorldPrayerOutreach #CalMC #TeamCalabarRocks
In the words of @pst_christian HAVE A GOOD DAY! IT IS THE RIGHTEOUS THING TO DO! SO, TODAY, I AM FULFILLING ALL RIGHTEOUSNESS, I AM GOING TO HAVE THE BEST DAY EVER!
HAPPY BIRTHDAY PASTOR LOVETH EHIGIATOR  WE CELEBRATE YOU! Sign up to partner @ https://live.internetmultimediaonline.org/onlinepartnership For more information on how to partner please call +2348123445880
Happy super birthday beloved of the most high, thanks for using your voice to bless us in worship to the lord, we love you dearly from CE Bakassi
Jesus said I came that you may have & enjoy life. Happiness is 100% free. Best dancer adult category ALL WHITE HEALING SCHOOL PARTNERSHIP DAY here comes the champion. Mrs Angela. M Appiah #enterthehealingschool #cekumasi2 #ceaccraghanazone #joePraize
Happening tomorrow 💃🕺💃🕺 By 11am GMT+1 in Abuja You can register to participate online @ www.icm.ngo/hac #hac