LoveWorld Radio: LISTEN LIVE TO YOUR LOVEWORLD on KingsChat Web
LISTEN LIVE TO YOUR LOVEWORLD SPECIALS ON CETUNES. It's less than 2 hours to another super inspiring, power packed, and revealing episode of Your Loveworld Specials with Pastor Chris. Join us live at 7pm GMT+1 today on CeTunes. @ https://cetunes.org/events?id=Your%20Loveworld Download the Cetunes Mobile App from the Google Play Store or iOS App Store.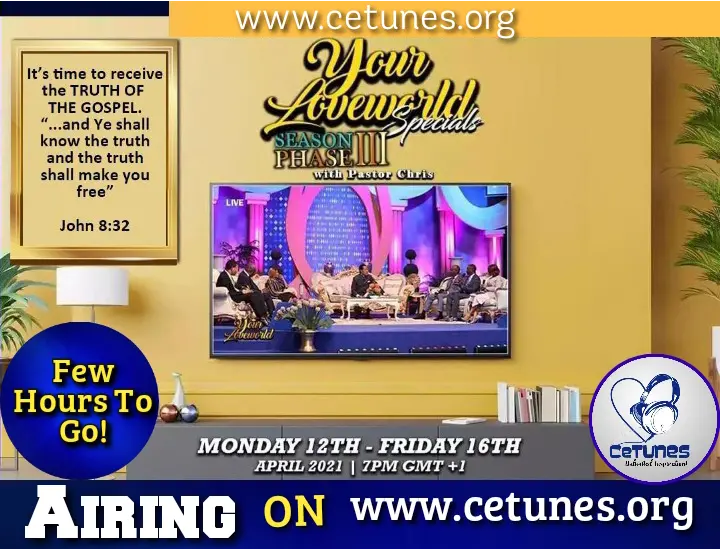 Happy Wedding Anniversary Dear Esteemed Pastor sir
https://www.facebook.com/100063458533621/posts/144266654365285/?d=n
HBD to a graceful personality, Pastor Daba. Celebrating you comes with inexplicable joy. Your Beauty is divine. Everything about you epitomizes the wisdom of God. Thank you dear daughter of our dad for your powered commitment & relentless impact in our Nation. I luv you dearly.
#ukzone2 #lwdeptford #ExceptionalBoss
Have faith in God He's on the throne ...have faith in God he watcheth o'er his own.. he can not fail.. he most prevail...have faith in God..
Thou will show me the path of life: in thy presence is fullness of joy; at thy right hand there're pleasures for evermore. Psalm 16 : 11
#EveryDayAnOutreach THE ESTEEMED BROTHER HENRY EJIOGU LED 14 PEOPLE TO CHRIST TODAY AND FILLED WITH THE HOLY GHOST EARLIER TODAY IN HIS OUTREACH AROUND HIS CELL CATCHMENT🥁🥁🥁 GLORYYY!!! #Celimitlesschurch #Saintsatwork
Happy Glorious Birthday to a General in God's Army. #impactplb #PLB412 #HBDPLB #celz1rocks #Mafolukuisrich @impactplb