The Healing School : DHCONFESSIONS 17TH APRIL 2021 🗣️🗣️💯 on KingsChat Web
DHCONFESSIONS 17TH APRIL 2021 🗣️🗣️💯 Visit https://enterthehealingschool.org to listen to our daily divine health confession podcast. Jesus gave you the power to live far above all sicknesses and diseases. So, refuse to allow the devil run rampage in your life or the lives of your loved ones, whether through sickness or in any other guise or form. Follow us @hschool for more inspiring contents and news from our programs and projects from around the world. And get your friends and loved ones to do the same. Thank you and God bless you! #dhconfessions #healingstreams #healingtothenations #healingstreams #hspc #affirmationtrain #iSpreadFaith #livehealingserviceswithpastorchris #SpreadFaithCampaign #Prayingnow #worddrive #Yourloveworld #wordfest #PrayingNow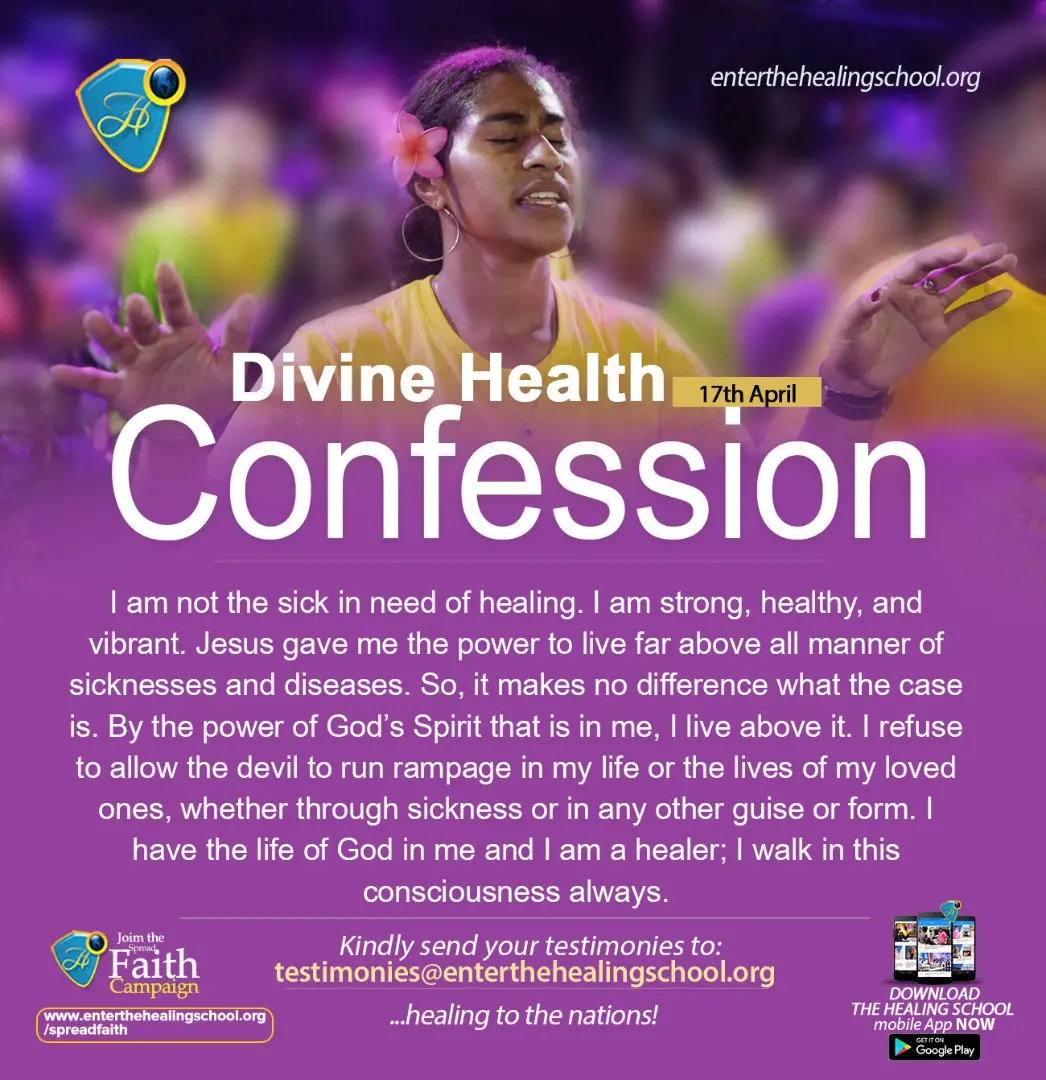 #DSPUKZone3 #CEUKZone3 #CONGRATULATIONS # Happening #Today Defining Moment History Making Celebration of CHAMPIONS Thank You Lord for Great Leaders on a Mission. Congratulations ! THANK YOU PASTOR CHRIS OUR GIFT FROM GOD. We Love You Sir !
It's only 1 Day to go! Gloryy!!🎉🎉🎉🥳🥳 1 word from God can change your life forever!! Don't miss this divine appointment! #WORDATWORK #CERUSTENBURG #SAZONE1
I am absolutely certain that my life, my family, my finances, my business, my work in ministry as a leader, my city, my nation and our group will never remain the same after this conference!!! #blwcameroongroup2
NEW CELLS LAUNCH! Taking place in all Churches across the Zone in Sunday service. Get ready to launch out with your family, street or online Cell. We hear to do. #cephzone2 #lcm
TIE is the change my nation needs at this time!!! Glorrrrrryyyyyyyyyyyyyyy #blwcameroongroup2
Happy birthday Pastor Jorghino. I am proud to call you my son. You are blessed of God and graced to lead men to eternal life. As you mark this epochal day, I pray that your path shines brighter and brighter unto the perfect day. You're built for signs and wonders. Happy birthday
Happy Birthday Sis Queen. CE Agbor Staff Community is very blessed to have your kind. You are very resourceful. I love you.
Glorrrrrrrrrrrrrrryyyyyyyyyyyyyyyyyyyy... We can't wait to have our highly esteemed CMD in our nation, what a season for us!!!
Our Highly Esteemed Zonal Director Pastor Freedom Wealth Eriya is coming with the package of blessings. I'm ready and expectant. #wordatwork #cerustenburg #sazone1