Dcns Bimpe: Thank you Lord for a on KingsChat Web
Thank you Lord for a glorious and successful LLN PRAYER OUTREACH in Calabar #Teamcalabarrocks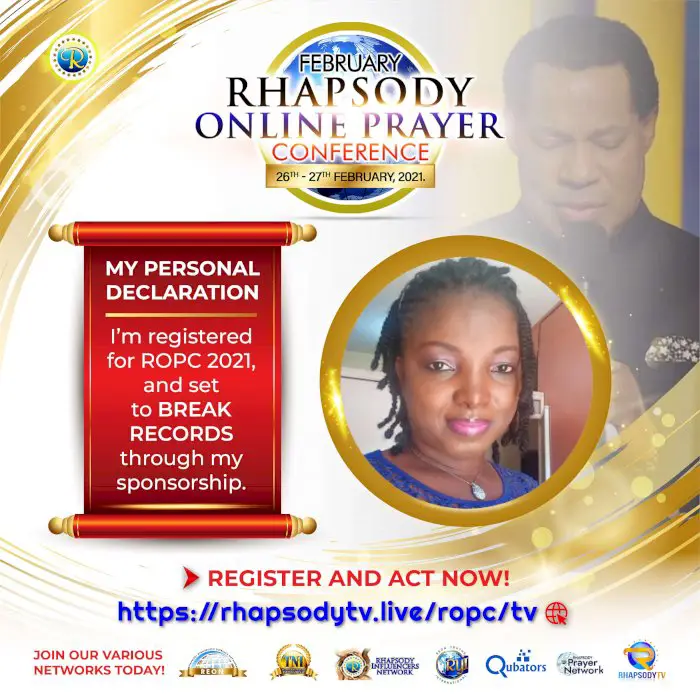 KathyMansaray
commented:
Our ultimate happiness is to see you all succeed. Now is the right time to invest and start earn"ing. You no longer have to wait for lockdown to be called off or wait for your monthly salary's you can start earn"ing for the comfort of your home. No need to spend hours in analysing chart. You have got the solution and right opport-unity before you today. Take a bold step today, join the winning team and earn consistently. For invest:ment enquires, contact on kingschat @kathymansarsay to get started Success is a thing of the mind. Once you think it by faith, it starts to manifest immediately. Do not doubt yourself anymore. Believe you can achieve great things.Remember when you receive your pro:fits paid out come and testify.. You can inbox admin @kathymansaray at kingschat platform we love you dearly #
Gloryyyyy!!! The men have set the battle in ARRAY... #cephzone2 #cebonnygroup #loveworldnews
PRAY-A-THON WITH PASTOR CHRIS DSP UK Zone 3 churches praying from 9am - 10am Set 4 praying now : CE Reading Group churches #iamapriestinoffice #PCLprayathon2020 #prayingnow #dspukzone3
#StillPraying #Day292 (pt 6) To our God belongs the Kingdom, and all power and glory; and His purpose and righteousness shall prevail forever more! Amen. And with this precious testimony on our lips, we wrapped up a glorious Pray-A-Thon day - our 292nd to be exact - and launched into another magnificent weekend of prayers and intercession! Glory! #photospeaks - inspiring moments from prayer sessions led by groups from CE Region 1 Zone 2, United States; CE Port Harcourt Zone 1, BLW Campus Ministry Zone H and BLW Campus Ministry Zone J, in Nigeria! #prayingnow #prayathon2020 #PCLprayathon2020 #iamapriestinoffice
*CELEBRATING GOD'S SPLENDOR* 3️⃣days to go #PNM1027 #ZEZE #ZEZE1027 #CEJOS #NCZ1
Righteousness is established in our Cities. We are changing mindsets. #dspukzone3 #readinggroup #prayingnow
#CelebratingPaterNoster #PttOurAdvantage #PttOurRabbi #PttTheLight #YesSir!
🟫⚪🟫⚪🟫⚪🟫⚪🟫⚪🟫⚪🟫⚪🟫⚪🟫⚪🟫 RECREATING YOUR WORLD OUTREACH CHRIST Embassy Ministry Centre Calabar. It was indeed a very impactful meeting with the Esteemed Pastor Awele Odu-Thomas. Many received the Holy Spirit and received miracles. The name of Jesus was exalted in the city! #lln #loveworldladiesnetwork2020 #recreatingyourworldoutreach
What is Eternal Life and what must you do to get this eternal life? Find out in today's intro as Esteemed Pastor Vale Odu-Thomas of CE Ministry Centre Calabar explains. Log on to www.pcdl.tv to take the full study on the message titled - The 3 Cardinal Gifts of God in Christ Part 2 (The Gift of Eternal life). #watchliveonpcdltv #pastorchris #wordatwork #wordfest2