Affirmation Train: #TALKINGSESSION 10TH NOVEMBER. KINDLY SAY on KingsChat Web
#TALKINGSESSION 10TH NOVEMBER. KINDLY SAY THESE WORDS OUT LOUD. Righteous Father, I am so grateful for Your boundless blessings in my life. Thank You for the power of the Spirit that is at work in me to effectively minister the Gospel to those in my world, and the regions beyond. Your grace is released even now for hearts to be touched and converted by the news of Your saving power. I am called, justified, and glorified according to Your divine predestination. Your call on my life is that of honour! I am the chosen of the Lord; therefore, I refuse to cast away the call of God on my life. His call is my only insurance for a glorious life and future. I am serving the Lord unreservedly, living for Him, and honouring what He honours. I am always glad and full of praise for the opportunities He gives me for service. I walk in the glory of God. I live in the dominion and authority of Christ! Nothing, and no one, can successfully stand against me, as I go forth proclaiming liberty to the captives, recovery of sight to the blind, bringing men out of darkness into the glorious liberty of the sons of God! My whole life is about the call; therefore, I refuse to treat it lightly. The only thing that matters to me is the call of God on my life and how to fulfill it. I am fulfilling that call by the power of the Spirit. Daily, I give attention to God's Word and His call on my life. I've made the decision to follow the Spirit, not the world or the flesh. His desires are my desire. As I serve Him truly and wholeheartedly, He fills my life with His beauty, grace, glory, and honour. Thank You, Dear heavenly Father, for calling me with a holy calling. As I give myself to the study of the Word and prayer, I am further enlightened on how to fulfill my divine destiny in You without reproach. None of my steps shall slide, because I hear Your voice directing me in Your perfect will, in Jesus' Name. Amen. Hallelujah! • Keep saying it, publish it everywhere; noise it abroad! In Christ, we've got something to shout about. Let's flood the airwaves, internet, and print media with the reality of Christ. Speak in other tongues now. ~ Pastor Chris Oyakhilome. #affirmationtrain #talkingsession #wordfest2020 #prayathon2020 #wordatwork #wordfest2 #ippc2020 #thankyoupastorchris #perfection #alignment #prayingnow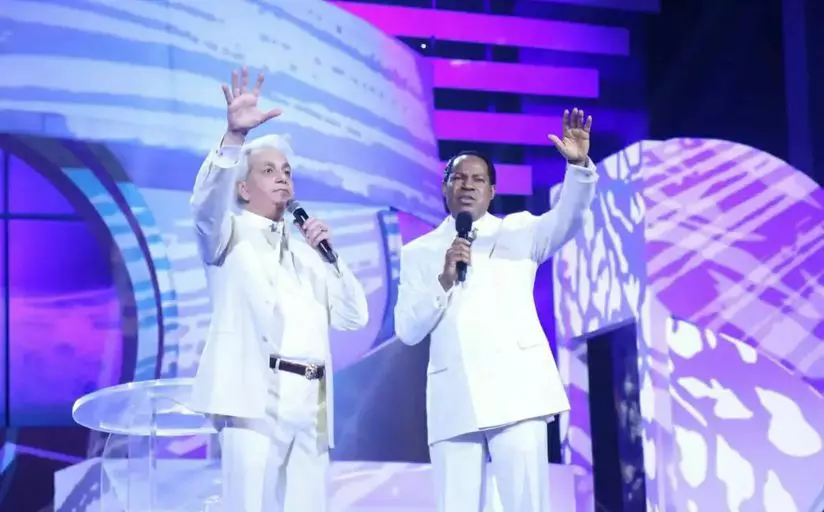 😁☀ SHOWING NOW: DAYBREAK 😁☀ HERE ARE THE TOP STORIES: 📌 Prime Minister Boris Johnson warned it was too early to see the Pfizer vaccine for coronavirus as a solution to the disease. 📌 The Trump campaign pressed ahead to challenge the results of the election During a news conference at Republican National Committee headquarters in Washington, D.C. 📌 India captain Virat Kohli will return home from Australia after the opening test in Adelaide next month to attend the birth of his child, the Indian cricket board 📌 Russian Daniil Medvedev claimed his third Masters title when he beat German Alexander Zverev 5-7 6-4 6-1 in the Paris final Tune in as Christian Kitoko and Stacey Edison-Odiase bring us the latest headlines, today's Rhapsody of Realities reading, a daily fitness exercise, Hi-Tech News and much more. Start your day right with DayBreak, live on LoveWorld UK. #Daybreak #Loveworld #LoveworldUK #ThisIsPerfection #MonthOfPraise 🧑🏾‍💻: Watch Loveworld UK on ⁣⁣⁣ 📲: LIVETV Mobile App 💻: www.loveworlduk.org/watch-live⁣⁣⁣ 📱: Loveworld UK 3.0 Mobile App⁣⁣⁣ ⁣⁣⁣ To Partner/Contact us⁣⁣⁣ Call: +442075115830⁣⁣⁣ Email: sponsors@loveworlduk.org; info@loveworlduk.org
Today should have been your Birthday! You will always be remembered for good daddy.
THERE IS SO MUCH IN STORE FOR YOU @ #IPPC2020 🔥🔥♨♨ 6 DAYS TO GO!!!! Here is another reason you must make visiting 👣Oasis Park a priority. HTTN EXHIBITION~~GLOOORRY 💃💃 #oasispark #healingschool #IPPC2020 #hsinfłuencers
Celebrating Grace. Happy Birthday Highly Esteemed Pastor Sir. Thank you for your love, Care and fof teaching us the word of God in a unique way. We love and appreciate you sir.
#TALKINGSESSION 10TH NOVEMBER. KINDLY SAY THESE WORDS OUT LOUD. Righteous Father, I am so grateful for Your boundless blessings in my life. Thank You for the power of the Spirit that is at work in me to effectively minister the Gospel to those in my world, and the regions beyond. Your grace is released even now for hearts to be touched and converted by the news of Your saving power. I am called, justified, and glorified according to Your divine predestination. Your call on my life is that of honour! I am the chosen of the Lord; therefore, I refuse to cast away the call of God on my life. His call is my only insurance for a glorious life and future. I am serving the Lord unreservedly, living for Him, and honouring what He honours. I am always glad and full of praise for the opportunities He gives me for service. I walk in the glory of God. I live in the dominion and authority of Christ! Nothing, and no one, can successfully stand against me, as I go forth proclaiming liberty to the captives, recovery of sight to the blind, bringing men out of darkness into the glorious liberty of the sons of God! My whole life is about the call; therefore, I refuse to treat it lightly. The only thing that matters to me is the call of God on my life and how to fulfill it. I am fulfilling that call by the power of the Spirit. Daily, I give attention to God's Word and His call on my life. I've made the decision to follow the Spirit, not the world or the flesh. His desires are my desire. As I serve Him truly and wholeheartedly, He fills my life with His beauty, grace, glory, and honour. Thank You, Dear heavenly Father, for calling me with a holy calling. As I give myself to the study of the Word and prayer, I am further enlightened on how to fulfill my divine destiny in You without reproach. None of my steps shall slide, because I hear Your voice directing me in Your perfect will, in Jesus' Name. Amen. Hallelujah! • Keep saying it, publish it everywhere; noise it abroad! In Christ, we've got something to shout about. Let's flood the airwaves, internet, and print media with the reality of Christ. Speak in other tongues now. ~ Pastor Chris Oyakhilome. #affirmationtrain #talkingsession #wordfest2020 #prayathon2020 #wordatwork #wordfest2 #ippc2020 #thankyoupastorchris #perfection #alignment #prayingnow