Preg-A-Thon 2020 - Venerdì 23 Ottobre Ci sono svariati motivi per vincere anime per Cristo. Scoprite di più su tre di questi nella Rapsodia di questo venerdì. Studiate nella vostra app di Rapsodia delle Realtà o visitate https://rhapsodyofrealities.org Efesini 6 : 10-12 & 18-19 dice, "Del resto, fortificatevi nel Signore e nella forza della sua potenza. Rivestitevi della completa armatura di Dio, affinché possiate stare saldi contro le insidie del diavolo; il nostro combattimento infatti non è contro sangue e carne, ma contro i principati, contro le potenze, contro i dominatori di questo mondo di tenebre, contro le forze spirituali della malvagità, che sono nei luoghi celesti... pregate in ogni tempo, per mezzo dello Spirito, con ogni preghiera e supplica; vegliate a questo scopo con ogni perseveranza. Pregate per tutti i santi, e anche per me, affinché mi sia dato di parlare apertamente per far conoscere con franchezza il mistero del vangelo" Nei nostri orari di preghiera oggi, pregheremo con fervore in lingue dello Spirito, intercedendo anche per le nostre nazioni, per il lavoro dei ministeri Cristiani nel mondo nella propagazione del Vangelo di Cristo, come anche per i ministri del Vangelo. Al nostro Dio appartiene il Regno, e tutta la potenza e gloria; e il Suo scopo nella giustizia prevarrà per sempre. Amen. Dio vi benedica.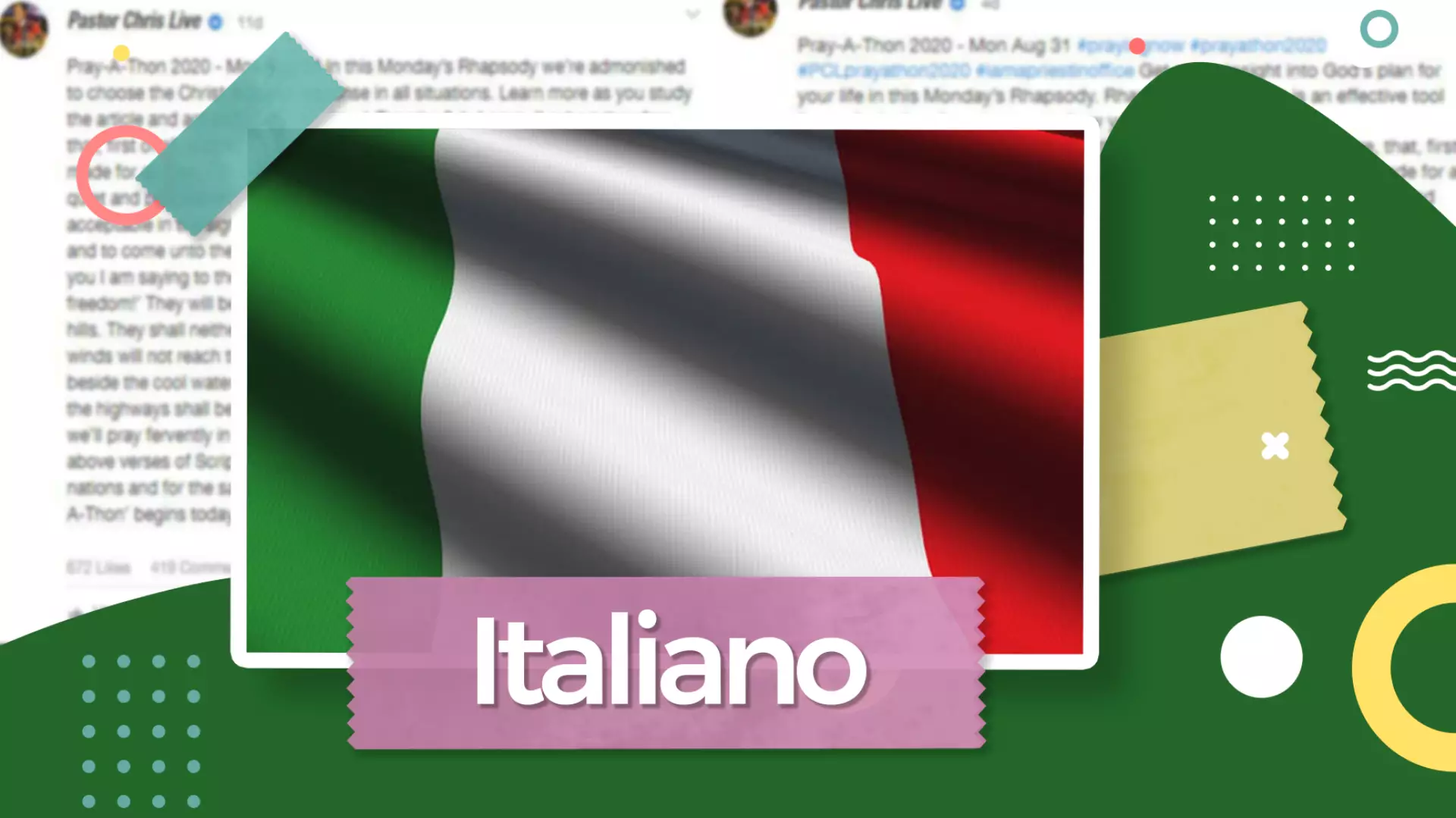 💥💥💥HAPPENING TODAY ON HEALINGSTREAMS.TV Get connected @ https://healingstreams.tv DATE : Friday 23rd October 2020 TIME: 4pm( GMT + 1) #healingstreams #healingstreamstv #hsinfluencers #healingtothenations
#kidsaglow #lovetoonsTV Yipeee!!!! We are ready and excited
Still celebrating the best of them all. I love you plenty ma
Celebrating Perfection It's 4 Days To Go! #PGO2710 #PGORocks #Gracepersonified #GracefulPGO #IlovePGO #MoneyMagnet #Iconofperfection #fatherofchampions #CelebratingGrace #Godswordsimplifier #PGOsuperstar #cez1rocks #ceabuleegba #AAgroup
📺 it's Day 17 of #wordfest2..  Listen/watch today's message📱💻🎧 : "3 CARDINAL GIFT OF GOD" Watch live for free using this link👇👇 http://pcdl.link/wordfest2/cemidwestzone Share your inspirations and proclamations from today's message on Kingschat timelines, using the hashtags: #Wordfest #wordatwork #Watchonpcdltv #Cemidwestzone #Cetextilemillgroup #Wordfest2020
IT'S TODAY 🎉 the highly anticipated Rhapsody All Night Prayer & Prophecy Zonal Meeting! We are full of thanksgiving to God as we eagerly look forward to the miraculous in the meeting tonight! #blwukzoneb
WordFest 2 Day 17 Watch and listen to today's message titled The 3 Cardinal Gifts Of God: The Gift Of Eternal Life (Part 1) It is available for free on www.pcdl.tv. #wordfest2 #wordatwork #watchonpcdltv #BEPrays God bless you.
💥💥💥HAPPENING TODAY ON HEALINGSTREAMS.TV Get connected @ https://healingstreams.tv DATE : Friday 23rd October 2020 TIME: 4pm( GMT + 1) #healingstreams #healingstreamstv #hsinfluencers #healingtothenations
💥💥💥HAPPENING TODAY ON HEALINGSTREAMS.TV Get connected @ https://healingstreams.tv DATE : Friday 23rd October 2020 TIME: 4pm( GMT + 1) #healingstreams #healingstreamstv #hsinfluencers #healingtothenations
We are in Day 17 on #WORDFEST 2 with the message The 3 Cardinal Gifts of God (The Gift of Eternal Life Part 1) airing now on www.pcdl.tv 7 DAYS To WordFest2 Extravaganza #wordatwork #watchonpcdltv