Pray-A-Thon 2020 - Середа 21 Жовтня Коли ми говоримо: «Ісус є Господь», це набагато більше, ніж релігійне вираження. Дізнайтеся більше з Рапсодії в цю середу. Вивчайте і діліться з іншими, ведучи тих, хто не отримав спасіння, до Господа. Подивіться https://rhapsodyofrealities.org Псалми 29:10-11 каже Господь пробував в час потопу, і буде Господь пробувати повік віку Царем. 1 Коринтян 14:2 каже Як говорить хто чужою мовою, той не людям говорить, а Богові, бо ніхто його не розуміє, і він духом говорить таємне. Господь подасть силу народу Своєму, Господь поблагословить миром народ Свій. Сьогодні, коли ми молимося, ми будемо гаряче молитися на мовах Духа і молитися особливо за народи світу. Кличте царство праведності, миру, справедливості і порятунку до кінців землі, знищивши вчинки темряви і вплив злих духів на них. Не забудьте відвідати сьогодні служіння в середині тижня в церкві, на місці або в Інтернеті, за вказівкою ваших пасторів. Бог благословить вас.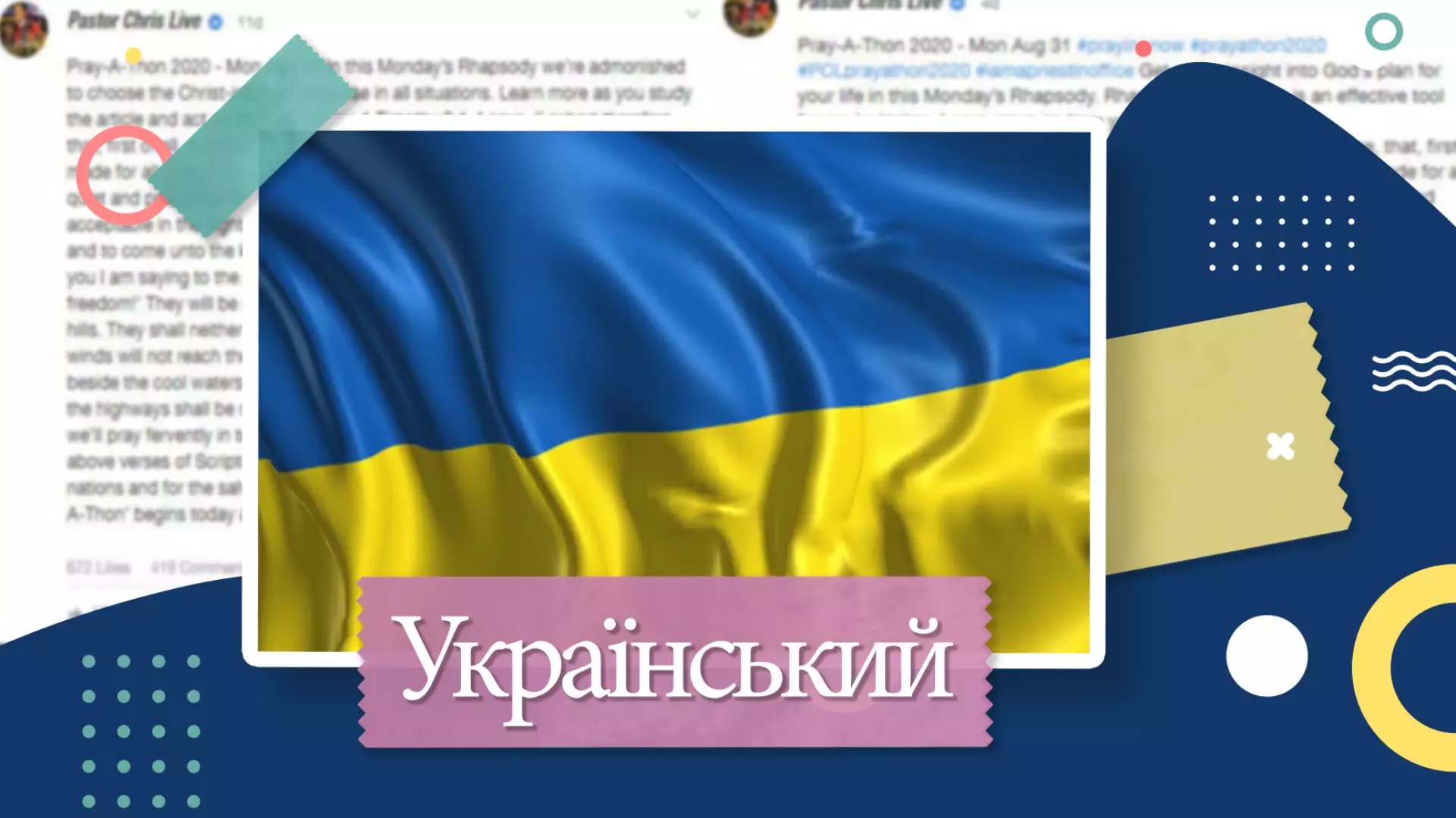 Get a good understanding and acceptance of what has been delivered to us in Christ from Day 15 on #WordFest2 airing now on www.pcdl.tv #wordatwork #watchonpcdltv
Beauty isn't in Mary K powder, but beauty is in the heart by the Word of God!
To be justified means to be declared righteous by faith because you are born again Join Day 15 on #WordFest2 airing on www.pcdl.tv 7 Gifts of God in Christ Part 1 #wordatwork #watchonpcdltv
##Mypastor #Myteacher #Mylifecoach #Mymotivator #PEAweloveyou #CEObadore #CEIba/Ijanikin #CELZ2
Its another inspiring topic on Wordfest 2 with the first part of the topic" 7 gifts of God in Christ". Am an associate of God kind as i have the gift of eternal life. Am not afraid to stand in God's presence because am righteous. #Wordfest #ewcav4 #Bamendagroup #CEMutengene
Blessings to you Dearest Pastor Sir We Appreciate you so much Sir
💥Excitement in the air!! 🥳🥳Angels are hauling souls into the kingdom of God and we understand the signs and the times. Join us for a life transforming program. Register now @ https://cebramptonwest.breezechms.com/form/The_Harvest_is_Plenteous. #cecanada #cebramptonwest
Please an some help me with yookos Prayer point pls !
🥁🥁🥁🥁🥁 Get ready🔥🔥🔥🔥🔥 for the next big meeting in the Nation of Zambia🇿🇲🇿🇲🇿🇲 with the Esteemed Zonal Secretary, Pastor Casper Wealth. #blwsazoned #CampusMinistryRocks #zimbabwe_zambia_malawi
Watch Day 15 Special Teaching on #WordFest2 to be awakened to the knowledge of the 7 Gifts of God in Christ Part 1 airing now on www.pcdl.tv #wordatwork #watchonpcdltv