CE MID-WEST ZONE: 🏆🌟✨💫1ST QUARTER VIRTUAL RHAPSODY AWARDS on KingsChat Web
🏆🌟✨💫1ST QUARTER VIRTUAL RHAPSODY AWARDS HIGHLIGHTS!! Congratulations to our Highly esteemed Zonal Pastor and all partners of Rhapsody of Realities across the zone!! 💃💃👏👏🎖🏅🏅 We celebrate our uncommon victories and the efficacy of God's Word in the first quarter of 2021!! #Rhapsodyvirtualawards2021 #cemidwestzone #rhapsody #pastorchris #prayingnow #rhapsodyofrealities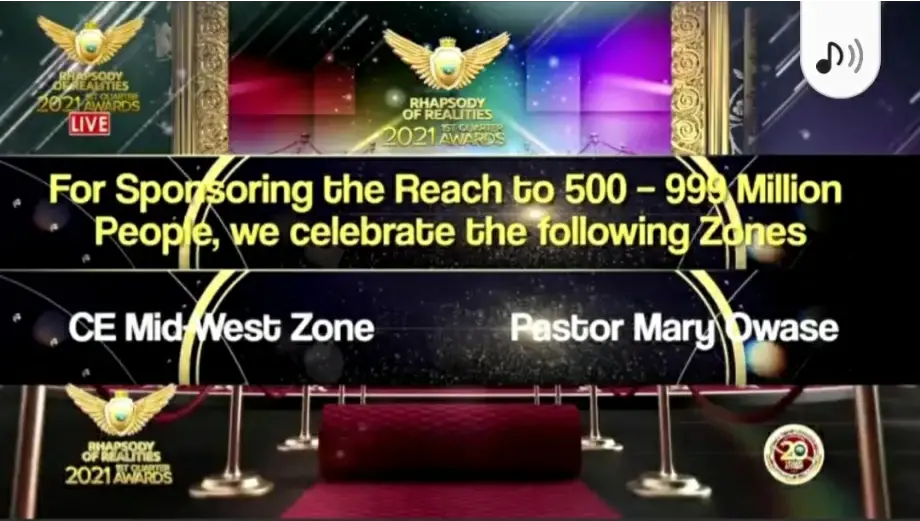 Get ready everyone, it is a day of bliss, an unforgettable experience, a time of Joy, healing and impartation of the Spirit.
#RORConvention Day 4 with The Esteemed Pastor Biodun Lawal... This is the best relationship, we've been called God's FRIENDS. #CalMC #TeamCalabarRocks
#Photospeaks Highlights of Our Special Online Sunday Service with Our Highly Esteemed Zonal Director. Our Highly Esteemed Zonal Director sharing on REVEALED TRUTH CONCERNING YOUR LIFE . 2John.1.2 - For the truth's sake, which dwelleth in us, and shall be with us for ever. [KJV] #cekenyazone
Celebrating our man of God, we love and appreciate you sir. #UKZone2 #Lifeiseasy #Influential PTA
#ZonalOutreachDay #YearofPreparation #HigherLifePCF #CeLAA #CeAccraGhana
BUILDING OUR COMMUNITIES WITH THE BRICKS OF TRUTH Society is shaped by the information commonly accessible to each member. This is our chance to set the agenda for communal discourse with the Word of God. Play your role today!
It's our Month of Truth. Glooorrrrryyyyyy 🙌🙌🙌 and Sunday is here again. Share what you learnt from today's service. Like and reshare after commenting. God bless you.
#ZonalOutreachDay #YearofPreparation #HigherLife #CeLAA #CeAccraGhana
HAPPENING NOW!!! #RORConventionDay5MorningSession 💥Rhapsody Reading taken by the esteemed Deacon Chris Dakare. #RORConvention #Day5MorningSession #CalMC #TeamCalabarRocks