East Africa VZ 3: ARE YOU READY FOR THE on KingsChat Web
ARE YOU READY FOR THE 1ST QUARTER RHAPSODY AWARDS 2021!!! Register now: http://awards.rhapsodyofrealities.org/ewcz3 #rhapsodyvirtualawards2021 #ewcaz3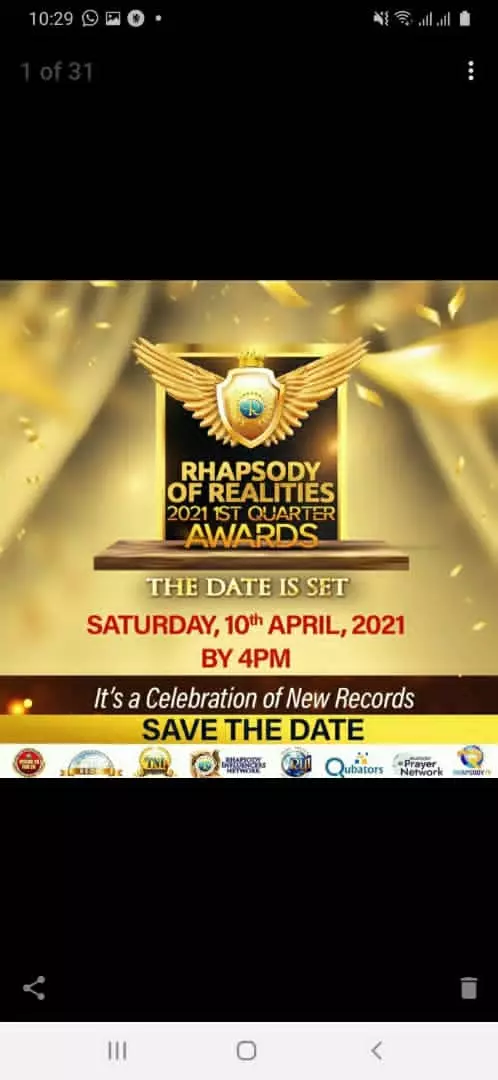 Mary Excellent Mutyo
commented:
Yes am ready. Glorrrrrryyyy. Sister Mary Excellent Mutyo is number 1 a winner by the Spirit.
RHAPSODY OF REALITIES invites you to its 2021 1st quarter Awards this Saturday. Kindly find the link below to register. God bless you. http://awards.rhapsodyofrealities.org/ewcz4
#2ndQuarterPrayerAndFasting 📌 DAY ONE STARTED ON SUPER HIGH WITH OUR HIGHLY ESTEEMED ZONAL DIRECTOR #HappeningTill6PM Ensure To Pray Ensure To Join Requisite Sessions The Truth Is Established, Affirm Same Hallelujah! #CELVZ #7DaysPrayerAndFasting #TheMonthOfTruth #TheYearOfPreparation
#prayingnow #pclprayathon2021 #prayathon2021 #iampriestinoffice #WEVZ1 #CENetherlandsAlmere
#PrayingNow@3:00PM *#PastorChrisLive-Pray-A-Thon 2021 *#MyMonthofTRUTH* *#MyYearofPREPARATION #1MillionRORASONEMAN #Ephesians 5:18-20 #WeOverCame #IRecoverAll #CE Abu Dhabi-1 #CE UAE #CE Phillippines #MEASIA #Gracious BSG #Rhema PCF
Networking the world with gospel of our Lord Jesus Christ!!!
PRAISE REPORT!!!( TEVOO CLUB OUTREACHES) Christ Embassy Central Church Teens Ministry--- Reaches out to Fanlot Schools, Anaatasia Schools Abule Egba, Lagos. 250 people reached with 250 copies of Rhapsody Of Realities Teevo distributed, 30 souls won and added to the kingdom of God. #soultracker #CELZ4TeenChurch #CELZ4