HAPPENING TODAY!!!! GLOBAL DAY OF PRAYER WITH PASTOR CHRIS Participate Live On: https://futureafricaleadersfoundation.org/globaldayofprayer/ It's happening few hours from now, Christians from all around the world will be joining forces with our Man of God Pastor Chris to pray and cause changes in the realm of the Spirit. FALF will hosting the Live broadcast on https://futureafricaleadersfoundation.org/globaldayofprayer/ from 6pm (GMT+1) Friday, 26th to Saturday, 27th March 2021.#GlobalDayOfPrayerWithPastorChris #FALF #iamapriestinoffice #impactafrica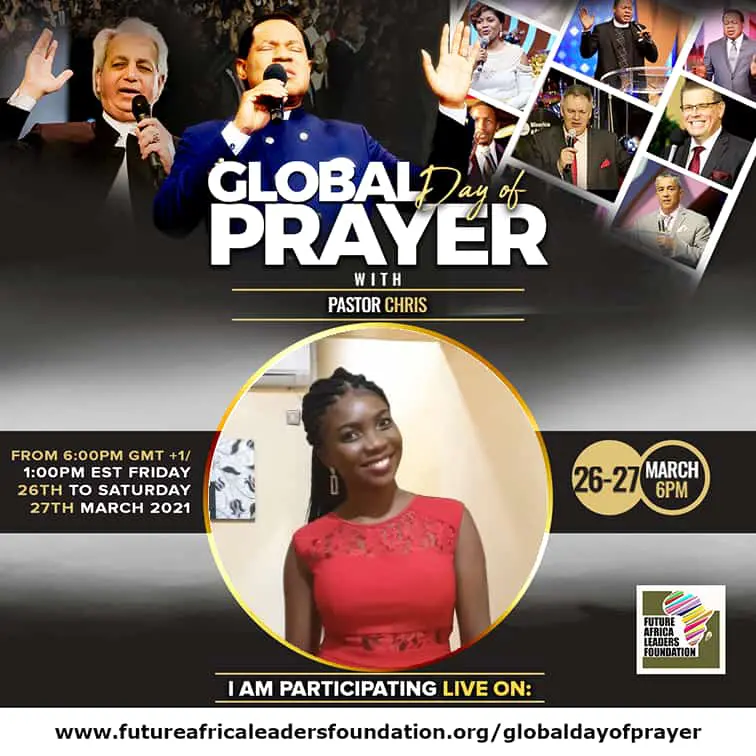 HAPPENING TODAY!!!! GLOBAL DAY OF PRAYER WITH PASTOR CHRIS Participate Live On: https://futureafricaleadersfoundation.org/globaldayofprayer/ It's happening few hours from now, Christians from all around the world will be joining forces with our Man of God Pastor Chris to pray and cause changes in the realm of the Spirit. FALF will hosting the Live broadcast on https://futureafricaleadersfoundation.org/globaldayofprayer/ from 6pm (GMT+1) Friday, 26th to Saturday, 27th March 2021.#GlobalDayOfPrayerWithPastorChris #FALF #iamapriestinoffice #impactafrica
*Pray-A-Thon 2021 - Fri March 26* The Global Day of Prayer begins 6pm (GMT+1/1pm EST) today, Friday, March 26th through Saturday March 27th, until closing session from 6pm (GMT+1/1pm EST). We're set for over 24hours of supplications, prayers, intercessions and giving of thanks, making tremendous power available for global impact, and much blessings to you. Look forward to it and help others participate too. We'll be live on https://bit.ly/GDOPwithPastorchris , all Loveworld Networks, ministry websites, various social media platforms, and many satellite, terrestrial and Local TV/Radio Stations around the world. At 12noon Local, we'll pray fervently in tongues of the Spirit for all 15min. God bless you.
I AM READY TO MAKE TREMENDOUS POWER AVAILABLE! #GlobalDayOfPrayer #SAZONE2 #SOUTHGROUP
GOD LISTENS TO CHILDREN WHEN THEY PRAY....Let's get the children to pray along with Pastor Chris Today 🎉🎉🎉🎉🎉💫💫💫💫💃💃💃💃💃💃💃💃💃💃 #lovetoonstv
#prayingnow #pclprayathon2021 #prayathon2021 #iampriestinoffice #WEVZ1 #CENetherlandsAlmere
Meet candice new pet. Her name is Special. Happy birthday....
Real time power 🤯🤯🤯its gonna be lit💥 #Globaldayofprayer #gdopwithpastorchris #blwcampusministryrocks #blwzonec #blwgroupA #blwunilag
It's global day of prayer with our man of God, I'm so excited to be a part of it.💃 #Globaldayofprayer #gdopwithpastorchris #blwcampusministryrocks #blwzonec #blwgroupA #blwunilag
Global Day of Prayer with Pastor Chris. Starting today!! We're Changing the World🌍 #GDOPwithPastorChris #lmapriestinoffice #healingstreams #healingtothenations #hsinfluencers