Get Ready for the Special Easter Sunday Service with Pastor Chris! Time: 6pm GMT+1 Let someone know that Jesus is risen and we are risen with Him. Invite those on all your social media pages, friends, and family to join in the service by sending them links. Showing live on all Loveworld Networks, Ceflix, prayer.rhapsodyofrealities.org. #SpecialEasterwithPastorChris #LWPM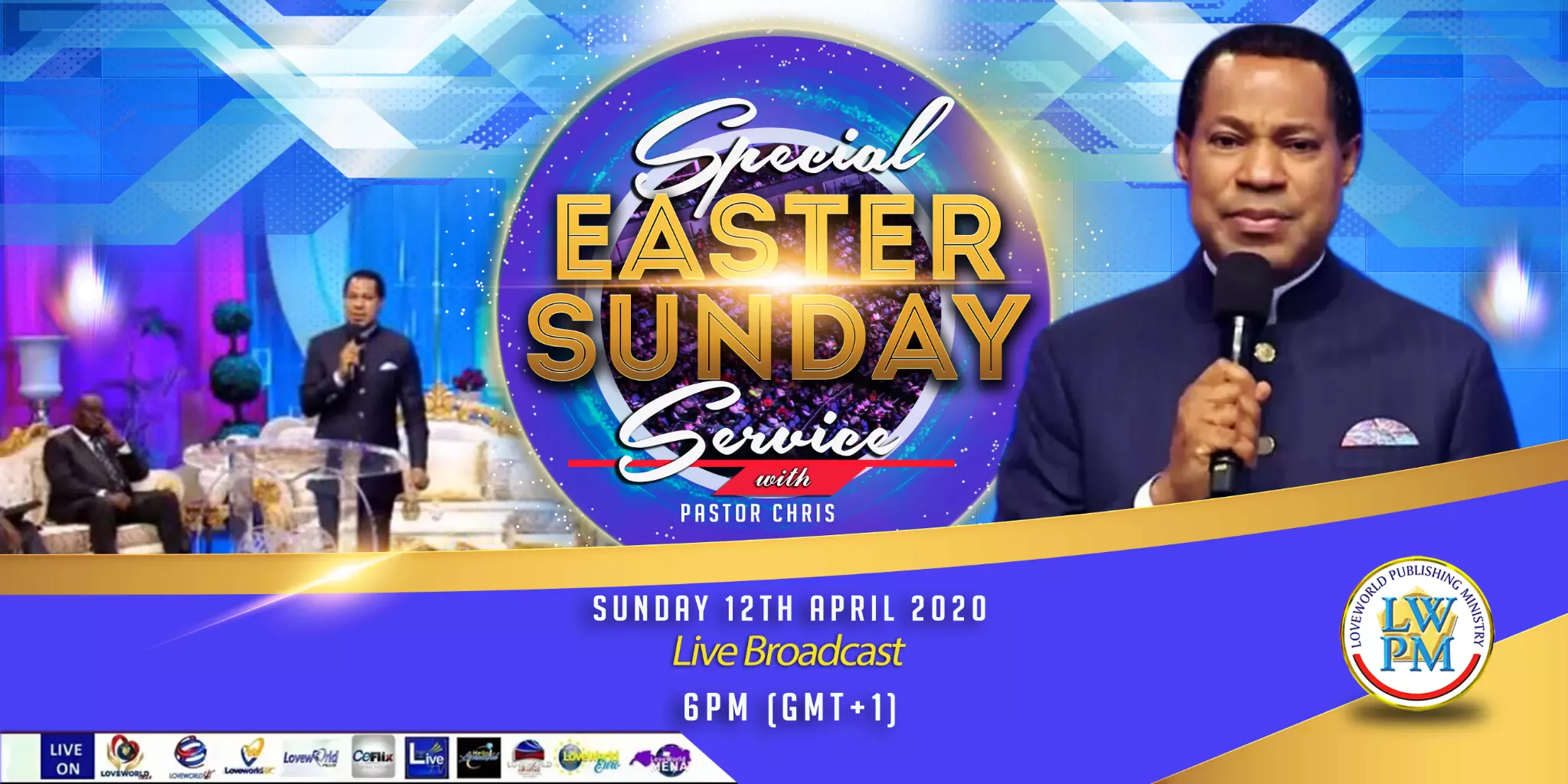 https://m.facebook.com/story.php?story_fbid=221751319176006&id=112271646790641
Join The Special Easter Service With Pastor Chris Live On Cloveworld http://cloveworld.org/news?v=5e8d9f150ee97r3pzmidw6vhy Download CLoveWorld 👇 Ref code jessangel Android https://goo.gl/Zww1Ap iOS https://apps.apple.com/us/app/cloveworld/id141145690 #EasterserviceonTv
Join us this Sunday, 12th April 2020, for an awesome and refreshing Easter Sunday service at 10:00am. It's a celebration of salvation, of transformation, of exaltation! It's a celebration of faith, of fellowship of fulfilment! It's a celebration of hope, of health, of happiness! It's a celebration of love, of life, of liberty! It's a celebration like no other! Participate ONLINE by clicking on the link below. You will be glad you did as you will never remain the same again. https://live.ceukz1.org We look forward to celebrating you also.
Happy glorious birthday dearest Dr Rukky. Thank you for your consistency over the years. Thank you for being a blessing to us. You know I've loved you long time and always will ❤️❤️
Happy birthday my dearest sister. The Lord has perfected all that concerns you...... I love you.
A superlative blissful & glorious birthday, to my most amiable Pastors Archie & Ngy! Thank you for being such a wonderful couple. Your love for the Lord, our beloved Man of God & ministry are most inspiring!!!. Enjoy more grace as you bask in His love. I love you so much!!!
Still on this matter...... One and only Nikky-Lash, my sister and friend! I wish u a very happy birthday. Of ur increase, shining, perfection and flourishing, there shall be no end. I love you Sis and thank you for all you do in building the Church! I love you