THE HISTORIC YOUR LOVEWORLD SPECIALS & PRAISE-A-THON WITH PASTOR CHRIS AND PASTOR BENNY IS HERE! This is the day which the LORD hath made; we will rejoice and be glad in it. Psalm 118:24 Glory! Glory!! Glory!!! It's less than 9 hours to the most anticipated program in the world - Your Loveworld Specials and Praise-a-thon with Pastor Chris and Pastor Benny; beginning today, Monday 25th January 2021. Have you: 👉Written your expectations for the program? 👉Been praying for the program? 👉 Invited everyone you know to attend the program? Ensure you do. It will be a most phenomenal 7 days in the HolyGhost. The Lord is set to bless you, and impact the world in such an extraordinary way. Indeed the earth shall be filled with the knowledge of the glory of the Lord as the waters cover the sea. Halleluya. See you there. The program schedule is as follows: 👉Monday 25th 7.00pm GMT+1 👉Tuesday 26th to Friday 29th Two sessions daily - 2.00am GMT+1 - 7.00pm GMT+1 👉Saturday 30th & Sunday 31st - 7.00pm GMT +1 🌎Participate through our Loveworld Network Stations, Live TV and Ceflix Apps, and on all Ministry Online Platforms and Apps. #yourloveworld #yourloveworldspecials #yourloveworldwithpastorchrisandpastorbenny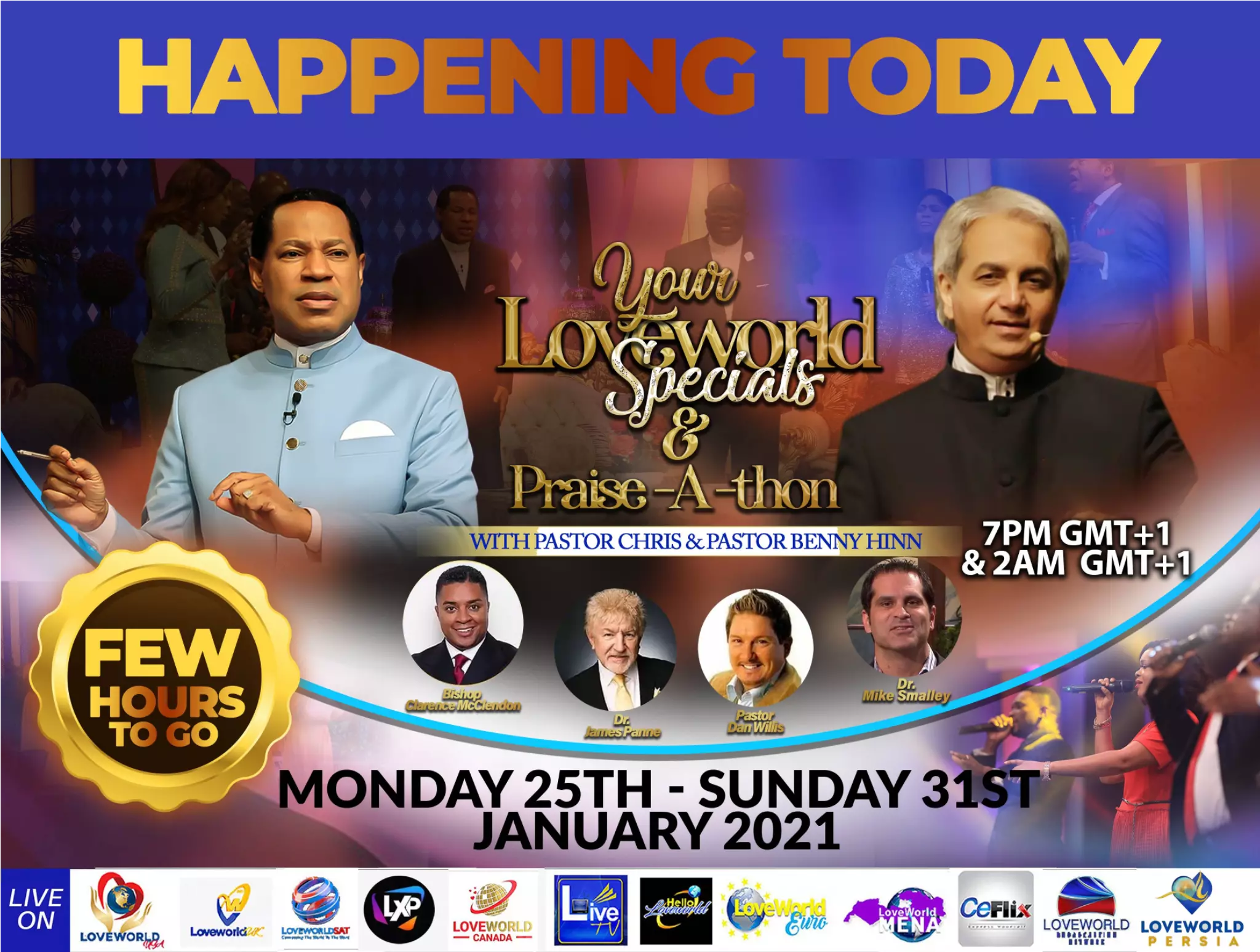 I wish him@broOseOkunmendia a continuous, victorious glow in Christ amen. His light shall and will continue to shine 🙌
Happy birthday to A kingdom Addict, A kingdom financier, Grace Personified, the best Dad in the world, the best husband in the world, you are indeed a blessing to us, thank you for being selfless, Grace and more grace for you. WE LOVE YOU SIR.
FEW HOURS TO YOUR LOVEWORLD SPECIALS WITH PASTOR CHRIS & PASTOR BENNY Participation link 👇 https://cetunes.org/events?id=Your%20Loveworld www.cetunes.org Download the CeTunes Mobile app Via link below👇 http://play.google.com/store/apps/details?id=org.lw.cetunes
BE AGLOW WITH THE SPIRIT ~ PASTOR CHRIS OYAKHILOME "Never lag in zeal and in earnest endeavor; be aglow and burning with the Spirit, serving the Lord" (ROMANS 12:11 AMP) The heart desire of any Christian should be to please the Lord by doing His will and fulfilling His call. Many sincerely want to do this but don't know how. So you hear them say, "I want to serve God with all my heart; I want to be on fire for Him, but I don't know how to stay consistent in the things of the Spirit." What such folks need first and foremost is to be continually filled with the Spirit. Without the Holy Spirit, you can't do anything for the Lord that will be acceptable to Him or that'll make any impact in the world. That's why Ephesians 5:18 says, "And be not drunk with wine, wherein is excess; but be filled with the Spirit." The next verse tells us how to do this: "Speaking to yourselves in psalms and hymns and spiritual songs, singing and making melody in your heart to the Lord" (Ephesians 5:19). Join the Christ Embassy Online Missions Yookos Community today 👇👇👇http://bit.ly/Ceomsyookoscommunity Secondly, be careful not to listen to your feelings or emotions for they'll lie to you. That you "felt" close to God on a certain day doesn't mean you're spiritual; and that you sometimes "feel" far from God doesn't mean God has left you or is far from you. Our closeness to God has nothing to do with how we feel on a certain day. Thirdly, learn to speak in tongues fervently and lavishly. This is one of those blessings the Holy Spirit has brought into our lives. Speaking in other tongues regularly will activate your spirit until you're filled to overflowing. "...stir up (rekindle the embers of, fan the flame of, and keep burning) the [gracious] gift of God, [the inner fire] that is in you..." (2 Timothy 1:6 AMP). If you would consciously take advantage of the aforementioned by giving attention to them, your life will constantly be aglow and you'll know no downtime in your walk with the Lord. FURTHER STUDY: Jude 1:20; 1 Corinthians 14:4 Help spread God's word around the world via Online by sharing this Post.
FEW HOURS TO YOUR LOVEWORLD SPECIALS WITH PASTOR CHRIS & PASTOR BENNY Participation link 👇 https://cetunes.org/events?id=Your%20Loveworld www.cetunes.org Download the CeTunes Mobile app Via link below👇 http://play.google.com/store/apps/details?id=org.lw.cetunes
To register and create your personalized avatar, please use the link below; http://prayer.enterthehealingschool.org/reg/HSPN #hspc #Hspn
#LTM #Ltmpartners #Febgscwithpastorchris #preparation #yourloveworld #GSConTV