Loveworld Ladies Network: 🟤⚪🟤⚪🟤⚪🟤⚪🟤🟤⚪🟤⚪🟤 UPCOMING PROGRAM ALERT! 🟫L on KingsChat Web
🟤⚪🟤⚪🟤⚪🟤⚪🟤🟤⚪🟤⚪🟤 UPCOMING PROGRAM ALERT! 🟫Loveworld Ladies Network Presents " RECREATING YOUR WORLD" A LOVEWORLD LADIES OUTREACH THIS OCTOBER ACROSS OUR MINISTRY CENTRES AND ZONES. 🟫The Lord gave the word and great was the company of women that published it .. Psalm 68:11 #lln #loveworldladiesnetwork2020 #recreatingyourworld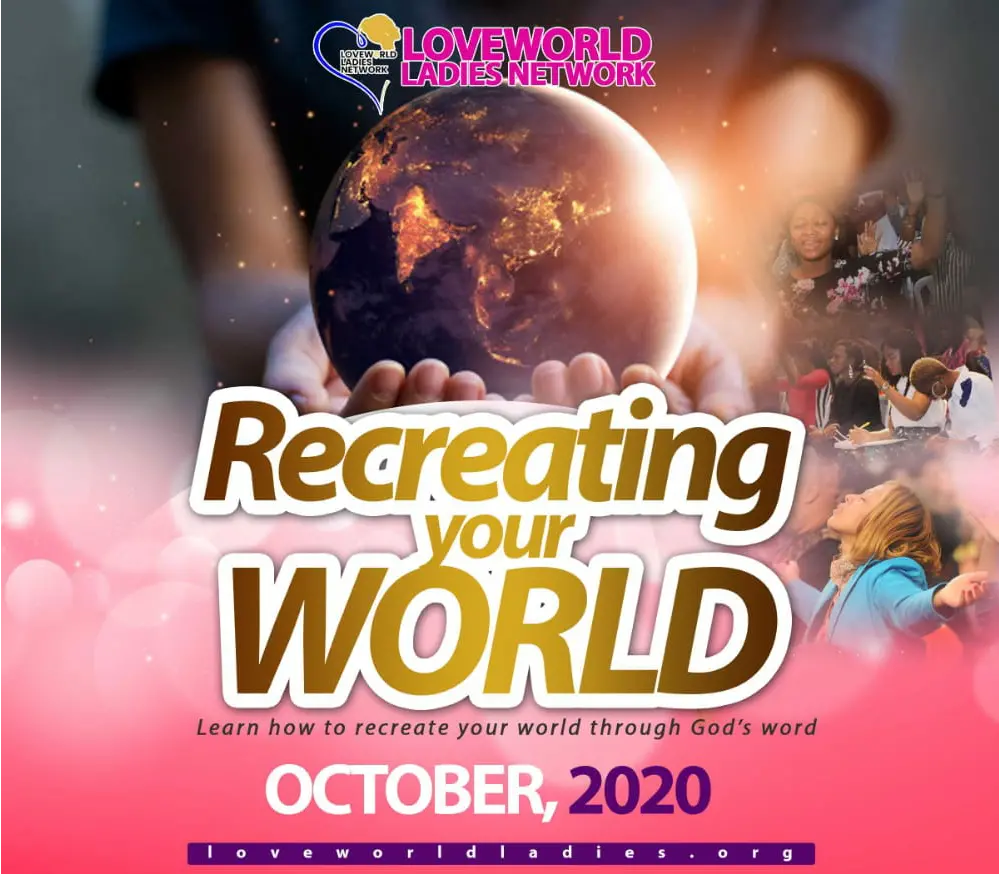 Perfection is possible, am perfect in all my daily work with God, and all that concerns me or that is in contact with me will work in perfection #wordfesr2020 #wordfest2 #wordfest #wordatwork #CEPHZONE3 #CEtransamadi1 #triumphcell
Day 6 🥳 God demands and expects perfection from us. Activate that consciousness of perfection in your life as you participate in the #wordfeat2 of today THE YEAR OF PERFECTION now airing on pcdl.tv #WordFest2 #wordatwork #watchonpcdltv #BLWCampusMinistryRocks #blwcameroongrp2
Happy birthday Sir, we celebrate you today, thank you for your awesome leadership full of wisdom and love. #PE1210 #TheEagle2020 #perfectPE #AffluentPE #blwsazonea
Celebrating our Rabbi of Righteousness #CelebratingPaterNoster #PttOurAdvantage #PttOurRabbi #PttTheLight #YesSir!
#blwzoneb #CMprayerandfasting #campusministryrocks
SHEFFIELD....WE HAVE MOVEEEEEED! A big thank you for our esteemed Zonal pastor for loving us in Sheffield specially and uniquely. We love you sir #RhapsodyGrace@WorkCELEBRATION #LWSheffield #UKZONE4
#sundayservice #yearofperfection #monthofprocliamation #Cepointenoire2 #CongoRepublic #Ewcaz4 Happy birthday to our highly esteemed Pastor Cletus Maliva. Thank you pastor sir for loving the Lord as you do. Thanks for your service and teachings. We love you pastor sir.
#DivineHealthConfessions #THEGREAT28
Wordfest 2 Messages for this week Available at no cost on bit.ly/Wordfest2 Mon Day 6 - The Year of Perfection Tues Day 7 - The Glory of the Word Get access to Pastor Chris Teachings daily for Free - bit.ly/Wordfest2 God bless you #Wordfest #Wordfest2020 #Wordatwork #UKR2Z1