Your LoveWorld Specials with Pastor Chris and Pastor Benny Monday 25th - Sunday 31st January 2021 7pm GMT+1 & 2am GMT+1 12pm CST & 7pm CST. Live on tniglobal.org in the global languages of the world. Spread the word to every non-English speaker! Click here to give and join us in reaching more and more people in the language most immediate to them For more information contact us now @ ipartner.tniglobal.org/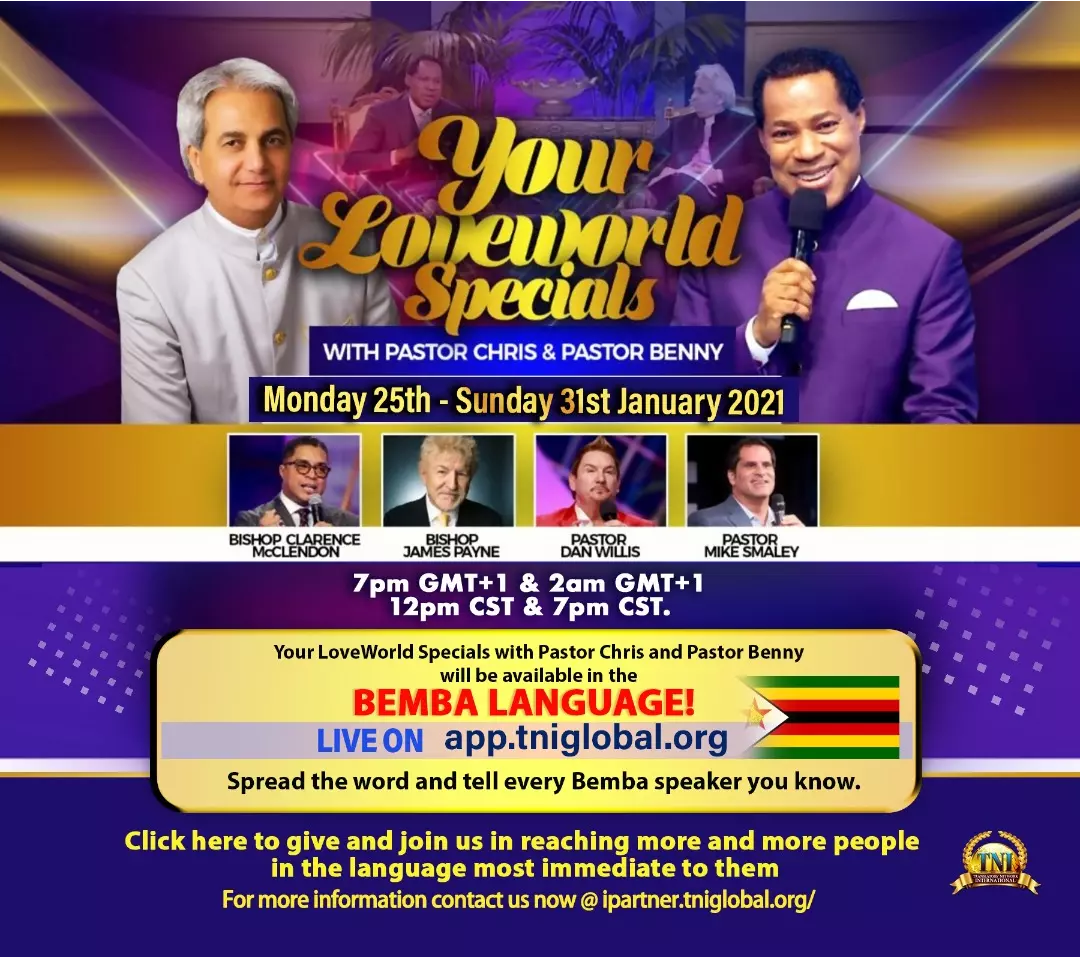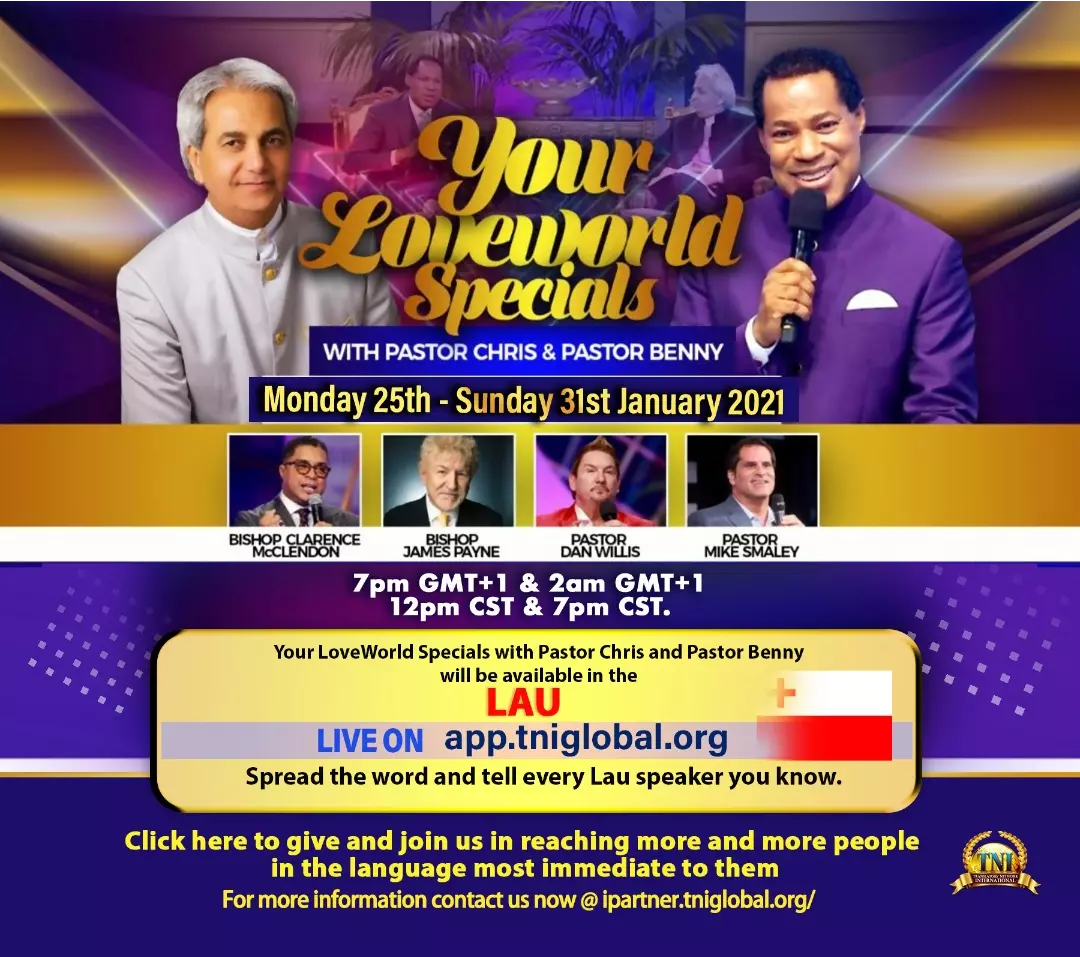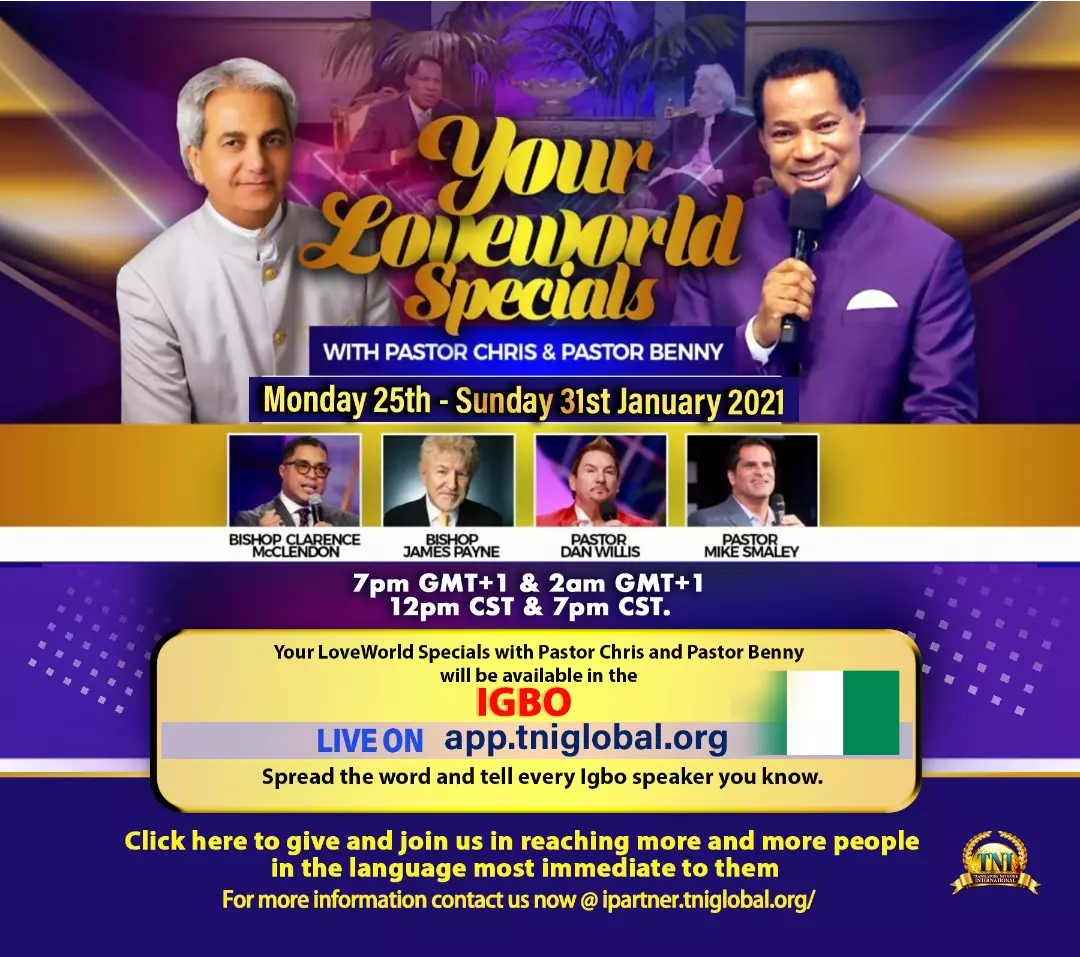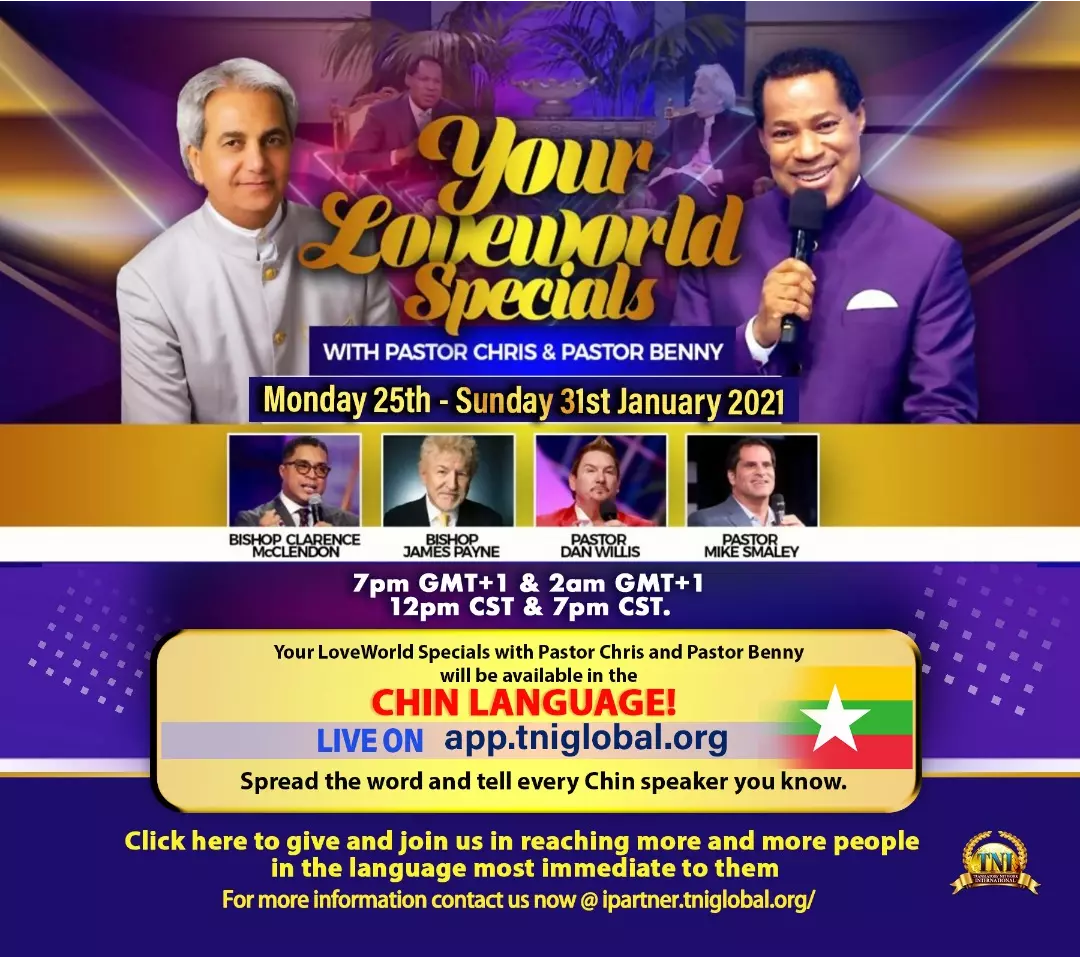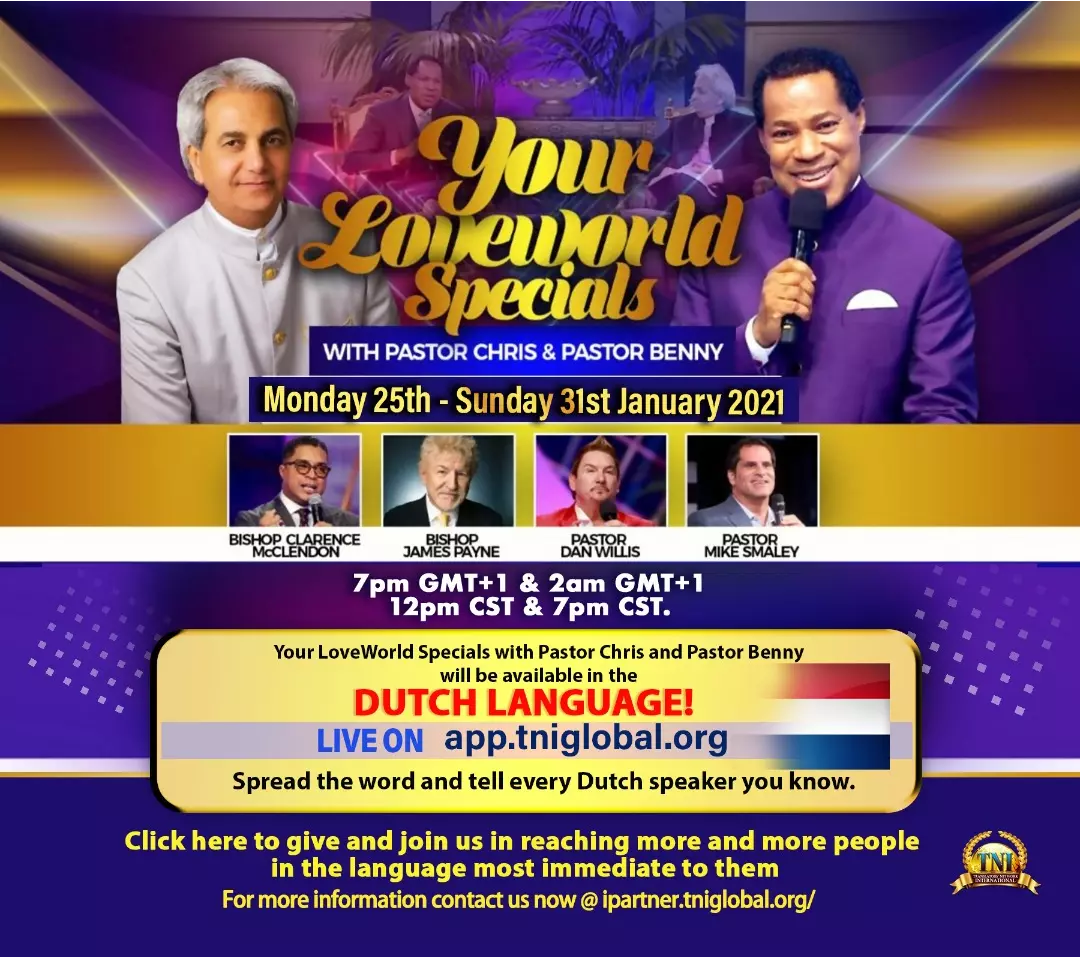 Thomas
commented:
Hxf Crypto currency trading platform .. For only guyana🇬🇾 UK🇬🇧, USA 🇱🇷 and south African🇬🇲 it's an investment where you invest on bitcoins and the sum of bitcoins you invest in, will been process and doubled in a multiple of days trade, after you cash out, then you can reinvested in the same account that you invested in again and again you can invest with credible Asset traders and earn returns of .. $300 to earn $3,000, $4000 to earn $4000, $5.00 to earn $5,000, $6,000 to earn $12, 000 , $7000 to earn $14,000. All in 7days trade and 10% will be my commission and no extra payment before withdrawals if you are ready inbox me on WhatsAp +18507391660
Everyone needs to hear the gospel, the good news of God's saving power. #MAFOLUKU1 #Mafolukuisrich #Celz1rocks #Celagoszone1 #CGI
Behold the game schedule! It's going to be a fun week! 💃💃💃 #peculiarcell #footballfiesta #mcw #ministrycentrewarri #celloutreach #cc4ward #rhapsodyofrealities
Your LoveWorld Specials with Pastor Chris and Pastor Benny Monday 25th - Sunday 31st January 2021 7pm GMT+1 & 2am GMT+1 12pm CST & 7pm CST. Live on tniglobal.org in the global languages of the world. Spread the word to every non-English speaker! Click here to give and join us in reaching more and more people in the language most immediate to them For more information contact us now @ ipartner.tniglobal.org/
We are keeping at it, soul winning is our life style. #MAFOLUKU1 #Mafolukuisrich #Celz1rocks #Celagoszone1 #CGI
PRAY-A-THON 2021  WITH PASTOR CHRIS LIVE - Members of UK Zone 2, led by our Highly Esteemed Zonal Pastor, lead the ministry in a powerful hour of prayer as part of the ongoing Year-long Pray-a-thon 2021 with Pastor Chris. Isaiah 6:3 '...Holy, holy, holy, is the LORD of hosts: the whole earth is full of his glory'. Matthew 6:13 '...For thine is the kingdom, and the fervidly in tongues of the Spirit, meditating on the verses of Scripture above, and declaring the name and dominion of Christ in all nations, among all peoples, and governments to the glory of God. Amen. Glory hallelujah!! #prayerthon2021 #Imapriestinoffice #ukzone2 #ouryearofpreparation
Happy birthday esteemed Rev. Sir. Thank you for all you do for us at the Healing School sir. I love you sir!
Chilean authorities spread false tsunami warning, apologize for causing panic Chilean authorities have apologized for spreading panic with a mistaken tsunami warning, according to reports. http://feeds.foxnews.com/~r/foxnews/world/~3/DHy5LtV2UXI/chile-authorities-spread-false-tsunami-warning-apologize-for-causing-panic
New Zealand records first COVID case outside of a quarantine facility in months New Zealand has reported its first case of COVID-19 outside of a quarantine facility in more than two months. http://news.sky.com/story/covid-19-new-zealand-records-first-coronavirus-case-outside-of-a-quarantine-facility-in-months-12197696
Palace keen on Leicester winger Gray Crystal Palace are interested in signing Leicester winger Demarai Gray this month. https://www.skysports.com/football/news/12040/12197723/transfer-news-leicester-citys-demarai-gray-interesting-crystal-palace
Arsenal agree Odegaard loan deal Arsenal have agreed a deal to sign Real Madrid midfielder Martin Odegaard on loan until the end of the season. https://www.skysports.com/football/news/12040/12197643/martin-odegaard-transfer-arsenal-agree-deal-to-sign-real-madrid-midfielder-on-loan-until-end-of-season