Christ Embassy Lekki: WELCOME TO AUGUST - OUR on KingsChat Web
WELCOME TO AUGUST - OUR MONTH OF RECOVERY! 📖📖1 Samuel 30:8 (KJV). "And David enquired at the Lord , saying, Shall I pursue after this troop? shall I overtake them? And he answered him, Pursue: for thou shalt surely overtake them, and without fail recover all."📖📖 'Our prayers are not in vain, we will surely overtake them and recover all. The power of fear has been broken in the name of Jesus. The spirit of fear has been destroyed. Leaders of Cities, States and Nations will have boldness to stand against evil plots of the enemy. Those that were not pleased by God shall not continue, for their place has been taken says the Spirit of God.' Rev. Chris Oyakhilome DSc. D.D. Have a blessed month of August. God bless you! #GlobalCommunionService #MonthofRecovery #August2020 #CELekki #CELZ5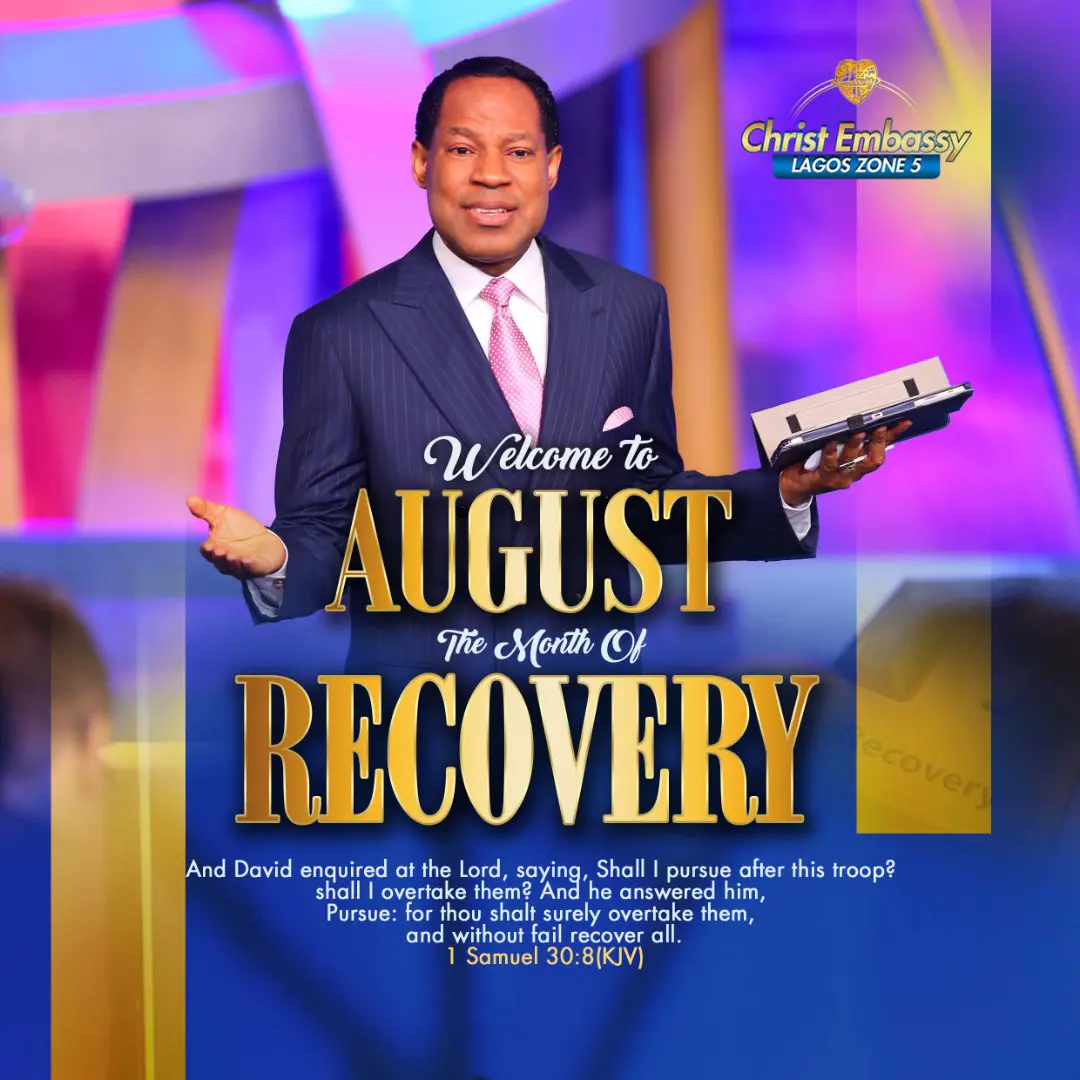 WELCOME TO AUGUST - OUR MONTH OF RECOVERY! 📖📖1 Samuel 30:8 (KJV). "And David enquired at the Lord , saying, Shall I pursue after this troop? shall I overtake them? And he answered him, Pursue: for thou shalt surely overtake them, and without fail recover all."📖📖 'Our prayers are not in vain, we will surely overtake them and recover all. The power of fear has been broken in the name of Jesus. The spirit of fear has been destroyed. Leaders of Cities, States and Nations will have boldness to stand against evil plots of the enemy. Those that were not pleased by God shall not continue, for their place has been taken says the Spirit of God.' Rev. Chris Oyakhilome DSc. D.D. Have a blessed month of August. God bless you! #GlobalCommunionService #MonthofRecovery #August2020 #CELZ5
AUGUST IS THE MONTH OF RECOVERY ®️ We must recover all. God spoke to David and asked him to pursue the fight. We will pursue this fight and we will recover . Hallelujah
What an Awesome Month August is . THANK YOU PASTOR SIR for Leading us and the Church of our LORD JESUS CHRIST in attaining victories . Thank you SIR for standing for the BODY OF CHRIST even at this time . I love you SIR
Just as the Man of God instructed on embarking on Soul Winning exercise tonight, here comes the study that will help in evangelism throughout the month of August. It is the #Exposéonsoulwinning Get ready to add more sons to the kingdom using the Exposé study this month.
What an Awesome Month August is THANK YOU PASTOR SIR for Leading us and the Church of our LORD JESUS CHRIST in attaining victories . Thank you SIR for standing for the BODY OF CHRIST even at this time . I love you SIR
#Deedorismusic Dee Doris drops another one!!! WATCH VIDEO.... https://youtu.be/f1wCO7fPkvw https://notjustok.com/videos/dee-doris-dazzles-in-new-gospel-visuals-chimonye-obioma/ DOWNLOAD AUDIO... https://deedorismusic.com/product/dee-doris-chimonye-obioma/
#ExposeOnSoulwinnig Hear their cry 😪😪😪 How can they know except they have heard 👂??? And how can they hear if there is no preacher??? 🗣🗣🗣 How beautiful are the feet👣👣👣of they who bring forth good news Be inspired as a Kingdom Soldier in these end time and let your passion for soul winning soar Participate in the upcoming inspiring EXPOSÉ ON SOUL WINNING this August. It's our Month of Recovery #watchonpcdltv  #WASADChallenge #CEUKZONE1 #UKR2Z1
Check out my amazing post in Yookos!
Glorious ROR Partnership Sunday Service@ #CEBARKING {THE LOVE CHURCH 1 & 2} United Kingdom, Region 2, Zone 4, With Highly Esteemed Pst Kemi Adesina! Our LOVE Is Expressed In Our Partnership With God In Soul Winning❤🌎🇬🇧 #uk2vz4 #unitedkingdom #uk2z4fastest #prayingnow #Recovery