Christ Embassy Tanzania: Happy Birthday to our highly on KingsChat Web
Happy Birthday to our highly Esteemed Pastor Ma. Celebrating you is celebrating God's grace, beauty & glory. We are grateful to God for the gift you are. Thank you Ma, for your liquid love, for impacting many for the gospel. You are an inspiration, a trailblazer and a great blessing to generations. We love you so dearly Ma.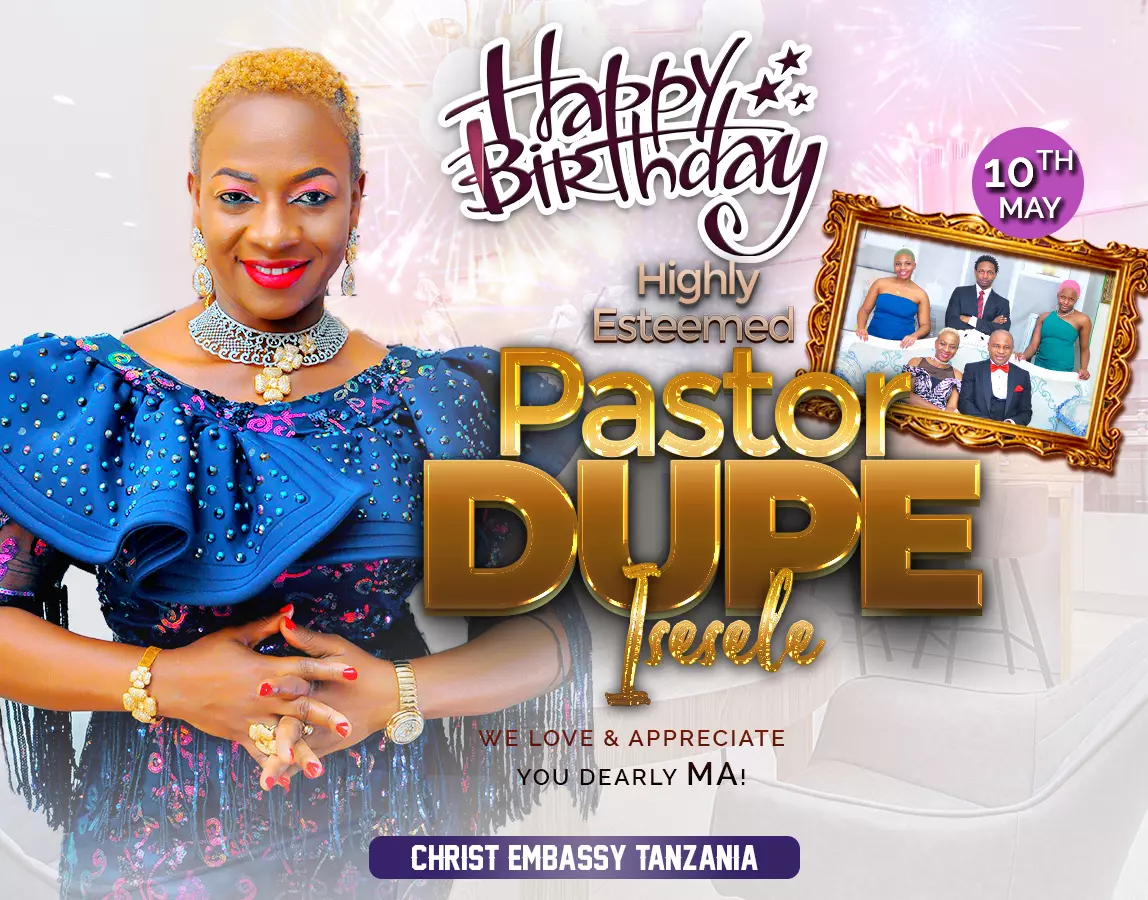 ▶️. Happening live Now ✅ THE BOLTON GROUP CHURCH     👉   PRAY-A-THON SEGMENT It's our time to pray with pastor Chris live to cause & effect changes that lasts.. We are leading the way causing changes glory to God #spreadingpastoruche #katalambano #prayathon2021 #pray-a-thon2021 #aminoffice #prayingnow #ukzone4 #lwccm #loveworldukzone4 #lwbolton #loveworldbolton
HAPPY GLORIOUS BIRTHDAY PASTOR JOE, THANK YOU FOR YOUR LOVE, COMMITMENT AND TEACHINGS OF THE WORD OF GOD. YOU'RE SOO KIND AND LOVELY TO EVERYONE AROUND YOU. MAY GOD INCREASE YOUR COAST IN THE MIGHTY NAME OF JESUS AMEN AND AMEN. I LOVE YOU!!!
My heart is flooded with light and my eyes are enlightened to see and enjoy Kingdom realities🥳💎💕 Did you take today's study? You can go ahead using this link: https://pastorchrisdigitallibrary.org/wordfest3/lwsazonee #wordfest3 #illumination #watchonpcdltv #blwsazonee
Happy B'day Pst Joseph Sir, I thank the Lord for you Sir; your rugged faith, liquid love, kindness, passion, commitment, energy ...Thank u Sir for demonstrating our LW exceptionalism, expansionism and perfectionism. Thank you for all you do in #canada  I❤ u specially Sir.
Happy glorious birthday Pastor Sir. I love you plenty!!!
Voici le Jour J 10 MAI 2021 Nous le célébrons finalement Un Homme de Dieu Extraordinaire SON EXCELLENCE MONSIEUR LE PASTEUR JOSEPH #CEOTTAWA