Loveworld kids: 🥳🥳HIP, HIP, HIP! HURRAY🤗🤗 🌈🌈IT'S on KingsChat Web
🥳🥳HIP, HIP, HIP! HURRAY🤗🤗 🌈🌈IT'S A CELEBRATION!! Kindly join us celebrate a Loveworldkids Super Star 🌟 🎂HAPPY BIRTHDAY DEAR ASHERI🎂 Thank you for your outstanding contributions to ensuring our work moves forward. You are a wonder, a city set on the hill that cannot be hidden. Through you many will come the glorious knowledge of our Lord. We Love You Dearly.🥰🥰💞 #cecanada #cebramptonwest #loveworldchildrensministry #loveworldkids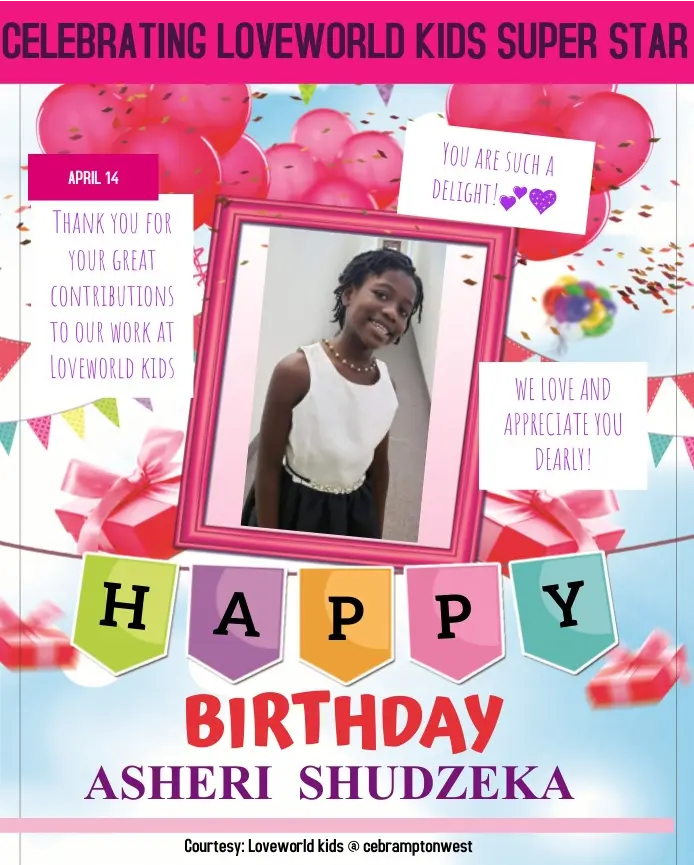 Melissa
commented:
Happy Birthday Asheri!!
More 1Q Foundation School Graduation loading... #lwfsch #1stquartergraduation
All day celebration....I love Bank Holidays like this one😘 Highly Esteemed PTA, Sir, we celebrate you today and always. We are blessed to have you as our Dad. 🥳🥳🥳🥳🥳🥳💝💖💃🤸‍♀️🎺🥁🪗🎻 #PTA1404 #UKZONE2 #NORWOODGROUP #NORWOODCHURCH
HBD Pastor Tony sir. It's been yrs knowing u & It's been from glory to glorious 4 u sir. U're an inspiration & a follower of our man of God. Thank u 4 all u do & represent 4 d mnistry. Love & proud to know u. Enjoy ur new levels & keep prevailng 4 standng 4 d Truth of God's Word
CELEBRATION GALORE!!! HAPPY BIRTHDAY HIGHLY ESTEEMED PASTOR TONY SIR, We love dearly Sir👮‍♂️👑 Money everywhere.. #PTA #LIFEISEASY #PASTORCHRISCHILD #ACTIONPASTOR #WORDPRATITIONER #UKZONE2 Kindly follow our superuser page @ukzone2 for ministry updates
This is LoveWorld News UPDATE! Pastor Chris teaches on the efficacy of God's rhema Word in framing your world on 'Your LoveWorld Specials' (Season 3, Phase 3). Watch this video excerpt to learn more. Stay tuned for more UPDATES. |Like| |Comment| |Share| #YourLoveWorldwithPastorChris #YourLoveworld #LoveWorldNews #PastorChrislive
HAPPY BIRTHDAY FATHER❗ Wow Wow Wow Wow Wow ❗ Midweek Service with a Difference❗ Hosea 4:6 - Psalm 82: 5-7 NIV - Proverbs 24: 3-6. Deutoronomy 29: 29 Thank You DAD for Teaching us the WORD of GOD on Your BIRTHDAY!!!🎂🎊🎂🎉🍹🎶
A most glorious celebration for Dad 🥳💃💃 #PTA1404 #UKZone2 #NorwoodGroup #NorwoodChurch
I join the Host of Heaven to celebrate a blessing not only to this generation but to the coming generations also. Happy birthday to my Pastor, Pastor Victor Egoh I love you specially sir. #PV414 #CelebratingPastorVictorEgoh #CEGarki #AbujaMinistryCentre #CEMCAbuja
My dear lovely daughter is 20 today. Rejoice with us. I thank God profusely for the awesome young lady she is growing up to be. God is good, gracious and kind.