LTM NETWORKS: BREAKING NEWS ! Pastor Chris on KingsChat Web
BREAKING NEWS ! Pastor Chris and Pastor Benny Hinn declare 'GLOBAL DAY OF PRAYER' ... with a special message for you! Date - Friday, March 27th, 2020. Join Online; on TV and on Radio by 7.00pm GMT+1, 2.00pm Eastern Time God bless you.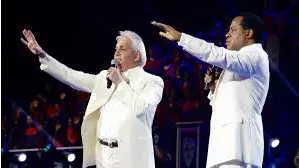 BREAKING NEWS!!!! Pastor Chris and Pastor Benny Hinn declare Global Day of Prayer Date: Friday, 27th March 2020 Time: 7pm GMT+1 (2pm Eastern Time) Platform: Online, TV, Radio SPREAD THE WORD Stay tuned for more details.
Jesus only can do what no man can do.Only you can love unconditionally,only you can give unconditionally. .Thank you for bringing me this far.. It's been glorious being initiated into divine fraternity where you are the Capone,my Capone,.Most powerful Capone, #celz1rocks
There is nothing like a mother's love, she loves her children unconditionally. She knows just the right thing to do or say to make them feel awesome....HAPPY MOTHER'S DAY to my SWEET MUM. I love you gazillion (like she says it...)😀😍❤
#ICMFoodrive #BEICMFoodrive #InnerCityMission
BREAKING NEWS!!! Pastor Chris & Pastor Benny Hinn declare Friday, March 27th 2020 as Global Day of Prayer. Time: 7:00pm (GMT +1), 2:00pm (Eastern time) The prayer sessions will be hosted live on all Healing School Platforms. Stay connected for more information. #healingtothenations
📸#photohighlights... Super Sunday with Pastor Anthony Oseghale... 67 FT, 31 NC!!!💥 Thanking the Lord for the testimonies of healings and salvation! #SuperSundayWithPastorAnthony #EveryoneReachOne #CGI #cemidwestzone #ceekpanreal #EveryCellANewCell #YBDWITHPASTORMARY #JTC
Global Day of Prayer with Pastor Chris and Pastor Benny himn this coming Friday 27th March!!