𝐇𝐚𝐩𝐩𝐲 𝐁𝐢𝐫𝐭𝐡𝐝𝐚𝐲 𝐄𝐬𝐭𝐞𝐞𝐦𝐞𝐝 𝐏𝐚𝐬𝐭𝐨𝐫 𝐑𝐞𝐦𝐢 𝐀𝐤𝐢𝐧𝐥𝐚𝐝𝐞. We celebrate your devotion and love for our Lord, Jesus Christ. Thank you for being an embodiment of grace, poise, love, and faith. We love you dearly ma! #celebratingPastorRemi #January31st #ChristEmbassySilverSpring #USAREGION1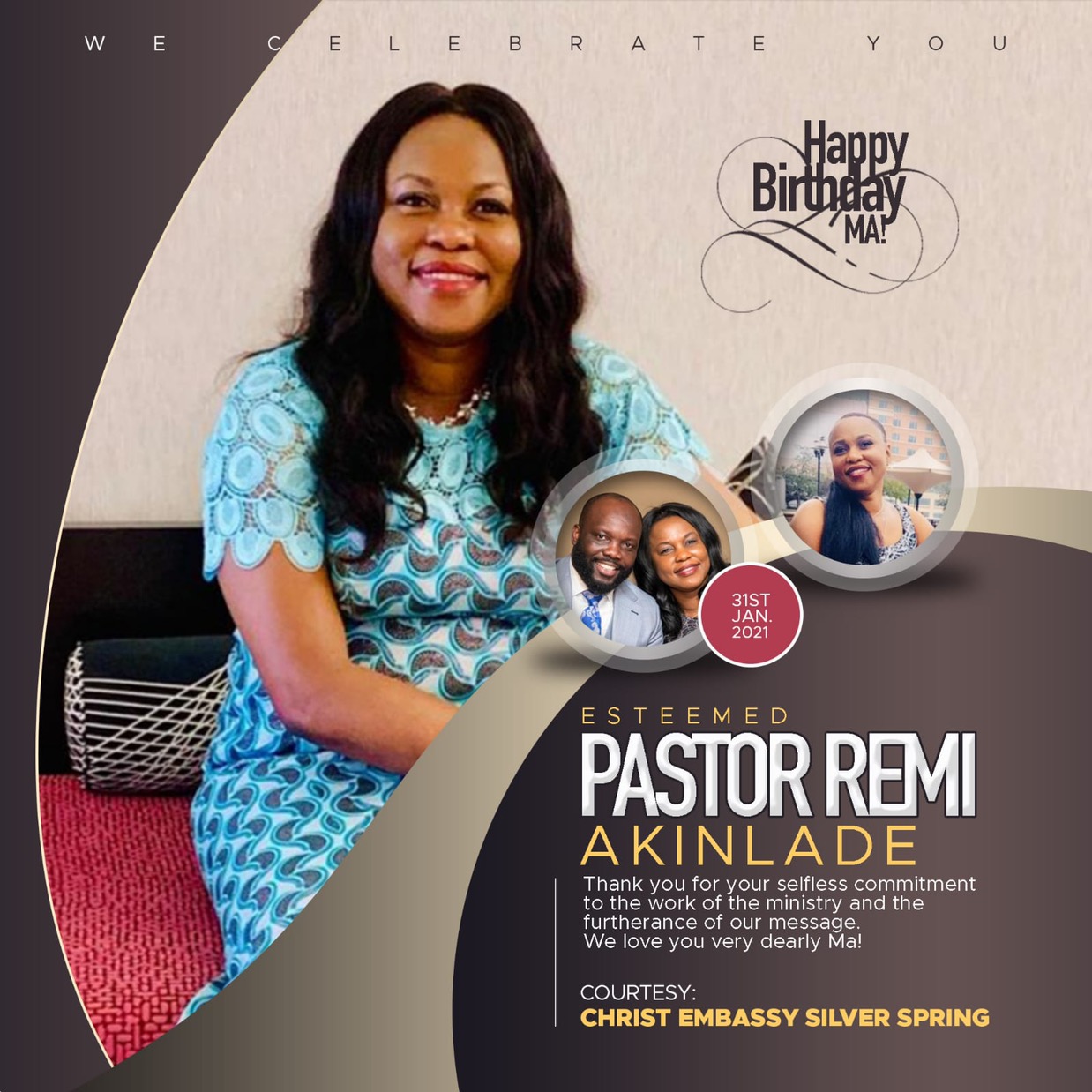 Charlita Ablakwa
commented:
Happy Birthday Pastor Remi. Thanks for your love and all you do.
Pastor Denise
commented:
Happy, Happy Birthday Pastor Remi Ma! Grace has located you and will only increase in your life and the lives you will continue to touch!💋
Pastor Benson avin izola
commented:
CRYPTO FX TRADE PLATFORM. Why sleeping why others are making billions of dollars💴💵💶? Congratulations to everyone who has benefited from the Link that I shared...i still have the chance to help more people... With minimum investment of $300 you earn $3000+ on weekly plan....Ask me how... No Experience Necessary Step by Step Instructions... Account funded with $300 earn $3,000..weekly $400 earn $4,000..weekly $500 earn $5,000..weekly $600 earn $6,000..weekly $800 earn $8,000..weekly $1000 earn $10,500..weekly No hidden fees. Free signal to monitor your account. Easy for those that have access to Bitcoins.. Dm me on WhatsAp... +1 (740) 651-1971 For more info if you're interested.
THE HEALING SCHOOL ONLINE PRAYER CONFERENCE STARTS IN 5 DAY!!!🙌🏻🙏 https://prayer.enterthehealingschool.org/reg/HSAN Register✍🏼👍 Spread the link🤝 Prepare to pray 🙏 #HSPC #HSOPC #healingtothenations #hsambassadors
THE HEALING SCHOOL ONLINE PRAYER CONFERENCE IS JUST 5 DAYS TO GO! REGISTER NOW AT prayer.enterthehealingschool.org/reg/sf #healingtothenations #hsopc #hspc
THE HEALING SCHOOL ONLINE PRAYER CONFERENCE Make Preparation through Prayer. Register and invite someone using the link prayer.enterthehealingschool.org/reg/GYLF It's 5 days to the Healing School Online Prayer Conference. 24 hours of non-stop prayers, answers, testimonies and the miraculous. Register TODAY @ prayer.enterthehealingschool.org/reg/GYLF #GYLF #healingtothenations
THE HEALING SCHOOL ONLINE PRAYER CONFERENCE STARTS IN 5 DAY!!!🙌🏻🙏 https://prayer.enterthehealingschool.org/reg/HSAN Register✍🏼👍 Spread the link🤝 Prepare to pray 🙏 #HSPC #HSOPC #healingtothenations #hsambassadors
THE HEALING SCHOOL ONLINE PRAYER CONFERENCE STARTS IN 5 DAY!!!🙌🏻🙏 https://prayer.enterthehealingschool.org/reg/HSAN Register✍🏼👍 Spread the link🤝 Prepare to pray 🙏 #HSPC #HSOPC #healingtothenations #hsambassadors
THE HEALING SCHOOL ONLINE PRAYER CONFERENCE STARTS IN 5 DAY!!!🙌🏻🙏 https://prayer.enterthehealingschool.org/reg/HSAN Register✍🏼👍 Spread the link🤝 Prepare to pray 🙏 #HSPC #HSOPC #healingtothenations #hsambassadors
THE HEALING SCHOOL ONLINE PRAYER CONFERENCE STARTS IN 5 DAY!!!🙌🏻🙏 https://prayer.enterthehealingschool.org/reg/HSAN Register✍🏼👍 Spread the link🤝 Prepare to pray 🙏 #HSPC #HSOPC #healingtothenations #hsambassadors
MORE PICTURE HIGHLIGHTS FROM THE DAY OF BLISS CHRIST EMBASSY LOVEWORLD PLACE, ZONE 3 #Celv3 #Dayofbliss #Theyearofpreparation