CE Port Harcourt Zone 1: PRAYER GUIDE FOR REACHOUT NIGERIA. on KingsChat Web
PRAYER GUIDE FOR REACHOUT NIGERIA. SEPT 10, 2019 Isaiah 32:1 says, "Behold, a king shall reign in righteousness, and princes shall rule in judgment." Pray for the will, desire and boldness in the hearts of our leaders to do what is right and refuse to yield to corruption and negative influences; that peace may prevail in this nation and the gospel may have free course. Declare that leaders who put their personal or sectorial agendas to the detriment of the nation would suddenly be unseated and have no part in the leadership of the glorious future of our great nation. #CEPHZONE1 #RON2019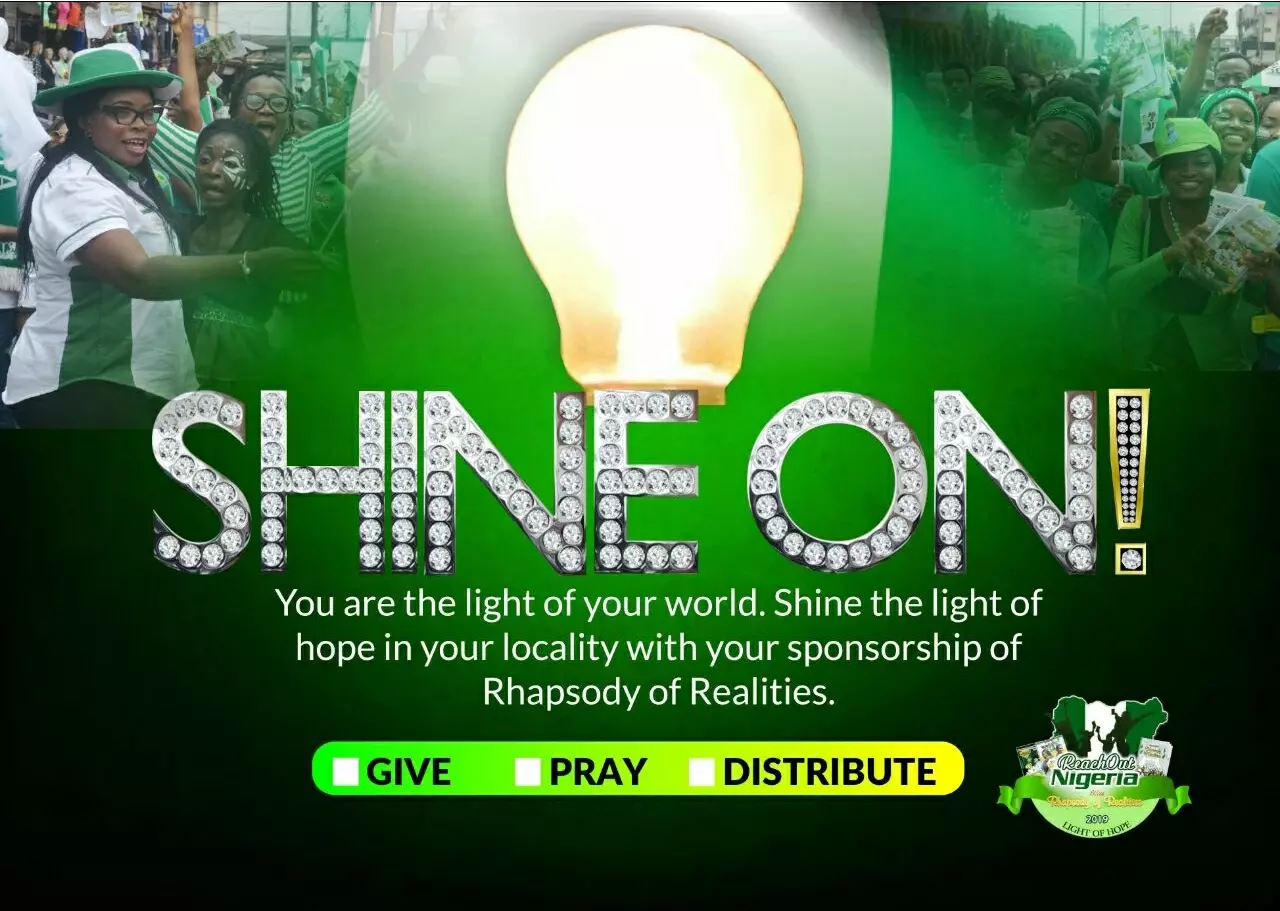 I speak wholesomely. The words that I speak are spirit and life. My words are not empty. Glory to Jesus!! #Liftchallenge #MonthofUplifting #CEZambia #ROR
Celebrating the Anointing #Revken #918 #Canada
Today On Your LoveWorld : Discover deeper truths and the potency of the Word in your life as you watch today's episode of "Your LoveWorld" with Pastor Chris. LoveWorldSAT Watch Times (GMT+2): Tuesday: 11am, 9:30pm Wenesday: 2am Thursday: 11am, 9:30pm Friday: 2am-4am Saturday: 11am, 9:30pm Sunday: 2am #yourloveworld #lightupyourworld #loveworldsat #pastorchris
Celebrating Grace, Celebrating my father #Revken#918 #Canada #CETORONTO #WeloveyoudearlySir
Happy birthday dear Deacon Peter. Thank you for your unparalleled commitment, enthusiasm, love and passion for the Lord and all that concerns the ministry. You've got such an Amazing personality. Greater grace and Glory in this new year. I love u.
Today On Your LoveWorld : Discover deeper truths and the potency of the Word in your life, as you watch today's episode of "Your LoveWorld" with Pastor Chris. LoveWorldSAT Watch Times (GMT+2): Tuesday: 11am-2pm, 9:30pm-00:30 #yourloveworld #lightupyourworld #loveworldsat #pastorchris
Celebrating the love of God #918 #RevKen #Canada
The most powerful force in life is the force of words, be sure to speak the right words cos your life will eventually go in the direction of your words. Speak life always! #liftchallenge #monthofuplifting
Happy birthday Esteemed Pastor Matthew. Thank you for your invaluable contributions in CELVZ and the perspective you bring in meetings with a great sense of humour. Thank you for being a great helper of the war. I love💝 you and we appreciate you dearly.
Thanks be to God who causes me to triumph always. He's lifted me above the world and made me to function from the mountain top. Glory to His name forever more. #monthofuplifting #liftchallenge #pastorchris