Bro Collins: #AFFIRMATIONTRAIN 11TH JANUARY. I affirm on KingsChat Web
#AFFIRMATIONTRAIN 11TH JANUARY. I affirm that God's divine power is at work in me. Christ is my life, my sufficiency, wisdom, and righteousness. He's made my life beautiful, fruitful, productive, and sound! I am a custodian of divine verities; money is a slave of my ideas. I fill my mind daily with the Word of God, and as I do, my eyes are opened to see opportunities all around me. I am not ordinary; the Father has made me prosperous and effective; a blessing to this world, and a dispenser and distributor of His righteousness, love, kindness, and goodness. All the wealth in this world belongs to me, for I am an heir of God and a joint-heir with Christ. The silver and the gold are mine, including the cattle upon a thousand hills; thus, I refuse to be limited by anything in this world. I am a free-flowing conduit of God's wealth and blessings to others, and I am plugged to an unending supply. I rule and reign in this life, independent of the financial systems of this world. I am fulfilling God's purpose and plan for my life, walking in paths that He's arranged for me. He's made all things I require for life and godliness available to me, and I celebrate the grace of prosperity and abundance that I enjoy as the seed of Abraham. Hallelujah! The works of my hands are blessed and I am set on the path of permanent success and prosperity. I do not know when the heat comes, for I am fashioned to flourish like the cedar in Lebanon. Glory to God. Hallelujah! SPEAK IN OTHER TONGUES NOW • Be bold to say the same things that God has said concerning you in His Word. That is what takes you beyond salvation, to enjoy the benefits of salvation ~ Pastor Chris Oyakhilome. You Can Now Reach Us On: • info@affirmation-train.org • www.affirmation-train.org God bless you. #prayingnow #wehavemoved #8DOM #talkingsession #8daysofmeditation #glorified #loveworld #affirmationtrain #monthofcelebration #wordfest2020 #preparation #thankyoupastorchris #theyearofpreparation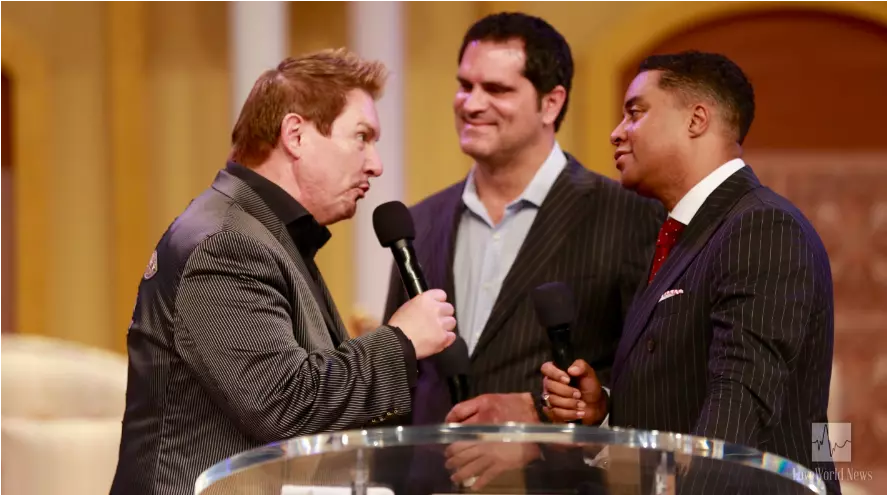 Thomas
commented:
USTR🅰️DE🅾️PTI🅾️NS... it's really lucrative way of earning consistent income weekly with just little investment and it doesn't require any experience, just step by step instructions..It's an investment where you invest on bitcoins and the sum of bitcoins you invest in, will been process and doubled in a multiple in 7 days trade and then invested in the same account that you invested in again and again, you can invest with credible Asset traders and earn returns of ... $300 to earn $3,000, $400 to earn $4,000, $500 to earn $5,000, $600 to earn $6,000, $700 to earn $7000, $800 to earn $8,000, $900 to earn $9,000 $1000 to earn $10,000.All in 7days trade and 10% will be my commission and no extra payment before withdrawal .. De me on WhatsAp +1850 7391660
#AFFIRMATIONTRAIN 11TH JANUARY. I affirm that God's divine power is at work in me. Christ is my life, my sufficiency, wisdom, and righteousness. He's made my life beautiful, fruitful, productive, and sound! I am a custodian of divine verities; money is a slave of my ideas. I fill my mind daily with the Word of God, and as I do, my eyes are opened to see opportunities all around me. I am not ordinary; the Father has made me prosperous and effective; a blessing to this world, and a dispenser and distributor of His righteousness, love, kindness, and goodness. All the wealth in this world belongs to me, for I am an heir of God and a joint-heir with Christ. The silver and the gold are mine, including the cattle upon a thousand hills; thus, I refuse to be limited by anything in this world. I am a free-flowing conduit of God's wealth and blessings to others, and I am plugged to an unending supply. I rule and reign in this life, independent of the financial systems of this world. I am fulfilling God's purpose and plan for my life, walking in paths that He's arranged for me. He's made all things I require for life and godliness available to me, and I celebrate the grace of prosperity and abundance that I enjoy as the seed of Abraham. Hallelujah! The works of my hands are blessed and I am set on the path of permanent success and prosperity. I do not know when the heat comes, for I am fashioned to flourish like the cedar in Lebanon. Glory to God. Hallelujah! SPEAK IN OTHER TONGUES NOW • Be bold to say the same things that God has said concerning you in His Word. That is what takes you beyond salvation, to enjoy the benefits of salvation ~ Pastor Chris Oyakhilome. You Can Now Reach Us On: • info@affirmation-train.org • www.affirmation-train.org God bless you. #prayingnow #wehavemoved #8DOM #talkingsession #8daysofmeditation #glorified #loveworld #affirmationtrain #monthofcelebration #wordfest2020 #preparation #thankyoupastorchris #theyearofpreparation
Check out my inspiring post on Yookos!
Praying now!!! 🙇🙇DAY 6 OF THE PASTOR CHRIS LIVE GLOBAL PRAY-A-THON 2021🙇🙇 📖📖1 John 5:14 KJV. "And this is the confidence that we have in him, that, if we ask any thing according to his will, he heareth us:"📖📖 Christ Embassy Lagos Zone 5 is currently leading the world in prayers through the Pastor Chris Live Global Pray-a-thon. Kindly join now in this non-stop prayer chain by using this link: www.pastorchrislive.org or the PastorChrisLive TV on KingsChat. God bless you! #PCLPrayathon2020 #Iamapriestinoffice #IPraywithPastorChris #CELZ5
... and the Lord added to the church daily such that should be saved... thanking God for an inflocks of 44 First Timers & NC to CE Main Church Lokoja & a Total of 62 FT across the State as a Result of the CGI program with our Esteemed Regional Pastor NNR. @povie #CELOKOJA
Never find yourself getting mad at others because they refused to help you or be there for you. As long as you stay in God's perfect will, the right people will come. Whether they are good or bad it would work out for your good because you are where God wants you to be. Remember: love and giving is a GIFT, as it is a CHOICE. God never runs out of channels or right people. TRUST Him. He didn't say the enemy will not come. He didn't say you will not hear bad news. Put on the whole armour of God that you may be able to stand against the strategies of the devil. The vehicle of the supernatural is run by the fuel of faith. #walkinlove #trustgod #havefaithingod
If a lion🦁 is sleeping, does it cease to be a lion? You're still a child of God despite your blunders! Wake up,roar & sleep no more.
We are diligent in our preparation. #CEAustralia #CEPerth #8daysofmeditation
If a lion🦁 is sleeping, does it cease to be a lion? You're still a child of God despite your blunders! Wake up,roar & sleep no more.