🔴 PRAY-A-THON 2021 - Wed April 21 🔻 PRAY LIVE WITH PASTOR CHRIS ON: http://prayer.rhapsodyofrealities.org In this Wednesday's Rhapsody, we're admonished to know the Scriptures by the Spirit. Study it and share the Word. 1 Timothy 2:8 says, 'I will therefore that men pray every where, lifting up holy hands, without wrath and doubting'. At our prayer times today, we'll pray fervently in tongues of the Spirit, also declaring justice for the oppressed, and deliverance for those incarcerated unjustly; pray also for children of Ministers of the gospel around the world, that they stand strong in the faith of Christ, fulfilling God's purpose for their lives. Amen. Remember to attend the Midweek service today in Church onsite or online. God bless you. 🔴 BELOVED, JOIN THE RHAPSODY OF REALITIES PRAYER NETWORK TODAY ON: http://prayer.rhapsodyofrealities.org And Also You Can Pray With The Worship Songs , Upload Your Videos, Share Your Testimonies And Submit Prayer Requests All On The Site! ‼️‼️TAKE ACTION NOW‼️‼️ #prayingnow #Rhapsodyawards #ropc2021 #rpn #rin #quabators #rinadvance #rhapsody #yourloveworld #RhapsodyOfRealities #PastorChris #YourLoveworldWithPastorChris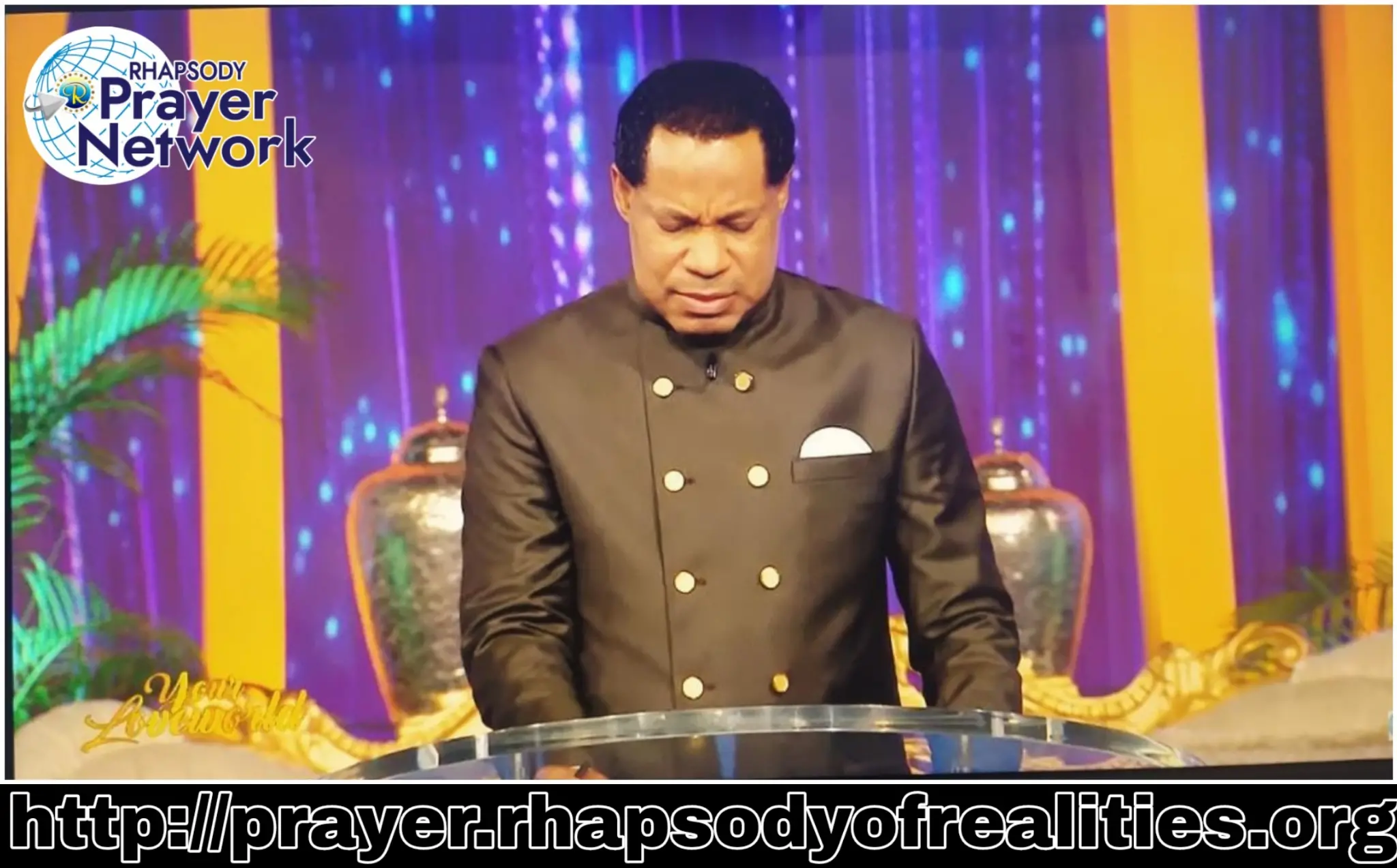 SUPPORT GOD'S WORK IN THE MIDDLE EAST At this very instance, somebody in Oman, another in Iraq, a home in Somalia, and a family in Egypt, are watching Pastor Chris Teaching in Arabic language on Loveworld MENA TV in different living rooms. Sponsor the Arabic dub of your favorite message by Pastor Chris on Loveworld Mena TV and bless over 400 million homes in the Middle East. Act today!
Pastor Chris Live 28min Pray-A-Thon 2021 - Mi 21. April In der Rhapsodie dieses Mittwochs werden wir ermahnt, die heiligen Schriften durch den Geist zu kennen. Studiere es und teile das Wort. In 1. Timotheus 2: 8 heißt es: "Ich möchte daher, dass die Menschen überall beten und heilige Hände erheben, ohne Zorn und Zweifel." In unseren heutigen Gebetszeiten werden wir inbrünstig in Zungen des Geistes beten und auch Gerechtigkeit für die Unterdrückten und Befreiung für die zu Unrecht Inhaftierten erklären. Bete auch für Kinder von Ministern des Evangeliums auf der ganzen Welt, dass sie stark im Glauben Christi stehen und Gottes Absicht für ihr Leben erfüllen. Amen. Denk daran, heute vor Ort oder online am Midweek-Gottesdienst in der Kirche teilzunehmen. Gott segne dich.
To know you Ma is to have more passion for the GOSPEL... To know you Ma, is to know Excellence. Thank you Ma for being an Example I could follow in many ways. Happy Birthday Pastor Ma #PC21
Staff Community Celebrates Esteemed Pastor John Odumah Thank you so much for being a great blessing to us in the staff community. It"s all green for you from one level of glory to another. We love and appreciate you dearly. HAPPY BIRTHDAY #warriministrycentre
#fitnessforduty #blwzoned #blwcampus rocks #TIE
Happy birthday beautiful glorious daughter, sister Rhema of the most high God possessor of heaven and earth glorious things are spoken of you in Jesus name amen
#PC2104 Happy Birthday dearest friend. Knowing you since 2004, your sweetness and calmness hasn't diminished. It's still from glory to glory with God granting you the desires of your heart and much more before Jesus comes. I love you💝🎉
IT'S DAY 11 EXPOSÉ ON TRUTH Today's Message YOURLOVEWORLD SPECIAL SEASON 2 PHASE 2 (5) Take advantage of the opportunity to remind your spirit of the time and season that we are and stay on top. Watch and down for free today on http://pastorchrisdigitallibrary.org/ exposeonthruth Week 2 study guide is also available for download on the above link #ExposeonTruth #HappeninginApril #A21DayStudy #watchompcdltv #cellministry
Happy Glorious birthday Esteemed Pastor Sir!! I am dancing specially for you sir: New Reach, New Grace, Increased wisdom for the work of the ministry. From my end, pastor sir, we love you so so much. Happy Birthday sir #celagoszone2 #egbegroup #superbirthdaychampion